Rock of Ages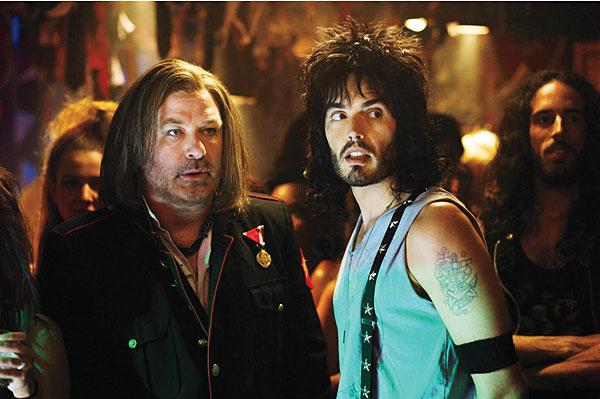 Based on the Broadway musical of the same name, Rock of Ages follows the journey of Sherrie (Julianne Hough), a small-town girl who moves to Hollywood to chase her dream of being a singer. Within minutes of her arrival, she meets a city boy named Drew on the Sunset Strip who helps her land a job at the famous Bourbon Room, a local nightclub that helped launch the career of the famous rock star Stacee Jaxx (brilliantly portrayed by Tom Cruise). The bar's owner is in dire financial straits, so when Jaxx agrees to return to his roots and kick-start his career as a solo artist at the Bourbon Room, it's just the opportunity needed to save the iconic hot spot. Unfortunately, the mayor's wife launches a PR war against rock 'n' roll, and a media frenzy could close the bar forever. Among this chaotic background, Sherrie and Drew fall in love—but they'll have to overcome many obstacles thrown in their way to find happiness.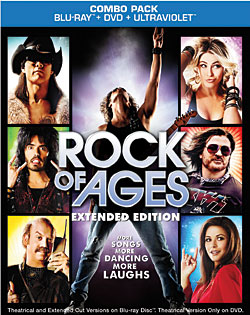 One could criticize the paper-thin plot and convoluted story, but when the premise of the movie is based on lyrics from various rock songs of the 1980s, what would you expect? The pacing is speedy, the actors buy into the corny premise and deliver a lot of LOL moments—especially Russell Brand—and the music rocks!
Shot in the digital realm on an Arri Alexa 2K camera, the movie is very sharp and clean. Primary colors burst off the screen, detail is exquisite, and even the darker scenes in the nightclub exhibit inviting shadows and deep blacks. As good as the video looks, it's the soundtrack that steals the show. The music numbers fill the soundstage with plenty of energy, dialogue reproduction is natural and concise, and the surround activity places you in the middle of the onscreen action.
Supplements include a bevy of behind-the-scenes featurettes about the era, production, and of course, the music. The combo pack offers a Blu-ray with the theatrical and extended editions of the movie, DVD, and UltraViolet Digital Copy.
If you're in your forties and fondly remember the 1980s, then this movie is made for your enjoyment. Highly recommended.
Blu-Ray
Studio: Warner Bros., 2012
Aspect Ratio: 1.85:1
Audio Format: DTS-HD Master Audio 5.1
Length: 123 mins.
MPAA Rating: PG-13
Director: Adam Shankman
Starring: Julianne Hough, Russell Brand, Tom Cruise
If you aren't a fan of 1980s rock music or musicals, stop reading right now and save yourself a few minutes because you'll absolutely hate this movie otherwise. For those of you who have stuck around, you'll absolutely love this movie—as long as you aren't turned off by actors bursting out in song in the middle of a scene.
LATEST VIDEO