Rhythm Devils: Concert Experience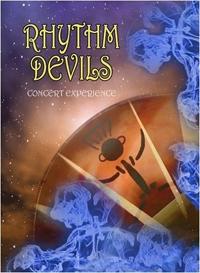 StarCity Recording Company/RED
---
Show •••½ Picture ••• Sound •••• Extras ••
The Rhythm Devils'
Concert Experience
is more than first meets the eye (and ear). This two-DVD set of a 2006 gig in Chicago (with one tune added from Sayreville, New Jersey) initially comes across like your basic hippie dancefest dressed up with jam-band celebrities. Even allowing for the supergroup lineup - Mickey Hart, Bill Kreutzmann, and Mike Gordon plus Steve Kimock (Zero, The Other Ones), Jen Durkin (Deep Banana Blackout), and Sikiru Adepoju (Nigerian worldbeat bonus player) - these very talented musicians might seem straitjacketed by the relentless groove.
However, a closer listen reveals subtle magic in the performances. Sure, Kimock starts off restrained on guitar, with lots of rhythmic chording and repeated runs. But as the show continues, he works in plenty of lively noodling, slinky slide sequences, and atmospheric pedal steel. Bassist Gordon more than holds up the deep end with his fat, round notes, bouncing along playfully and even taking a nimble solo. As for lead singer Durkin, she's usually more of a belter elsewhere, but she's no stranger to sharing in the groove. And if her vocals here are more tribal chants and mantras, they prove to be the perfect vehicle for the primarily Robert Hunter-penned lyrics.
Of course, the raison d'être of this project is the percussion of the original Devils themselves, Hart and Kreutzmann (with occasionally featured talking drum from Adepoju). In their long-time role as the engine that propelled the Grateful Dead, and in their occasional solo and joint projects, the drumming duo had an obsession with polyrhythms that could sometimes run to tedium. Not so here. Standouts are the sparkly calypso of "Your House," the spacey "Arabian Wind," and the sole non-Hunter tune, "7 Seconds," once an international hit for Neneh Cherry with Youssou N'Dour.
Alas, since I wasn't rigged for surround at the time of this review, I was unable to check out the DVD's Dolby Digital 5.1 sound. I can imagine, though, that it's likely to render a realistically live vibe, as it was mixed by Jeff Glixman - the longtime Kansas producer who now runs the multichannel-friendly studio/label StarCity Recording Company. (Glixman worked with producer Steve Rawls on the Kansas DVD Device Voice Drum that we covered in 2002; see story. Hey, guys, whatever happened to that 5.1 mix of Leftoverture? . . . But I digress. . . ) The DVD's stereo option, meanwhile, is excellent on its own.
The 4:3 picture isn't exactly cutting-edge, but various psychedelic effects, animated sequences, and vintage film clips keep the Experience interesting. Sometimes, just watching the band members smile at each other is all you need for a visual - and you get lots of that.
The second disc offers an 11-minute behind-the-scenes look that's worth viewing once. Why that featurette couldn't have been included on the 71-minute concert disc is unclear, but the two DVDs nicely balance out the hardbound book that contains the set.
This lineup of the Rhythm Devils had formed and toured only briefly by the time the Concert Experience was shot, but there's occasional evidence of "group mind" jamming at work here, particularly on the closing "Next Dimension." Although Hart has continued to perform the same material with different players, this particular combination of luminaries won't likely come again. Surely, it was a lineup worth capturing on DVD. Whatever the cast of characters, however, Rhythm Devils music is all about the beat. So if you're inclined to dance in front of your TV - or maybe to just tap your foot - these eight tunes will keep you moving.