Review Round Up: iPod Docks Page 3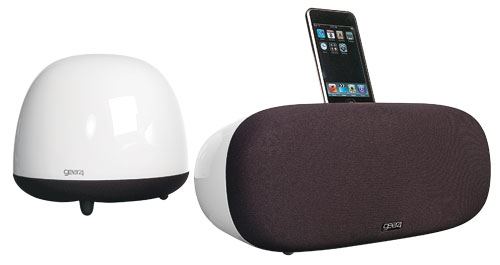 Key Features
$349 gear4.com
• Speakers: two 2[1/2] in (dock); 4[1/2] in (subwoofer)
• Amplifier: 2 x 10 watts (dock); 25 watts (subwoofer)
• Connections: minijack line input
• Remote control
• Connections: analog stereo input, composite-video output
• Dimensions 11[3/4] x 5[1/4] x 6 in (dock); 8[3/4] x 7[1/2] x 8[3/4] in (subwoofer)
• Weight: 9[1/2] lb
Gear4 SoundOrb Aurora
The iPod and iPhone didn't become wildly popular simply because they are functional and practical. They are also fun. So it makes sense that any dock designed for them should be fun, too. Enter the Gear4 SoundOrb Aurora.

The SoundOrb Aurora comprises two cabinets, both with styling that might be described as retro-modern. Smooth plastic contours evoke the future - at least as it was envisioned in the 1960s. The main unit has the dock on top with speakers concealed behind a boring-looking gray grille cloth. Four touch switches on top are lighted blue from underneath, one of which engages 3D and Wide virtual surround sound modes to expand the soundstage. A red LED array behind the grille lights briefly to show changes to volume and the surround sound mode. You can control the action using the iPod/iPhone itself or with the included remote control. The back of the unit has connections for audio input and video output.

The other half of the system is a wireless subwoofer. The sub has the same smooth plastic design as the dock, with its dome shape emulating a cue ball. Plug it into the wall and an audio connection with the dock is made via the magic of 2.4-GHz band radio. And here's the fun part: The sub's plastic chassis glows different colors. A switch on back gives you a fixed color or lets it cycle through a spectrum, and another control lets you vary the color and speed of the color cycling. Unfortunately, the colors are unrelated to the music being played; it would be even more fun if they were keyed to music.

Of course, nothing is more fun than good sound, and the SoundOrb Aurora didn't overly disappoint there. The main unit's midrange and high frequencies were reasonably clean and clear, and the surround sound modes did a good job of opening the sound field without introducing downside artifacts. The subwoofer's small size limited its output, but the bass was probably better than if a woofer had been crammed into the main unit. Overall, the sub provided enough of a foundation to play most kinds of music, but I would have liked more bass.

The SoundOrb Aurora is all about fun. A lot of folks will like its funky styling, ease of use, mesmerizing colors, and wireless sub - and its sound quality. The style might be a little much for some people, and you're paying extra for the color show, but this iPod dock gets the job done.
LATEST VIDEO