Review: PSB Imagine W3 soundbar and W1 on-wall speaker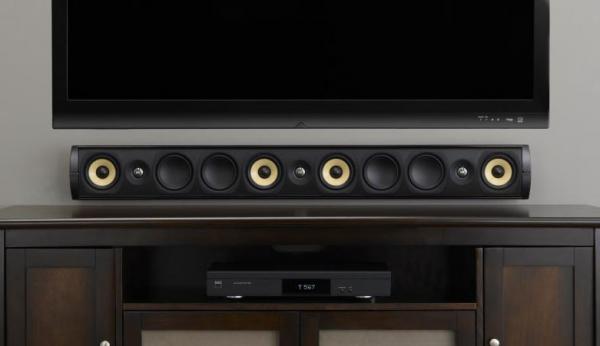 Calling the PSB Imagine W3 a soundbar is like calling the Red Bull RB6 F1 racer a car. Technically, the description is correct. But the item in question differs so much from most in its category that the comparison seems silly.
Most soundbars sell for less than $300 in discount retail chains. You can lift them between your thumb and forefinger. They use plastic enclosures, inexpensive drivers, and low-powered internal amplifiers. Many mass-market soundbars don't have tweeters, and those that do use simple crossovers, typically just one capacitor connected with the tweeter.
The Imagine W3 sells for $1,199, mostly at independent audio/video dealers. Its aluminum enclosure houses the same high-quality drivers found in PSB's other Imagine Series speakers. Complex, costly Linkwitz-Riley crossovers tune the response. The W3 handles only the left, center, and right channels of a surround-sound system; you'll have to add a receiver, a subwoofer, and surround speakers. It weighs 15.4 pounds.
PSB founder and chief designer Paul Barton stresses that the W3 does not use audio processing to expand its sound out beyond its edges. "I'm going for sound balance rather than trickery," he told me. He extended this purist approach to his measurements, attaching his W3 prototypes to a baffle that conforms to IEC specifications so that he could compensate for the acoustical effects of wall-mounting.
The W3 incorporates three separate speakers, each with its own internal enclosure. The left and right speakers each have a 1-inch titanium dome tweeter, a 4-inch polypropylene/ceramic cone woofer, and a 4-inch passive radiator. The center speaker has two radiators, two woofers, and one tweeter. Barton designed the center to be 3 dB more sensitive than the left and right speakers, thus achieving double the headroom with the same power in this all-important, dialogue-conveying channel.The Imagine W1 on-wall speaker uses the same drivers as the center section of the W3. It can serve as a surround speaker for the W3, or you could set up an all-W1 system with three W1s taking the place of one W3. Because W1s used for left and right channels can be spaced as far apart as you like, they can create a broader soundstage than the W3.
On one hand, I admire Barton's purism. On the other hand, in a market where most manufacturers add extra drivers, crosstalk cancellation, and SRS and other sound-processing technologies in an effort to make their bars sound bigger, I wonder how customers will react to a soundbar that makes no attempt to be anything more than what it is.
Setup
For my test system, PSB sent a W3 and two W1s. The W3 plays down to only about 85 Hz, not even as deep as the lowest note on a guitar, so a subwoofer is mandatory. I also received PSB's SubSeries 200 ($649), a sub with a 10-inch driver, to use with the W3 and W1s, but you can use whatever sub suits your taste. In this review, I'll focus on the W3, but you I've included full measurements of the SubSonic 200 later in this review.
The W3 can be wall-mounted, but it also comes with two small feet that allow it to sit atop a table. I attached the feet and placed it on two 28-inch stands right up against the wall below my projection screen. While PSB does provide a couple of feet that allow the W1 to sit horizontally on a table for use as a center speaker, surprisingly there's no way to stand the speaker vertically on its own; it must be wall-mounted for vertical use. I attached the W1s to the side walls, just a little behind my listening chair, with the bottoms of the speakers about 3.5 feet off the floor.
With the speakers in place and connected to my AudioControl Savoy amplifier, and the SubSonic 200 in the "subwoofer sweet spot" along my front wall, all that was left to do was set the crossover point and balance the levels on my Outlaw Model 975 surround processor. I tried using the industry-standard 80-Hz crossover point but found that it reduced bass energy in the crossover region; 100 Hz worked better.