Review: Optoma PT100 PlayTime Projector Page 2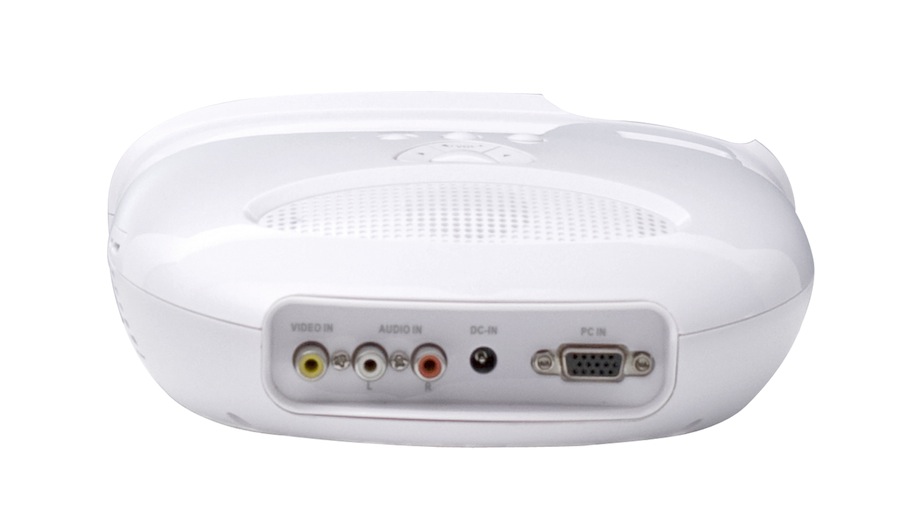 SETUP
Not surprisingly, setting up the projector was simple. A button on the side releases a drop-down, notched front foot for adjusting the projection angle, and one of the two rear feet adjusts to level the image. But there's no zoom, so you have to physically move the projector toward or away from the screen or wall to change the picture size. The image can be flipped upside down, but I can't image anyone ceiling-mounting the projector.
PLAY TIME
I-and my six-year-old son-tested the PT100 in two different viewing scenarios: on a living room wall in our family room, and in my downstairs dedicated home theater room, which has a fixed 106-inch neutral-gain projection screen.
In the family room, we played a mix of Nintendo Wii games, plus some Netflix movies streamed via the Wii. In the basement, we played scenes from a digital copy of a Blu-ray movie stored on my notebook PC, plus some photos and videos shot and stored on a digital camera. While Optoma claims the PT100 can project images as large as 144 inches diagonal in widescreen 16:9 format, it was quickly apparent you shouldn't expect an image larger than 60 inches diagonal in a fairly dark room, and about half that in a room with average light. Some may find an 80-inch image acceptable in a completely dark room, though the loss of shadow detail is noticeable in dark scenes. To get a 60-inch image, I placed the projector about 10 feet away from a wall or screen. But with both movies and games I found the best balance between image size and brightness was achieved with a 40- to 50-inch diagonal picture, with the projector between six and seven feet from the viewing surface.
Overall, we had a blast with the PT100, and it's likely you will, too, if you keep your expectations in check. For example, watching Hayao Miyazaki's Ponyo-a Japanese animated fantasy movie-streamed via Netflix in a dark room, the projector threw a satisfying DVD-like image on the wall, with decent contrast and surprisingly appealing colors. Likewise, the Nintendo game "Wipeout" looked good, though there was a slight amount of blurring during faster-moving scenes that we didn't see when the Wii was connected to our plasma TV. Games and movies sent via the PC had better picture detail than those sent via the Wii console-no surprise given that we had to use the projector's composite-video connection to hook up the Wii.
Moving to the even darker basement with a real projection screen, detail and contrast improved slightly with both games and movies, and we were able to bump the image size up another foot without sacrificing overall picture quality. In fact, the only complaint from my son wasn't visual at all at-it was the poor-quality sound from the projector's speakers. While it will do in a pinch, connecting the PT100 to a sound system provides far more satisfying results.
There were a few things I noticed when playing around with the projector's controls. For example, toggling through the three brightness modes seemed to affect the color shift more than it did the projector's overall brightness. Also, the projector's focus tended to drift slightly until it warmed up. And if you moved within two feet of the wall, you could see a "screen door" effect.
I had a few minor quibbles. For one, a component-video input would give the PT100 more versatility, and presumably deliver better resolution when the projector is used with a higher-def source like Blu-ray. I also found the included AC adapter cord too short, so I had to use an extension cord in both rooms where the PT100 was tested. It would also be nice if a VGA cable were included. The again, it costs less than $200.
But it's my belief that as long as you don't ask the PT100 to replace your TV or home theater projector, you'll have a lot of fun with it. It's inexpensive, lightweight, easy to set up and use, and is capable of projecting a decent-quality image almost anywhere you can control the ambient light. We've been waiting for warmer weather so we can show a movie out on our deck one night, sure to be a crowd-pleaser with kids who've never even heard of a drive-in theater. The PT100 entails a tradeoff between screen size and image quality, but I've yet to hear my son complain about picture artifacts or the lack of shadow detail. And to me, $180 seems a small price to pay for a six-year-old being able to invite his first-grade classmates over to watch a movie on his projection system without having to boot his dad out of the home theater.