Review: NYNE NB-200 Bluetooth speaker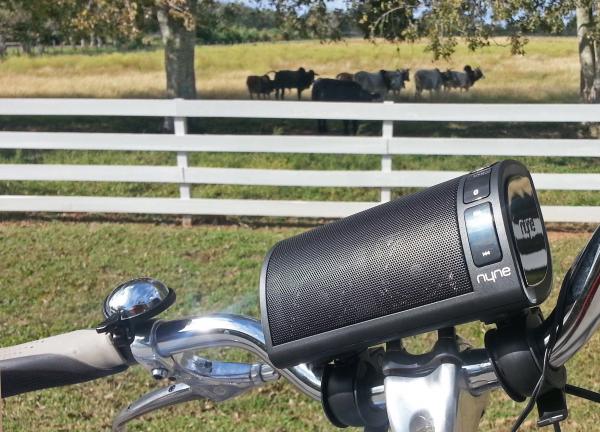 I've dreamed of a bicycle sound system for years. I've tried several, even jury-rigged a few of my own, but always ended up discarding them 'cause they sounded lousy, fell apart, or were just a hassle to deal with. But two trends might make decent cycle-sound systems possible.
First there's Bluetooth, which lets you stream MP3s, Internet radio, and podcasts from your smartphone. Then there's the recent explosion in relatively high-quality miniature sound systems like the Soundmatters FoxL and the Jawbone Jambox.
The $99 NYNE Multimedia NB-200 is one of the first Bluetooth speakers designed specifically for cycling. Its driver layout-two 1.5-inch drivers with a 3- by 1.5-inch passive radiator-is somewhat similar to that of a FoxL. While you can get a bike mount for the FoxL, the NB-200 was designed from scratch as a bike speaker. The enclosure has slots that match up with a couple of handlebar clips.
It also has control buttons-play/pause, track skip forward and reverse, volume up and down-designed for quick, easy tapping to minimize the amount of time your hands spend off the grips. There's a speakerphone, too, so you can annoy the hell out of your riding mates by carrying on loud phone conversations about trivial matters during your rides.
Of course, you can use the NB-200 just as you would any other small Bluetooth speaker: Haul it around the house, take it to the beach, or drop it into a suitcase and carry it along on trips.
On the road
My main ride is a recumbent trike, which isn't a particularly relevant testing platform, so I decided to bring the NB-200 with me on a trip to my parents' house in Texas and strap it to the handlebars of the Globe three-speed comfort bike I keep in their garage. The curved handlebar proved a slight challenge for the NB-200, because I couldn't quite get its dual mounting clips to sit flat, but I was able to wiggle the unit onto the mounts without too much trouble. I mated my Samsung Galaxy S III with the NB-200, got my playlist of test tracks going, slipped the phone into my seat bag and hit the road.
I was surprised at how much I enjoyed playing the NB-200 while riding around the gated golf community my parents live in. The NB-200 sounded pretty good and produced plenty enough volume. I especially liked that I could hit the NB-200's controls so easily; adjusting the volume, in particular, was easy even when I was riding at 18 mph. The unit sounded surprisingly smooth, with nice voice reproduction, fairly clear treble, and just a touch of bass to keep the sound full.
But playing a bike speaker in a golf community, where the only traffic you confront is an occasional luxury car or golf cart, isn't too challenging. So I hopped onto FM 1093, a nearby two-lane country highway. (In Texas, the "FM" stands for "farm to market.") Now I was being passed every 20 seconds or so by cars, pickups, and even 18-wheelers. Yet the NB-200 still played loud enough-although only just loud enough-to be heard over the traffic. I have to say I got an otherworldly kick out of playing Miles Davis's 1971 fusion classic A Tribute to Jack Johnson while riding past cattle ranches and the muddy Brazos River. I could definitely get used to this Bluetooth bike speaker thing.
NYNE bills the NB-200 as "water repellant." I didn't get a chance to ride through a rainstorm with it, so I put it in the kitchen sink and splashed some water on it for about 1 minute. It kept playing, although it got quieter as the water bogged down the drivers. It also skipped tracks on my phone a couple of times, without me pushing any buttons. When I lifted it and turned it over, quite a bit of water drained out of the enclosure, which was disconcerting. So while I'd speculate that the NB-200 can survive light drizzles, I wouldn't recommend riding through the kind of hellish downpours they get in Louisiana or southeast Texas. But who rides in that kind of weather, anyway?