Review: Harman Kardon AE In-Ear Headphone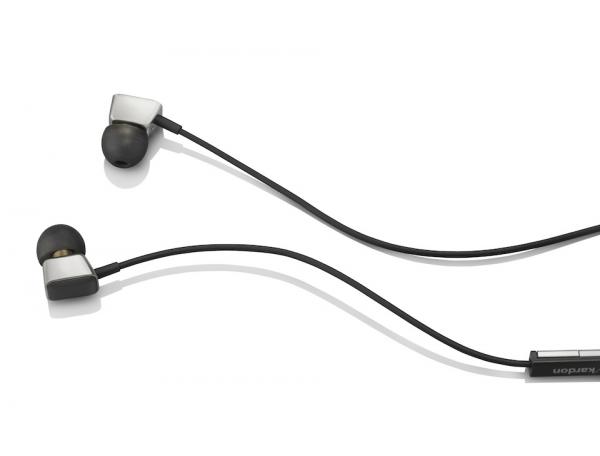 In the context of headphones from women's fashion brands and toy companies, the launch of a new headphone line by a company known for audio electronics is hardly surprising. But considering that the Harman Kardon AE in-ear monitor comes from a parent company that also makes AKG and JBL, the AE would seem to stand a better chance of delivering decent sound than the Barbie Fabulous headphones does. So let's give it a listen.
The AE ("Acoustically Enhanced") IEM certainly shows some original thinking. Each of the 9mm drivers is housed in an aluminum polyhedron, which is a good thing because an aluminum housing, properly designed and manufactured, vibrates and resonates less than a comparable plastic housing. The shape looks distinctive and, IMHO, cool. An iPhone/iPad-compatible remote/mic occupies the right-side cable. Even the plug echoes the aluminum polyhedron look. The package includes standard silicon tips in three sizes, plus a set of Comply foam tips.
As with almost all of the headphones we review at Sound+Vision, the AE confronted not just one listener, but three: me, L.A. jazz musician Will Huff, and voice actress Lauren Dragan. As we've found, listener's opinions of headphones vary a lot, and even the opinion of the world's greatest headphone expert (whoever that is) might not square with yours. So three sets of ears is always better than one.
Will and Lauren used their iPhones as a source; I used my iPod touch and my Samsung Galaxy S III phone, plus a NuForce uDAC-2 for playing tunes from my computer.
Cold start, warm finish
Lauren found the experience of inserting the cold metal AE's into her ears disconcerting. "It's like when the doctor puts a stethoscope on you without warming it up," she said. Of course, the AE warms to your earlobes in a minute or two — and as we found, the AE's clean, clear mids and highs can warm your soul a bit, too. (Was that too cheesy? I never know.)
"Chartreuse" from ZZ Top's La Futura showed me right away what the AE can do. The classic crunch of Billy Gibbons' electric guitar, the harmonies of Gibbons and bassist Dusty Hill, and the insistent snare of Frank Beard all came through clearly and in perfect balance, riding atop a slick Texas shuffle groove — exactly the way that, to me, ZZ Top should sound. In this track and all the other vocal tracks I tried, the AE sounded incredibly clean and neutral, something I'm just not used to hearing with headphones. Lauren totally agreed: "The mids and highs are lovely," she said.
Same for "Another Way Around," from guitarist Mike Stern's late-'80s fusion album Jigsaw. The pseudo-acoustics of the primitive digital keyboards and reverbs of the time sounded as mathematically perfect and impossibly clean and colossal as they're supposed to, and I got a real sense of Dennis Chambers' sticks hitting the snare and cymbals.
Joni Mitchell's voice and dulcimer on "All I Want" from Blue also showcased the AE's strengths. When Blue was recorded, Mitchell's voice didn't have a lot of weight to it. A lot of headphones and speakers just don't "get" her: They either add bottom and make her sound bloated, or subtract lower mids and make her voice sound too bright. The AE, however, nailed it — Joni didn't sound unnaturally full, nor did she sound too bright even when I cranked up the level. She just sounded smooth and lovely, with perhaps a tiny trace of emphasis in the upper treble that gave her voice exceptional definition and clarity.
The very next cut on La Futura, "Consumption," showed a contrasting characteristic of the AE: a somewhat wooly and soft bottom end. This will vary a lot with your choice of eartip and the way the tips fit into your ears, but it's something all three of us noticed. It's not the overwhelming, high-Q, super-punchy bass you hear in headphones designed for rap or heavy metal, it's more like the big, fat bass that used to be the norm back in the heyday of the vacuum-tube bass amps like the Fender Bassman and the Ampeg B-15. The more bottom-heavy mix in "Consumption" made the AE's bass tend to cloud the mids and highs somewhat. Lauren described the bass as "dull and lacking in pitch," while Will said that "with tunes that have a lot of bass, it's like putting the mids and highs in a blender."
The AE was in the same batch with the Phiaton MS200 when Lauren and Will did their tests. It's tough to say which is a better headphone. There's no doubt the MS200's bass is tighter and better-defined. There's no doubt the AE's midrange is cleaner and more natural-sounding. Will strongly preferred the MS200 for its tighter bass. Lauren and I had a slight preference for the AE.
Measurements
To measure the AE's performance, I used a G.R.A.S. Type RA0045 ear simulator, a Clio FW audio analyzer, a laptop computer running TrueRTA software with an M-Audio MobilePre USB audio interface, and a Musical Fidelity V-Can headphone amplifier. I used the standard silicon tips in the medium size because these fit the ear simulator best. I inserted and reinserted each earpiece several times, and settled on a position for each that gave the most representative result.
The AE's frequency response measurement is pretty much "by the book" for an IEM, with a broad, low-Q bass bump centered at 70 Hz and spread across roughly four octaves. What's unusual is the strong peak at 5 kHz; normally this peak would be perhaps -10 dB below the lower treble peak at 2.6 kHz, but it's +2.5 dB higher, which could make the AE sound bright if it weren't for that counterbalancing bass bump.
BTW, I rarely comment on channel matching because headphone measurement techniques don't allow much precision in this area, but the AE is one of the few I've encountered in which I measured a nearly perfect match between right and left channels. HK seems to be paying serious attention to the manufacturing quality on these.
The essentially flat 29 ohms impedance gives the AE consistent response with different headphone amps. Adding 70 ohms output impedance to the V-Can's 5-ohm output impedance to simulate the effects of using a typical low-quality headphone amp boosts bass by just +1 dB at 20 Hz, which will be inaudible.
Total harmonic distortion (THD) at 100 dBA is very low, just 1% at 20 Hz. Isolation is a little above-average for an IEM, possibly because the roughly cube-shaped driver enclosure partially occludes the ear canal. It's especially good at frequencies above 500 Hz, peaking at -44 dB at 8 kHz.
Average sensitivity with a 1 mW signal at 28 ohms rated impedance is 102.4 dB from 300 Hz to 10 kHz, 104.7 dB from 300 Hz to 6 kHz.
Bottom Line
In headphone reviews, more so than with any other audio product, our task is not to figure out which one is "best," but to figure out what kind of listener (if any) would like a certain headphone. After giving the AE a good listen, we think it's a terrific headphone for music with medium to light bass where upper bass, midrange, and treble reproduction is the priority, like pop/rock, jazz, and classical. If you prefer music with lots of bass, such as hip-hop and heavy rock, you'll probably prefer a headphone with tighter, punchier bass.