Review: The Amazing Spider-Man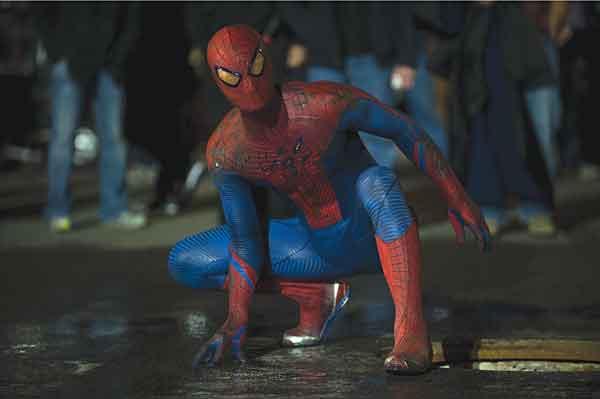 The Amazing Spider-Man (note the subtle tweaking of the title to avoid confusion with Raimi's Spider-Man) is no less cartoonish than the original, but overall is richer, more serious, and darker. While no less removed from its comic book roots, it's less comic—a distinction that makes sense if you've see them both.
There's more teen angst (though the teens here would be more believable as twentysomethings), bolder special effects, and for the most part, superior performances, including Andrew Garfield as Spidey and Rhys Ifans as Dr. Curt Connors. Connors, a conflicted villain with separation issues, works for Norman Osborn, the industrialist head of Oscorp and the Green Goblin of Spider-Man. Osborn is clearly behind a key plot point but is nowhere in sight.
Ah, yes, the story. Teen Peter Parker is bitten by an exotic spider, becomes stronger, swifter, Spider-sensitized, and scales tall buildings with either his spidery grip or from the web lines he spins from his wristlets, soaring from building to building like a demented but more snappily dressed Tarzan. Parker falls for the girl, battles the villain endlessly, loses the girl, sort of gets her back, roll credits.
The HD Blu-ray is superb, with bright, crisp colors, good black levels, and rich shadow detail. The 3D is excellent as well if you discount the considerably dimmer image you'll see on most home 3D displays. But if you insist on 3D, the format's images are solid, and the depth is intelligently used. The audio is also first rate. The dialogue is clear, the bass deep, and the surrounds active. And James Horner's beautifully recorded score is one of his best and most original in years.
The extras include "3D 101" with director Marc Webb, a making-of documentary so thorough that it takes a separate 2D Special Features Blu-ray Disc to hold it, and deleted scenes. There's also a Second Screen App and an audio commentary by the cast and crew.
Blu-Ray 3D
Studio: Sony, 2012
Aspect Ratio: 2.40:1
Audio Format: DTS-HD Master Audio 5.1
Length: 136 mins.
MPAA Rating: PG-13
Director: Marc Webb
Starring: Andrew Garfield, Emma Stone, Rhys Ifans
It's not exactly a secret that Sony Pictures produced a fabulously successful trilogy of Spider-man films from 2002 to 2007. All three were directed by Sam Raimi and starred Tobey Maguire as the resident arachnid. Though the last of the three laid something of a critical egg, it was nevertheless a golden one at the box office. The Amazing Spider-Man is not a sequel but instead a complete reboot, origin story and all. Clearly, Sony was hoping to re-invigorate the franchise. Judging from its commercial success, I'd say it succeeded.