Restoring "Raiders of the Lost Ark"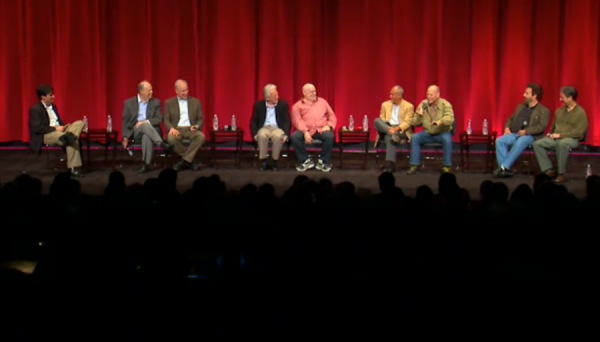 The 30th Anniversary of Raiders of the Lost Ark came and went on June 12th, and while there's still no Blu-ray announcement, a special screening at the Academy of Motion Picture Arts and Sciences (you know, the Oscar folks) brought together a panel of behind-the-scenes people who worked on the film. These included sound genius and multi-Oscar winner Ben Burtt, Emmy winner and Oscar-nominee sound designer Richard L. Anderson, multi-Oscar winning production designer Leslie Dilley, multi-Oscar winning editor Michael Kahn, multi-Oscar winning sound re-recording mixers Gregg Landaker and Steve Maslow, Visual Effects Oscar winner Bruce Nicholson, and legendary producer Frank Marshall.
Watching all of these incredibly talented people discuss a film that obviously holds a dear place in their hearts is fantastic. Getting insight into one of the best films of the '80s is just an added bonus.
The film itself looked amazing and impressively bright, digitally projected on the Academy's 54' X 22'screen in the Samuel Goldwyn Theater. The sound, though, put the visuals to shame. The power of the bass in the 1,012-seat theater was some of the best I've ever heard. If I go to the cinema, I only go to the Arclight, given their commitment to quality. This theater, though, put even the Arclight to shame. Consider me impressed. If you live in the LA area, the Academy has periodic screenings at this theater that are open to the public. You can find out more info here.
Why does all that matter? Well, the key words spoken during presentation were: "recently completed restoration." The only reason a studio spends money restoring a film is to prepare for a new transfer and release. If the Blu-ray releases were going to be available this Christmas, we'd have heard about it by now. With a movie (technically, movies if you include the presumed releases of the other 3 Indy flicks) of this popularity, I doubt they'd release them anytime other than the holidays. So Q4 2012? Ugh...but that's my guess.
So in the meantime, check out this excellent discussion about the making of Raiders of the Lost Ark and dust off the old DVDs.