Reference DVD Review: The Host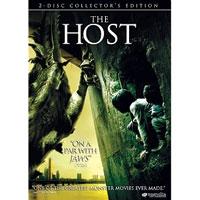 Magnolia
---
Movie •••½ Picture •••• Sound •••• Extras •••½
If any single film could ever inspire a resurgence of the classic monster movie, it has to be The Host. This Korean-made powerhouse updates, refreshes, and reinvents the 1950s schlock genre long thought to be lost.
Stylish and smart, The Host springs to life on this crisp and clean 1.85:1 transfer. Even the darkest scenes - deep within the bowels of the Seoul sewer system, where the mutant lives - hang together beautifully. And the sound is nothing short of explosive, with surround-channel detail that makes the action scenes a visceral experience. A dubbed English track is included, but I advise you to choose the original Dolby Digital 5.1 Korean one (with English subtitles) for the best effect.
This two-disc set serves up a most exhaustive collection of extras. A whopping 3½ hours worth of documentary footage explores every possible angle of the production. The section on the creation of the monster alone is 75 minutes long. It's all in Korean with English subtitles, and only the most obsessive fans will make it through to the end, but you've got to hand it to director Joon-ho Bong for leaving no cinematic stone unturned. You also get 28 minutes of deleted scenes, a director's commentary (in English), and the original Korean trailers.
more Entertainment reviews Back to Homepage What's New on S&V