Primare Prisma I15 Integrated Amplifier/Dac Review Page 2
Over on Qobuz (and keeping the French theme going), I stumbled upon pianist Anne Quef- félec, a name unfamiliar to me, via an album of her complete recordings for the (also French) Erato label. Here I found a dozen Scarlatti sonatas, gorgeously recorded and played with a light- ness and immensely articulate sensitivity that impressed me greatly. For its part, the Prisma I15 displayed the great transient detail and timbral subtlety of these 25-year-old, yet no less wonderful, takes, conveying all the precision, speed, and airiness of the Frenchwoman's attention-grabbing playing. Every nuance of pianistic color and detail was retained with full clarity.
I also wanted to stress the Primare on my "big" system, of course, so I moved it over to the equipment rack and connected it to my main speakers. These long-discontinued but still very competitive Energy 2.8 three- ways are quite low in sensitivity and thus demand more of the amplifier driving them than most equivalent-performing speakers. Nevertheless, the Prisma I15 produced ample level and impressive dynamics here as well despite its modest nominal rating of 60 watts per channel. Cueing up Live at the Belly Up by America's most unpretentious band, the Jayhawks, I streamed "Take Me With You When You Go" and heard the Primare drive the opening riff at convincing levels for a nicely recreated live feel. Even dialing in another 6 dB or so to something approaching true club levels on the just-drums opening of "Somewhere in Ohio" failed to uncover any shortfall with the I15, yielding exciting impact and air-motive thump. At no point did I feel shortchanged relative to my everyday power amp, a 150 watts per channel design with considerable dynamic headroom.

Moving on to more challenging material reinforced my positive view of the I15. Played at live-in-the-room level, a Channel Classics DSD of de Falla's showpiece El Amor Brujo arranged for two (classical) guitars with flamenco percussion produced a stunning display of transient variety and dynamic shadings from whisper to, comparatively speaking, thunder. The little Prisma decoded and reproduced every iota of audiophile goodness— impact, depth, air, and imaging breadth and depth—with effort-less focus.
Primare's Prisma amp/DAC's streaming features include Chromecast built-in, AirPlay, and Spotify Connect, all of which are controlled using individual apps for compatible services on your phone or tablet. And while these sounded quite excellent with better-grade program, I did all my critical listening via hard-wired connection to the Primare's asynchronous USB input.
Ergonomics
When streaming, the Primare's display shows track and elapsed-time info, plus "Casting," "AirPlay," or "WiFi," but no details regarding track or stream format or bit-depth/ sampling rate. (Artist and track-title display can be toggled in a setup menu.) Curiously, my phone's hardware volume up/ down buttons commanded unexpectedly large jumps, of 6 or even 10 dB per keypress, during AirPlay streaming. In any event, the Prisma I15's own remote and front-panel volume controls worked normally.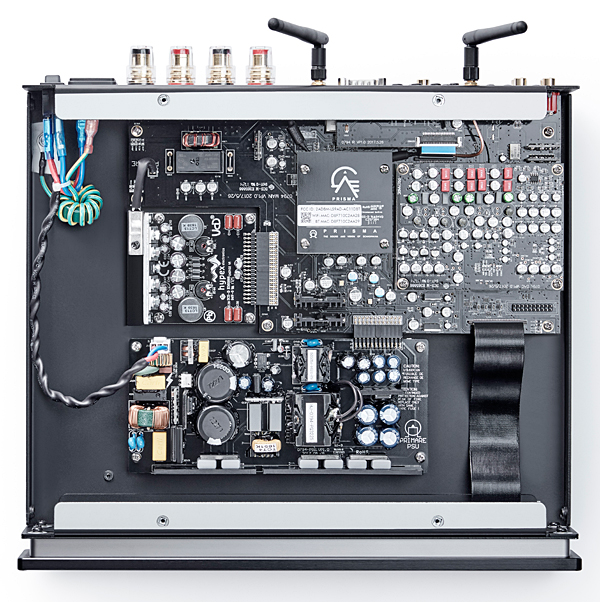 Otherwise, there is nothing much to report on the ergonomics front. The above-mentioned remote is a handsome, elegantly finished handset. Its key-spacing and graphics were clear, but I found the location of the Mute key—away at the top, well distant from the volume up/down pair—less than ideal.
Conclusion
There is no question that Primare's Prisma I15 is a fully audiophile-ready amplifier/ converter, with power and dynamic abilities well beyond its on-paper provisions. I was surprised by both the scope and excellence of its reproduction, which came shockingly close to good-as-it-gets levels.
Are there areas where I found it wanting? I'd welcome both a phono input and headphone output, although Primare says those items would add to the Prisma I15's size and cost. Some other integrated amps in this price range also provide MQA decoding and Roon Readiness, though this one can be used with Roon via its Chromecast built-in feature. All things considered, however, the Prisma I15's sonic excellence, its superb look and feel, and its meticulous build quality make it a standout in an increasingly crowded field of compact "streamplifiers."