Post-Holiday Clues: Books About Music






Part 1 (see my post below) was full of tribute albums and cover songs. Now comes my second stash from 2007: The Year in Books About Music. You still have too much disposable cash left over from the holidays, right? Read (and buy) on! -Ken Richardson
GENESIS
Genesis: Chapter & Verse. By Tony Banks, Phil Collins, Peter Gabriel, Steve Hackett, and Mike Rutherford; edited by Philip Dodd. (Thomas Dunne Books/St. Martin's Griffin)
Like the Beatles' Anthology and the Rolling Stones' According To, this is the story of a band in the band's own words. And as the Introduction to this one starts off: "In the beginning, there were five schoolboys from Charterhouse who formed a band called Genesis."
That would be Banks, Gabriel, and Rutherford with Anthony Phillips and Chris Stewart - and to be fair (and complete), Ant and Chris do contribute to Chapter & Verse, along with other early members John Silver and John Mayhew, later live member Bill Bruford, once and current live members Daryl Stuermer and Chester Thompson . . . and even late, late, one-shot vocalist Ray Wilson. And this book is the first time that the primary participants have done anything together in 20 years, to coincide with the recently concluded Turn It On Again tour of Banks, Collins, and Rutherford - not to mention Nick Davis's surround mixes of the entire studio catalog. Davis is here, too, along with other related folks, from "impresario" Jonathan King to producer Hugh Padgham and the late Ahmet Ertegun. Thirty years, thirty albums - quite a story, all the way up to rehearsals for the 2007 tour.
There are 320 color photographs as well - many of which will be new to readers, even to those who are familiar with Amando Gallo's I Know What I Like. You also get a chronology of dates.
In a word, for the Genesis fan: essential.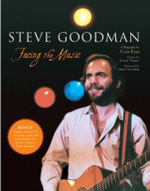 STEVE GOODMAN
Steve Goodman: Facing the Music. By Clay Eals. (ECW Press/Independent Publishers Group)
Maybe all you know about Steve Goodman is that he wrote the Arlo Guthrie hit "City of New Orleans." Maybe you didn't even know that. This massive, 800-page book (with 540 black-and-white photos) will tell you everything you need to know . . . and then some . . . and then some more!
Guthrie provides the Foreword, and Studs Terkel writes the Preface. That should tell you something about the Common Man-hood of singer/songwriter Goodman, who died from leukemia in 1984 at the age of 36. Also interviewed for this book are the likes of Jackson Browne, Willie Nelson, Bonnie Raitt, Steve Martin, and even Hillary Clinton, who performed with him in a variety show at their north-suburban Chicago school in 1964.
I, too, was born and raised north of Chicago, and as a fellow long-suffering Cub fan, I'm proud to say that Goodman also wrote three songs about our beloved/accursed team: "Go, Cubs, Go," "When the Cubs Go Marching In," and "A Dying Cub Fan's Last Request."
The book includes an 18-track CD of songs written and performed by others in tribute to Goodman, including John Wesley Harding's "Phil Ochs, Bob Dylan, Steve Goodman, David Blue, and Me."
PHIL RAMONE
Making Records: The Scenes Behind the Music. By Phil Ramone with Charles L. Granata. (Hyperion)
Phil Ramone - perhaps you've heard of him. He is, after all, the engineer of classics like Stan Getz & Joao Gilberto's Getz/Gilberto, Paul McCartney's Ram, and Bob Dylan's Blood on the Tracks and the producer of classics like Paul Simon's Still Crazy After All These Years, Billy Joel's The Stranger, Simon & Garfunkel's The Concert in Central Park, and Frank Sinatra's Duets. And this is his story, from his professional beginnings in the late 1950s all the way to 2007's We All Love Ella: Celebrating the First Lady of Song (see the entry in my Part 1 post below).
"I'm easygoing, but I have a methodical way of working" - and if there's a fault with Making Records, it's that it reads a bit too much in the same fashion. Easygoing, methodical Phil is fine when you're chatting with him or listening to him give a talk - not so thrilling when you're trying to get through a 320-page book.
However, there's much here for the S&V reader to relish, with stories about Dylan, Sinatra, Simon, Joel, Ray Charles, and many more, loosely divided into chapters with headings like "The Producer," "The Song," "The Studio," "The Session," and "It's All in the Mix." Speaking of mixes . . . Ramone has been a longtime fan of surround sound (he and Frank Filipetti did a mix of Simon's Graceland that's still unreleased after all these four years), and he discusses that and other technologies in the chapter "What's New?"
A companion CD, Making Records: The Music of Legendary Producer Phil Ramone, is available exclusively at Borders. It includes everything from Simon's "Slip Slidin' Away" and Joel's "Movin' Out" to Liza Minnelli's "Liza with a Z" and Barbra Streisand's "Evergreen."
STORM THORGERSON
Taken by Storm: The Album Art of Storm Thorgerson. By Storm Thorgerson and Peter Curzon. (Omnibus Press/Music Sales Group)
Once upon a time, there was a British art-design group called Hipgnosis, founded by Storm Thorgerson and Aubrey Powell. In 1968, they created the LP cover for Pink Floyd's A Saucerful of Secrets - and the rest is, truly, history. More Pink Floyd covers would follow (can you say "The Dark Side of the Moon"?) as well as assignments for Led Zeppelin, Genesis, Alan Parsons, Peter Gabriel, and many more.
Thorgerson was the principal designer for much of that artwork, and Taken by Storm chronicles his complete story, from the Hipgnosis days to more recent work for the likes of Phish, the Mars Volta, Umphrey's McGee, and - as shown on the book cover - Audioslave.
Each image reproduced here is accompanied by in-depth analysis of its motivation, themes, and setup. And now that the old Art of Hipgnosis book is long out of print, this is required reading - and ogling.

BOSTON ROCK & ROLL
The Sound of Our Town: A History of Boston Rock & Roll. By Brett Milano. (Commonwealth Editions)
Yes, last but certainly not least: Our own Brett Milano has published his second book. His first one, you may recall, was Vinyl Junkies: Adventures in Record Collecting (St. Martin's Griffin), which in 2003, among other things, anticipated the current vinyl revival by several years.
Now comes the sound of his longtime haunt, Boston. He begins with the G-Clefs in 1955, heads into the '60s with the likes of the Remains, and keeps rolling from there. Or, as he says in his Introduction: "Boston's rock scene quite literally began in the shadow of its Puritan heritage, and in some ways we've been kicking against it ever since. Boston was never an industry hub to match Los Angeles or New York, and we don't have quite the history of the Southern music capitals. Still, we've beaten the odds often enough: in the '70s with the J. Geils Band, Boston, the Cars, and Aerosmith; in the '80s with the Pixies, 'Til Tuesday, and Aerosmith; in the '90s with Buffalo Tom, the Lemonheads, and Aerosmith; and in the new millennium with the Dresden Dolls, Godsmack, Aerosmith, and a few players to be named later."
And there's so much more here: the Modern Lovers, Mission of Burma, Throwing Muses, Dinosaur Jr., Letters to Cleo, Dennis Brennan . . . or, to put it another way, everyone from Willie Alexander (that's him on the cover) to GG Allin! Illustrated with vintage photos and posters, this is a compelling history. And if you've enjoyed Brett's lucid yet vivid writing in Stereo Review and Sound & Vision over the years, you'll want to hitch a ride to his Boston.
LATEST VIDEO