Podcast 83: Philip Clements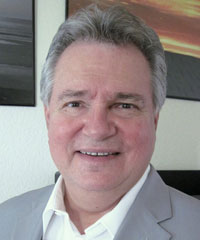 Philip Clements, inventor of the H-PAS (Hybrid Pressure Acceleration System) speaker-loading technology used in his own speakers as well as models from Atlantic Technology, explains how H-PAS combines bass-reflex, acoustic-suspension, and transmission-line techniques to offer many advantages, including extended bass response, lower distortion, and greater dynamic range.
Run Time: 56:20
Click here to listen to this podcast.
Philip Clements started his first loudspeaker company, Phase Research Corporation, in 1977, which later became Clements Loudspeakers in 1983. He sold it to Canadian interests in 1986 and went into executive management with a savings-and-loan. In 1992, he entered back into the loudspeaker business, running the new home products division for Orion Industries, a car speaker and amplifier manufacturer, which they named Solus. In 1997, he purchased Solus from ADS Corp, which had bought Orion three years before. While building Solus, his original Clements Loudspeaker company became available, and he subsequently purchased it back merged it with Solus, hence the current name Solus/Clements Loudspeakers.
It was during his ownership of Phase Research that Clements first invented "Compression Line Loaded Bass," the forerunner to today's H-PAS (Hybrid Pressure Acceleration System). He points out that H-PAS not only affords greater extended bass, but greater dynamic impact from these low bass frequencies. Limited low-frequency dynamic range is the weakest part of speaker performance today, and H-PAS significantly improves this vital performance factor.
Here's the video of this podcast:

SPONSORED VIDEO