Podcast 59: Sandy Gross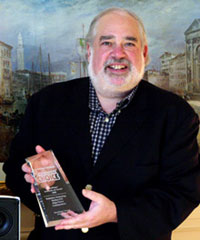 Legendary speaker designer Sandy Gross discusses his illustrious career, the process of speaker design, different types of speaker drivers, imaging, the advantages of including powered subs in the main speakers, how GoldenEar manages to create high-quality yet relatively inexpensive speakers, bi-amping, tubes versus solid state amplification, vinyl versus digital audio, "exotic" speaker cables, answers to chat-room questions, and more.
Run Time: 58:49
Click here to listen to this podcast.
Sandy Gross is a graduate of Johns Hopkins University where he received a Bachelor of Arts in Social and Behavioral Science. He was a co-founder and Vice President of Polk Audio as well as the founding President of the Council of Audio Specialty Manufacturers which later became the Specialty Audio Division of the EIA, which he chaired. He was a co-founder and President of Definitive Technology, and is a co-founder and currently President of GoldenEar Technology. A member of the Audio Hall of Fame, he was on the Board of Directors of the Electronic Industry Association and the Consumer Electronics Association. Currently, he serves on the Board of Trustees of the Walters Art Museum.
Here's the YouTube video of this podcast: