Podcast 120: Dave Duncan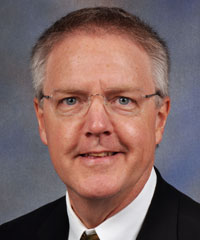 Dave Duncan, Business Manager of DLP Cinema for Texas Instruments, explains the technology of Digital Light Processing, including the impossibly tiny moving mirrors on the surface of a Digital Micromirror Device (DMD) chip, 3-chip versus single-chip designs, and switching speed. Other topics include the transition from film to digital projection in commercial cinema, 2K versus 4K, 3D, high frame rates, alternative illumination sources such as lasers and LEDs, answers to chat-room questions, and more.
Run Time: 57:12
Click here to listen to this podcast.
Dave Duncan is the Business Manager for DLP Cinema Products at Texas Instruments. Dave's responsibilities include business strategy, product direction, marketing, and overall operations for both the DLP cinema and DLP HDTV businesses.
Previous to his current assignment, Dave spent eight years working with DLP cinema customers and the entertainment industry to commercialize both 2D and 3D DLP cinema technology enabling the current installed base of over 65,000 digital-cinema screens worldwide. He also managed DLP's worldwide education team, which focused on creating and marketing innovative classroom solutions for both 2D and 3D interactive projection systems.
Dave has been at Texas Instruments for over 26 years and has held management positions in operations, product marketing, and business development in TI's Defense Systems and Semiconductor divisions. He is a graduate of Purdue University with a B.S. degree in Industrial Engineering and currently resides in Richardson, Texas.
Here's the video of this podcast: