Podcast 104: Carlos Angulo & James Kittle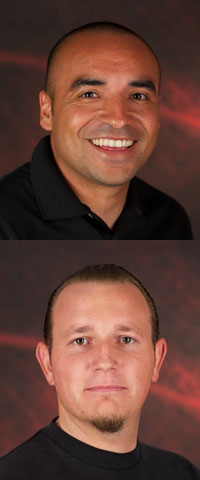 Vizio product marketing manager Carlos Angulo and product engineer James Kittle talk about Vizio's soon-to-be-released 21:9 CinemaWide flat-panel TVs, including size considerations, LED edgelighting and backlighting with Smart Dimming, Vizio Internet Apps, scaling 2.35:1 movies to the panel's native 2560x1080 pixel resolution, and passive 3D. They also discuss Vizio's upcoming Google TV implementation, its 4K technology demonstrations at trade shows, answers to chat-room questions, and more.
Run Time: 51:18
Click here to listen to this podcast.
Carlos Angulo, Vizio Product Marketing Manager, joined the company in 2010 and has led product initiatives such as the launch of both Smart TV and 3D TV as well as Vizio's entire Beyond TV lineup, including soundbars, headphones, and audio docks.
James Kittle, Vizio Product Engineer, joined the team in 2008 and was integral in the launch of the Vizio Internet Apps (V.I.A.) platform. He continues ongoing development of the V.I.A. Platform with an expanding role in Vizio's Beyond TV lineup and all future Internet-connected products.
Here's the video of this podcast:
WHERE TECHNOLOGY BECOMES ENTERTAINMENT