Podcast 103: Bob Schulein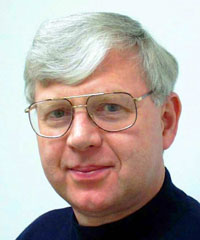 Audio-product designer Bob Schulein talks about his long and distinguished career, including microphone design and his pioneering work on multichannel matrix encoding and decoding for broadcast and music recordings. He also explains his current project called ImmersAV, in which he shoots high-def video and records binaural audio to create a more immersive A/V experience. In addition, he discusses his extensive headphone measurements and how they relate to perceived sound quality, answers chat-room questions, and more.
Run Time: 1:05:46
Click here to listen to this podcast.
Bob Schulein has been involved with the design, development, manufacturing, and marketing of electro-acoustical products for over 40 years. He is currently the owner of RBS Consultants, an international consulting firm in Schaumburg, Illinois, which provides consulting services in areas of acoustics, product research, product design and development, project management, and audio/video recording engineering and producing.
His areas of specialization include professional and consumer audio products and applications, telecommunications, and the hearing-health industry.
Bob received BSEE and MSEE degrees from the University of Wisconsin, Madison, where he did research on piezoresistive semiconductor transducers.
Prior to forming his own consulting firm, Bob held positions at Shure, Inc., and Etymotic Research, Inc., in design, development, engineering management, corporate division management, and senior corporate management. During this period, his focus was in areas of consumer electronics, professional audio, telecommunications systems, audiology, and hearing-aid component development.
While at Shure, Bob managed the Home Theater Sound (HTS) division, which pioneered the development of the first enhanced matrix decoders emulating the professional Dolby products in theaters. This work led to the development of a complete line of processors, power amplifiers, and loudspeakers for high-end home theater systems, predating the introduction of THX performance concepts. The HTS division also developed and pioneered the use of enhanced matrix encoders and decoders for professional applications. Bob introduced matrix surround-sound encoding to baseball television broadcasting, episodic television, Saturday Night Live, The Grammy Awards broadcast, and Super Bowl XXIV in 1990.
Bob's earlier work at Shure was in the area of condenser-microphone research, development, and design. He led the group effort to introduce Shure's first professional condenser microphone, the SM-81.
Bob has been granted 19 patents in the fields of acoustics and electro-acoustics and has 17 patents pending.
Bob has been active in a number of professional organizations within the audio and hearing industries. He is a Fellow and Past President of the International Audio Engineering Society, where he received the Publications award in 1977 and the Board of Governors Award in 1990.
He currently serves on the Editorial Board of the Journal of the Audio Engineering Society, is a vice-chair of the AES Technical Council, and is chair of the AES Technical Committee on Hearing and Hearing Loss Prevention. Bob is a member of the American Auditory Society as well as an active member of the American National Standards Institute S3WG48 working group on hearing-aid measurements.
Bob's long interest and successful track record in solving difficult engineering problems has led to his development of miniature directional microphones for hearing aids, an acoustically transparent non-porous wax barrier for the hearing aid industry, and an advanced professional in-ear monitoring system used by major performers. It was the high-performance patented binaural audio technology used in these in-ear monitoring systems that served as a major component of ImmersAV Technology.
Here's the video of this podcast: