PlayStation3 Blu-ray Disc Player
In the years I've been covering consumer electronics I haven't seen anything like the introduction of Sony's PlayStation3 game console. The thing is a bonafide rock star. At the PS3's gala introduction in San Francisco gamers who had been camping out on the street for days actually cheered as an 18-wheeler with a full police escort rolled up carrying the game consoles, which went on sale at midnight and sold out Sony's initial US run of 150,000+ units within minutes.
We've all read those stories about PS3s going for thousands on Ebay and people killing one another to get them. I'm only performing this review under the explicit understanding that none of you can get my address and come find me while the PS3 is here!
Of course what's fascinating to us here at UAV is that the PS3 is not only a Blu-ray Disc player, but even the upscale $600 model reviewed here is the least expensive BD player on the market. Even if we don't want outright convergence with our computers, having components serve multiple purposes is freaking cool, and the PS3 is a fully loaded home theater source component in addition to being the next big thing in gaming.
So the question we're answering here, as hardcore home theater enthusiasts, is what the PS3 has to offer as a crossover component, and whether you'd be missing anything going with this game console over a standalone player. Here's a tease: not only will you not miss much, you'll gain a lot!
Inside: The Guts
Manipulating high-definition video and graphics as high in resolution as 1080p at high speeds requires a ton of processing horsepower. At the heart of the PS3 is the Cell Broadband processor, which was developed jointly by IBM, Sony, and shockingly, Toshiba, Sony's foil in the next-gen format war. It is a multi-core design, with eight "synergistic processing elements," each of which is capable of true parallel processing. In other word, it's turbo-charged, high-speed/low drag processing, and as you'll read the PS3 is the fastest, slickest BD player yet available.
Both versions of the PS3 are also spec'd with 256MB of RAM and another 256MB of GDDR3 VDRAM, which is third generation graphical double data rate VRAM.
Outside: Sexy As Hell
The PS3 unequivocally has that indefinable "it." The thing has cool written all over it. It's all curves, and one of the most gorgeous looking pieces of kit I've ever seen. It's very compact, gloss black, and can be oriented horizontally or vertically. The power supply is integral, so there's no power brick or wall-wart to clutter things up. It also has an AC inlet and thus accepts aftermarket power cords, if you are so inclined.
As far as commanding the PS3 goes, there are no buttons or displays of any kind on the thing anywhere. The Blu-ray Disc drive doesn't have a tray, it instead uses a tractor to pull discs in to play, and the power and disc eject functions are engaged by touch sensitive embossed keys. Very sleek.
For those keeping score at home, here are the main differences between the $500 PS3 and the $600 job covered in this review. The $600 version as a 60GB hard drive, compared to 20GB in the lower priced model. The more expensive version features built-in Wi-Fi and slots for Memory Stick, SD and CompactFlash cards, which are stealthily concealed underneath the ledge on the front of the unit. While early reports had HDMI (version 1.3) appearing only on the $600 PS3, both units shipped with HDMI 1.3 support.
Also of interest to home theater buffs is that Sony has included full 7.1-channel support for Dolby's lossless TrueHD codec, in addition to Dolby Digital and DTS. The PS3's platform is fully upgradeable and it's possible that support for DTS' lossless audio coding, DTS-HD Master Audio, could be added later. Note though that there is no multichannel analog audio output. If you want multichannel out with support for hi-res audio you need to have an HDMI-equipped AVR or pre\pro, and it needs to be at least HDMI 1.1 or later to be compatible with multichannel PCM, and HDMI 1.3 to be compatible with native digital transmission of the new Dolby and DTS formats.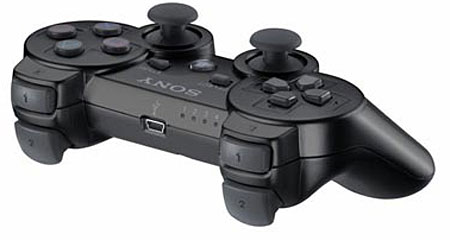 The $600 PS3 has both hard-wired Ethernet and Wi-Fi, which make firmware updates simple to download. Its wireless capability, in particular, works like a charm- the PS3 found my wireless network and downloaded a software update as soon as I fired it up. It's also downloaded two or three more since, and I'm guessing they're large because they can take a while to download. And that's downtime- you can't play games or watch movies while updating, and once the update starts you're warned against turning the machine off.
Built-in networking is a connectivity advantage for the PS3 over the standalone BD players currently released and about to be released, none of which have even an Ethernet port. The lack of an Ethernet port and/or Wi-Fi may be a hindrance with respect to next-gen interactivity, which will eventually be web based to at least some extent. HD DVD is already cooking up some cool features that will require their players to grab stuff from the 'Net. Standalone BD players' lack of networking so far is nothing short of mystifying, but the PS3 can do it and do it by Wi-Fi if you step up to the $600 version.
HDMI version 1.3 will also allow the PS3 to pass Dolby TrueHD in its native digital form once compatible decoders are available in AV receivers and surround pre-pros, and the same goes for DTS-HD Master Audio when and if Sony issues a firmware update that adds support for that codec.
Of course, HDMI is your conduit for 1080p video as well, but note that the PS3 outputs 1080p/60, not the 1080p/24 that is native to movies on Blu-ray. This is among the things that the standalone players from Sony and Pioneer will provide that the PS3 won't. For enthusiasts who have, or plan to have a display that shows 1080p/24 at multiples of 24fps, which eliminates the temporal artifacts inherent in displaying 24fps native material at either 30fps or 60fps, this is a small strike against the PS3, at least in theory. I'll have more on the video output formats later. I don't know if 1080p/24 support is something that could be added to the PS3 in a future firmware update, but we can hope.
The PS3 does not have a conventional set of component jacks. So if you planning to use component video instead of HDMI you'll have to use a special Sony breakout cable that has a proprietary connector on one end (which plugs into the player's so-called Multi AV output) and analog component video and 2-channel stereo audio at the other. This cable is an extra-cost item, available separately. An S-Video breakout cable is also an option. The only breakout cable packed with the player provides composite video. But neither S-Video nor composite is of any use for Blu-ray playback since high definition video requires either a component or HDMI connection.
There is a Toslink optical digital out, but know that you're limited to garden variety DD and DTS from that output- it can't transmit Dolby TrueHD, DTS-HD Master Audio or even the hi-res multichannel uncompressed PCM tracks on Sony and Buena Vista's Blu-ray titles.