Planar PD8150 DLP Projector
Although Planar has a significant presence in the video-display business, it's relatively new to the home-theater market. The company first popped up a couple of years ago at a major trade show with some intriguing prototypes. Since then, it has expanded its home-theater resume by acquiring Runco and Vidikron, and all three brands maintain their separate identities under the Planar umbrella.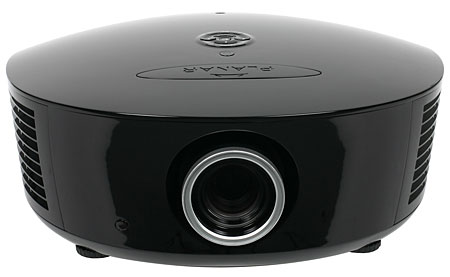 The Planar brand is aimed at more budget-conscious home-theater consumers. As the company's top-of-the-line projector, I would hardly call the $8000 PD8150 "budget," but both Runco and Vidikron offer far more pricey products. Those upmarket nameplates are most often found in custom installations, while Planar's market includes the buy-it, unpack-it, and install-it-yourself crowd—which, I suspect, describes many of UAV's readers.
Features
The PD8150 certainly sports an eye-catching design, with its smoothly rounded, glossy black case. A matching, detachable cover retains the shapely look while concealing the input panel and cables at the back.
The standard zoom lens has a relatively long throw (see Specifications), but a shorter-throw lens is available as a $799 option. Both focus and zoom are manual, as are vertical and horizontal lens shift.
The lens barrel has a threaded mount for a 72mm filter. Some users may find a neutral-density filter helpful for reducing the projector's light output, which was more than ample on my 78-inch-wide screen in either of the two lamp settings, Economy and Standard.
As a single-chip DLP projector, the Planar uses a 6x color wheel. The wheel rotates at 6x the frame rate—360Hz for a 60fps source and 288Hz for a 24fps source that has been upconverted by the projector to display at 48Hz.
The aspect-ratio options include a Native mode for direct 1:1 pixel mapping, which is useful specifically with 1080p and 1080i sources. The Letterbox mode appears to vertically stretch an image for use on a 2.35:1 screen with an anamorphic lens, and 4:3 Narrow mode is provided for viewing 4:3 sources in the center of the screen, also with an anamorphic lens. There is no variable stretch mode for filling a 16:9 screen with a 4:3 source, which is no loss, since no one has yet found a way to do this well.
There's also picture-in-picture (PIP) and "picture-by-picture" for displaying images from two input sources side by side. This is the first projector I've seen with this feature.
The PD8150 offers 11 different test patterns that can be called up at any time. There's also a Blue Only mode that turns off the red and green colors. This lets you correctly set the Color and Tint controls without having to use a colored filter, which is notoriously unreliable.
You can also call up an onscreen display—misleadingly called the Service Menu—that indicates the current operating conditions for the projector, including the horizontal and vertical refresh rates for the current source, the Signal Format (i.e., resolution, such as 1080p, 1080i, etc.), and the hours on the lamp.
LATEST VIDEO