Pioneer VSX-1120 A/V Receiver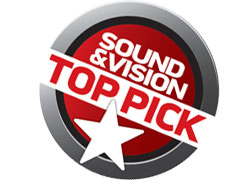 Price
: $749
At A Glance
: Top model in regular line • THX Select2 Plus certification, proprietary auto setup • Marvell video processing, DPLIIz height enhancement
Not Elite but Neat
Like Sony, Pioneer maintains two separate A/V receiver lines. Pioneer Elite emphasizes build quality and power while providing all the latest features. The line simply known as Pioneer emphasizes value while providing nearly as many of the latest features as Elite. They both succeed handsomely. Over the summer, Pioneer updated both lines. Having already dived into the bottomless pool of joy that is the Elite SC-37 [HT, December 2010], top model among the new Elites, I was ready to slide the regular Pioneer line's top model into my rack's guest AVR berth.
Overview
An overview of the 2010 regular Pioneer line from the bottom up may be instructive. It starts with the VSX-520 ($229), a fivechannel model with 3D-friendly HDMI 1.4a, the Dolby Pro Logic IIz height-enhanced listening mode, and Bluetooth readiness with optional adapter, just in case you'd like your cell phone to be on speaking terms with your AVR. The VSX-820 ($299) has all that and adds MCACC auto setup and room correction, iPhone/iPod certification, front-panel USB, and Sirius satellite radio. While it's impressive that these five-channel models feature DPLIIz, actually using the height channels would mean scrounging up two more channels of amplification somewhere, so perhaps it's a mixed blessing.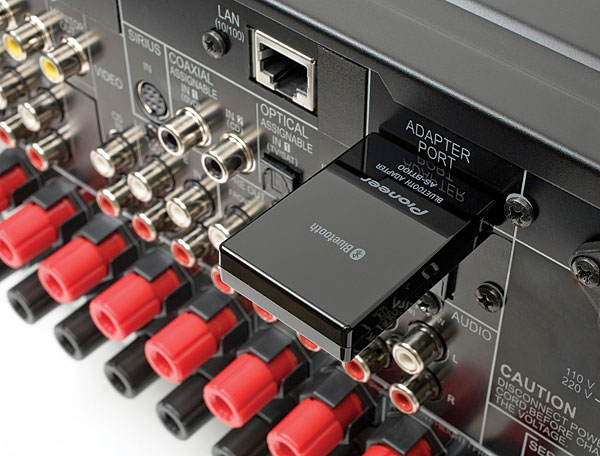 The seven-channel models start with the VSX-920 ($399), with multichannel PCM and two-channel SACD playback via HDMI and Anchor Bay video processing. Step up to the VSX1020 ($549), and the features fly thick and fast: Advanced MCACC setup with standing-wave control to defeat room-induced bass anomalies, multichannel PCM and multichannel SACD playback via HDMI, jitter reduction, lip sync, learning remote, iControlAV app for iPhone and iPod touch, Internet radio with 24 presets—and a few other things, but let's stop there. The VSX-1120 tops off the line with Marvell video processing, illuminated learning remote, an optional omnidirectional RF remote—which can beam through walls—and a few other niceties, including THX certification, discussed below. I know, that's a lot of stuff. Go and have a cuppa tea.
Like several Elite models but no other regular Pioneer models, the VSX-1120 is THX certified. The version used here, THX Select2 Plus, ensures that the AVR will play loud and clear in rooms of up to 2,000 cubic feet and at viewing distances of up to 10 to 12 feet when used with THX Select2–certified loudspeakers. The Plus refers to THX Loudness Plus, one of the fab new low-volume listening modes I'm always going on about. It preserves perceptions of frequency response and ambience that would otherwise decline at volumes below the (rather loud) reference level.
Another notable certification for this model and a few lowerpriced ones is Made for iPhone/iPod. Pioneer even goes so far as to include a white Apple cable that includes both the usual 30-pin connector and composite video—it works with most generations of iPod classic, nano, and touch. You can control the iPhone's playback directly or with the conventional remote control, switching between them with a button on the front panel. The AVR can play music with full album information and art, video content, photos, and Web content such as YouTube. While all that unspools, the iPhone's wireless and network features keep working in the background. When a call comes in, the VSX-1120 mutes your entertainment.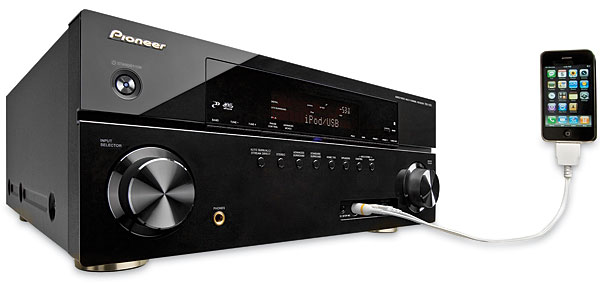 The device will charge when connected.

You're Back Already?
The VSX-1120 is not intimidating to look at. In between the input select knob at left and the volume knob at right is a row of black buttons running below the display, most of them devoted to listening mode selection. It's nice that you can plug your iPod, iPhone, Android phone, or external drive directly into the front-panel USB jack without the need for an accessory dock. Bluetooth is enabled with an optional adapter (AS-BT100, $99). The unit's seven channels are served by nine sets of binding posts, so you can switch between different loudspeakers for surround-back and DPLIIz height (or proprietary width) enhancement. The supplied remote has tiny buttons and won't win any awards for ergonomics, but it's reasonably easy to use. Pioneer also offers a Web interface that may be especially useful when you're operating the AVR from a second zone.
Where Pioneer excels is in the graphic user interface. Its use of color and graphics, though usually restrained, can be illuminating. For instance, when I checked the standing wave compensation settings, the three notch filters were juxtaposed in different colors. Checking the equalization for each channel, I found recording-studio-style slider graphics for each channel, which slid up or down as I switched among channels. Throw in context-sensitive help—with text that explains each menu item at the bottom of the screen—and you have an AVR that's logically arranged, and even fun to use, if you're an intermediate to advanced tweaker.
Beginners would be intimidated by this product or pretty much any other A/V receiver on the market. Nature of the beast. But the Full Auto version of Pioneer's Advanced MCACC (Multi-Channel Acoustic Calibration System) does most of the tweaking for you by acoustically measuring the room and making an awe-inspiring, if not mind-numbing, array of sonic adjustments. Once you've connected the setup microphone, selected your speaker layout, run the test tones, and maybe changed the default listening mode for each input in use, there's little left to do but pick inputs and adjust volume.
If (like me) you prefer THX speaker settings—with speakers set Small and a subwoofer crossover of 80 hertz—you should note that if you select THX Speaker before you run MCACC, the Pioneer will make the correct settings automatically. You're also at liberty to do it manually, but the THX method is easier if you have the appropriate loudspeakers. Otherwise MCACC will make its own decisions about speaker size and sub crossover. Also note that selecting THX Subwoofer will set the 80-Hz crossover, adding an additional option, a BGC (Boundary Gain Compensation) to reduce bass bloat. With MCACC in the mix, you may not need BGC, but if you're not running MCACC—or don't like its effect on bass—you may prefer to use BGC.