Pioneer Elite SC-07 A/V Receiver
Price
: $2,200
At A Glance
: Ultra-sophisticated setup and calibration system • Punchy-sounding ICEPower amplification • Versatile LAN-based Home Media Gallery with iPod connectivity
Too Much Functionality?
One step down from Pioneer's flagship $7,000 SC-09TX A/V receiver, the SC-07 offers an equally dizzying feature set and plenty of ICEpower. It's all packed into a far more compact, shelf-friendly package, and it sells at a steeply lower $2,200 price point. If you lusted after the SC-09TX (HT, November 2008) but were put off by the price, consider what the SC-07 offers for so much less.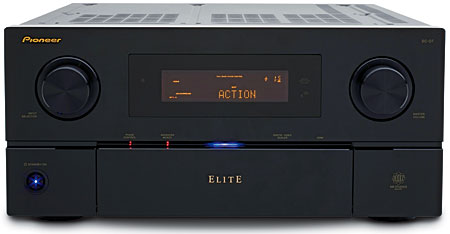 You give up the full-color LCD screen, 60 watts of power per channel (140 watts times seven versus 200 watts times ten) and a few minor peripherals. But you get all of what most A/V receiver purchasers want (and more). Plus, you'll have enough money left over to buy a big-screen LCD or plasma TV—or, for that matter, a very nice turntable.
The SC-07 offers the full complement of surround sound modes, including the most recent lossless ones from Dolby and DTS as well as Direct-Stream Digital (DSD) when used with an HDMI-equipped SACD player. It also includes the THX Ultra 2 Plus feature set, both XM and Sirius radio connectivity, a sophisticated, full-featured microphone-based acoustic calibration setup system (MCACC), and a moving-magnet phono input. The SC-07 also offers Faroudja DCDi video processing/upconversion of analog 480i, 720p, and 1080i signals to 1080p (or whatever resolution you choose) via the HDMI output. Like the SC-09TX, it passes through incoming HDMI video signals and does not process or upconvert them.
Pioneer's largesse extends to the LAN terminal-based Home Media Gallery, which is also included in the SC-09TX. When you connect a Windows-based computer, you can play audio files (the usual suspects like MP3 and WMA, as well as FLAC), view your photo collection, or listen to Internet radio. You can also view photos and play audio files stored on a USB drive via a front-panel port or connect your iPod there and control it from the receiver. The SC-07 has facilities for two remote zones that you can configure using a variety of options (including component video for HD with one), and you can use a pair of the amplifiers to biamp your front speakers.
The rear-panel layout is clean and uncluttered. It features four vertically stacked HDMI inputs as well as a generous number of other inputs and outputs, including S-video. HDMI is clearly an industry-standard connector that was designed by engineers who spend too much time in the virtual world and not enough time in the real one. How else could you explain such a stupidly designed connector with no visible means of support and no securing hardware? Vertical alignment was a good choice by Pioneer's engineers since it hangs the connector by its stiffest element and is likely to subject the connector and cable to the least amount of physical stress.
Setup
You can set up the SC-07 the old-fashioned way: manually, using the cleanly rendered GUI. But it's also easy to connect the supplied microphone and use Pioneer's proprietary microphone-based Multi-Channel Acoustic Calibration (MCACC) setup program. It doesn't just identify and adjust for speaker size and location and then apply response-flattening room correction. It goes beyond that and into the realm of low-frequency standing wave suppression and phase and group delay correction.
Unlike the Audyssey system, MCACC measures from only one location at a time and stores the results in position memories. You can rerun the program for various listening positions in your room and then select a position's memory preset to return to the results for that position. For example, if you sit closer to the screen to play video games, you can select that position when you play games and your regular couch position when you watch movies. To help keep track, you can name each measured position.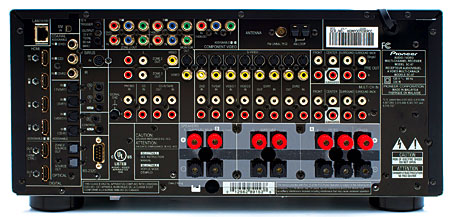 The automatic system accurately calculated speaker sizes, distances from the listening position, and output levels—except for the subwoofer, which, according to the SPL meter and my ears, I needed to turn up. The frequency response calibration made changes that were similar to those I observed using other systems in my room and with the same positive results.
The Pioneer accomplishes all of these functions automatically during the MCACC setup. However, to manually tweak the levels and speaker distances, you can enter the Advanced MCACC menu system and select Manual MCACC. You can also bypass the MCACC system entirely and manually adjust the system from the System Setup menu.
You can also delve into the Standing Wave settings and access EQ Adjust and EQ Professional, both of which utilize sophisticated graphics and measurement techniques to pinpoint and correct room problems. You can view the graphics onscreen or on your computer using Pioneer-supplied software. I suspect most users will find that the MCACC's automatic mode delivers useful solutions to average room and speaker issues and leave it at that, which is what I did.
The SC-07 uses an unusually versatile selection of electronic tools, most of which are not found on any other A/V receiver that I know of regardless of price. In theory, it can turn a bad room into a tolerable one and perhaps mediocre speakers into decent ones.