Pioneer Elite DV-47A DVD/SACD Combi Player Page 4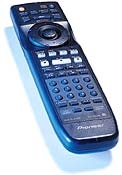 My listening sessions yielded impressive results with every disc I tried. In a word, sound quality was stellar, with measurably and audibly clean reproduction that benefited all kinds of music - especially complex multichannel textures. There are no better examples of this than my favorite demo DVD-Audio disc, the Mode recording of electronic music by Morton Subotnick, and the often equally spectacular new multichannel SACD of Carl Orff's Carmina Burana on Telarc. (Even if you don't know the piece, you're sure to have heard the opening and closing choruses, "O, Fortuna," which have been used in many movie trailers and commercials.) The razor-sharp clarity given to the Orff's mixed and children's choruses, vocal soloists, and huge orchestra with enlarged percussion section was in keeping with the tight, dry, high-impact sound quality Telarc provides. It also encouraged live playback volume. Play both these discs loud.
On the visual side, I had absolutely no complaints. The video quality through all of the DV-47A's outputs was state of the art in detail and color reproduction. The can-can scene in my current favorite demo DVD movie, Moulin Rouge, is a splendid example. Images delivered via the progressive-scan component output looked particularly fine, especially on a large screen. This was true even with a few older movies, like the recent DVD releases of 1982's Tron (Disney) and 1984's The Adventures of Buckaroo Banzai Across the Eighth Dimension (MGM/UA), a parody sci-fi action-adventure flick with a literally electrifying performance by John Lithgow. Play these for fun, and check out www.banzai-institute.com on the Web.
With the DV-47A, Pioneer has demonstrated that it's possible to build a truly universal DVD/SACD player that delivers top-quality performance on all of its audio and video outputs. If your system can compensate for the DV-47A's bass-management peculiarities, either with an outboard bass processor or a receiver like Pioneer's current top-of-the-line THX Ultra2 model, you'll get all there is to hear and see from any disc you put into its tray.
---
LATEST VIDEO