Pioneer Elite BDP-HD1 Blu-ray Disc Player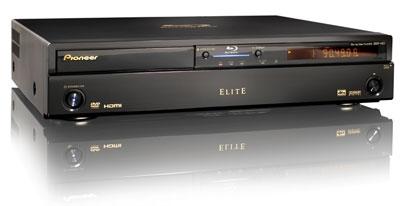 By now a fair number of companies have introduced machines to play Blu-ray Discs. Having checked out a handful of them, including models from Sony, Panasonic, and Samsung, I can tell you that their features and capabilities vary widely. Sure, they handle high-def movies, but some also let you play videogames and connect to the Internet, as well as listen to DVD-Audio discs and Super Audio CDs. One area where they're all the same, however, is in their handling of high-rez soundtrack formats like Dolby True HD and DTS-HD Master Audio. At present, not one of the first-gen Blu-ray models (outside of Sony's PS3) provides built-in support for these new formats, instead delivering regular old Dolby Digital and DTS.
Feature-wise, the $1,500 Pioneer Elite BDP-HD1 Blu-ray Disc player sits somewhere near the bottom of the Blu-ray pack - a surprising situation, given the player's status as the most expensive high-def disc player on the market. Here's what it can do: Along with Blu-ray Discs, the BDP-HD1 plays DVDs and DVD-R/RWs, including discs containing high-def Windows Media Video (WMV HD), Windows Media Audio, and MP3 files. And the player's Ethernet port allows you to stream audio, video, and digital pictures over a home network from a PC running DLNA-certified server software. Also, if you happen to have a TV or projector capable of accepting a 24-Hz input (Pioneer's own PRO-FHD1 plasma, for example), the player can take the 24 frames-per-second progressive video signal encoded on Blu-ray movie discs and deliver it directly to the display without additional processing - a technique that can cut down on motion-related picture artifacts if the display can operate at 72 Hz as well as 60 Hz.
But there are some key areas where the BDP-HD1 comes up short. For one, the Pioneer sports an earlier version of the HDMI interface, as opposed to the state-of-the-art 1.3 port found on Sony's PlayStation 3. On a practical level, this means that it can't deliver Dolby True HD and DTS-HD Master Audio soundtracks in native bitstream format to an outboard receiver or processor for decoding (no such hardware is available yet, but a few models should be showing up this summer). Like most other Blu-ray players out there, the Pioneer doesn't provide built-in decoding of either format. And although the player has an Ethernet connection, it doesn't support BD Live - the online component of interactive BD-Java content for Blu-ray Discs (Pioneer says the specs for BD Live are just now being finalized and players that support it won't appear until next fall at the earliest). The real kicker, however, is the BDP-HD1's inability to play regular audio CDs. I know the music industry's business model is transitioning to online distribution of tunes, but last time I checked, I had a sizable collection of CDs - one that's still growing!
At least Pioneer's player looks the part of a high-end piece of gear. Its case is relatively slim, and the front panel sports the same gloss-black finish found on other Pioneer Elite components. On the panel's top half are a disc tray, LED display, and a group of indicator lights to tell you if the player contains a Blu-ray Disc, is delivering signals via HDMI, or has its dimmable display switched off. Lifting the flip-up door at the bottom reveals a slew of control buttons that duplicate those found on the player's remote. These let you rewind, fast-forward, and chapter-skip through discs, switch the player's video output format from 480i up to 1080p, navigate both disc and player menus, and access Pioneer's Home Media Gallery feature, which allows streaming of music, video, and photo files from a PC when the player is connected to a home network.