Pioneer DVR-57H TiVo DVR/DVD Recorder Page 2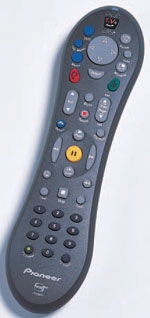 Compared with the other DVD recorders we've tested, however, the DVR-57H is stripped down. It provides a very simple means of creating "keeper" DVDs of recorded TiVo programs - period. You can't even record directly to DVD from an external source: all content must reside on the hard drive before dubbing to DVD, even A/V material coming in through the auxiliary inputs, such as from a camcorder.
There are no editing facilities, which means you can't remove commercials from your keeper discs. Then again, the lack of editing features is one reason the DVD-recording function is so easy to use - in contrast to the steep learning curve of a typical DVD recorder. The consistent use of the TiVo menu system for controlling the recorder is another reason. All the menu guidance is in plain English, there are no cryptic symbols to learn.
In fact, making a DVD is even easier than using TiVo's program guide: check off the shows already recorded to the hard drive that you want dubbed in the order you want them copied, press Select, and off you go. The program-selection process provides a simple-to-understand display of the space required for a DVD copy and the amount of space available on the DVD.
Every disc burned in the DVR-57H is automatically finalized so it can be played on other machines - but for a DVD-R it also makes further recording impossible. If the programs you've dubbed didn't fill up the DVD, you can't reinsert the disc later and fill up the unused space. Even reuse of a DVD-RW requires erasure of any previous dubs. The good news is that dubs made to DVD-RW will work in most players.
The DVR-57H automatically provides onscreen menus for DVDs it burns, which helpfully duplicate the menu layout and graphics of the TiVo system. They even include the recording date and the original recording mode as well as detailed descriptions of each program. These are the best automatically generated DVD menus I've seen from any DVD recorder. And while you can't insert your own chapter markers, TiVo automatically inserts them at 5-minute intervals in all DVD dubs.
HIGH POINTS Easiest-to-use DVD recorder yet. Very good video quality. Excellent TiVo user interface. Automatic DVD menus include TiVo program information.
LOW POINTS No editing functions whatsoever. Pricey.
It's essential to select the recording mode carefully - even more than with a "plain," nonsatellite-connected TiVo HDR that doesn't have a built-in DVD recorder. A 1-hour program recorded at the highest video quality level on the TiVo, the Extreme (Fine) mode, will completely fill up a blank DVD. If you want to dub a 2-hour program recorded in that mode, you're out of luck since the unit won't perform the data-rate conversion necessary to make it fit. Better to have used High (SP) quality, TiVo's default mode, which makes 2-hour recordings that fit, snugly, on a blank DVD.
The Medium (LP) and Basic (EP) modes enable maximum DVD capacities of about 4 and 6 hours, respectively, but MPEG-encoding artifacts increase noticeably, becoming quite obvious in the EP mode. If you want to record every episode of Law & Order: Criminal Intent with video quality even remotely approaching what you get on commercial DVDs, use the SP or Fine modes.
There are other DVD limitations. You can't transfer a program shorter than 2 minutes, programs obtained from other TiVo HDRs through the Home Media Option (an extra-price feature that lets you link TiVos on a home network - that's what the USB port is for), or programs that have dubbing restrictions attached to them. And like any other DVD recorder (and TiVo, for that matter), the DVR-57H won't record Macrovision-protected signals coming into its auxiliary video inputs, including precorded VHS tapes and DVDs.
As a DVD player, the DVR-57H has many, but not all, of the standard features. There's also a progressive-scan output, which is pretty standard for DVD players, but what's unusual here is that it's available for all signals, even TV programs watched "live" through the TiVo buffer. Faroudja DCDi processing converts interlaced video to progressive format and optimizes it for progressive display with a minimum of jagged diagonal edges and other artifacts. What you don't get are picture controls or selectable black level.
Despite the limitations of its DVD recorder, I still loved the DVR-57H. Everything that it was capable of doing, it did smoothly and easily, aided by the excellent TiVo interface. Video quality through all the outputs was just fine, and the quality of TV programs copied to DVD from TiVo was limited primarily by TiVo's initial MPEG encoding.
Combining a TiVo HDR with a DVD recorder is as big a step for DVD recording as adding the disc-dubbing function is to TiVo. After you've used the DVR-57H, any future TiVo will feel underequipped if it doesn't have a DVD recorder attached. Likewise, any other DVD recorder will seem awkward and difficult to use without some of the DVR-57H's TiVo features. If Pioneer can find a way to spice things up with basic editing features while retaining the easy-to-use TiVo menu system, the company will have a world-beating product on its hands. But just as it is, this is one of the best combination platters on the home theater menu.
---
In the Lab
DVD VIDEO PERFORMANCE Measurements were made from a variety of DVD test discs. Unless otherwise stated, data are for the composite-video output.
Maximum-white level error: +2 IRE
Setup level: +7.5 IRE (fixed)
Onscreen horizontal resolution: 540 lines
Horizontal luminance response (re level at 1 MHz) 4 MHz: -0.45 dB 5 MHz: -1.0 dB 6 MHz: -1.9 dB 6.75 MHz (DVD format limit): -2.0 dB
In-player letterboxing: good
Component-output level error (interlaced) (Y/Pr/Pb): +4.2/-5.0/-4.9%
Component-output timing error (interlaced) (Pr/Pb): +12/+12 nanoseconds
The DVR-57H did just fine in the lab. The progressive-scan output was free from the color-smearing "chroma-upsampling bug." Stereo playback from CDs was fairly clean (data omitted for space), but we'd recommend using the optical output to obtain multichannel audio from DVD soundtracks. Recorded audio was a little less clean because of the data compression, but still better than, say, VHS Hi-Fi.
Video hard-disk performance was dominated by the limitations of the TiVo system, though the DVR-57H's performance was similar to that of previous TiVo recorders we've tested. Full DVD-grade resolution (540 lines) was obtained with the Fine and SP modes, but resolution was halved (to around 250 lines) with the LP and EP modes. The latter two suffered from increasing amounts of MPEG artifacts such as blocking and mosquito noise. These video qualities were transferred with little additional loss when making DVD dubs.
Among the other recordable-DVD formats, the DVR-57H could play DVD+R/RW discs but not DVD-RAM.
LATEST VIDEO