Paradigm Soundscape Soundbar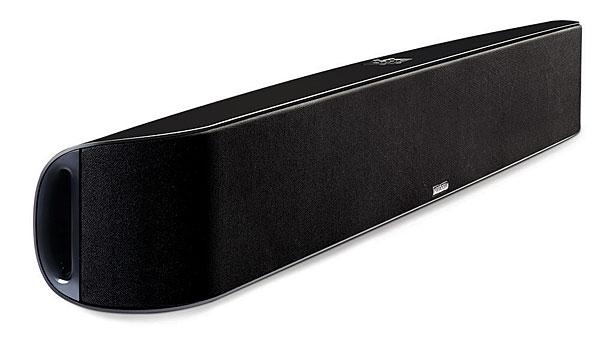 PRICE
$1,500
AT A GLANCE
Plus
Impressive tonal balance
Unusually good dynamics and bass extension
Wired/wireless subwoofer hookups
Minus
Difficult-to-read display
Obscure menu structure
Modest "surround" effectiveness
No subwoofer supplied
Pricey
THE VERDICT
It's priced among the most expensive soundbars and comes without a supplied sub. But if you value dynamics, bass extension, and overall sound quality first, you'll be well rewarded.
The soundbar proposition is easy to understand: Plunk down some cash, open up one box, and you've got home theater, without the bulky speakers, messy wires, and painful expense. It's all good, right?
You and I know better, of course— but just how close can you come?
One new answer is from Paradigm, longtime Canadian manufacturer and charter member of the maple-leaf club of high-value/high-performance speaker design. (What is it about Canadians and loudspeaker excellence? The climate? The earnestness? Canada's peerless National Research Council? Tim Hortons doughnuts? Many answers have been proposed; none is definitive.)

Whatever the case, expectations were high as I unboxed Paradigm's $1,500 Soundscape, a slim, round-shouldered soundbar designed, like many of its peers, for on-wall or shelf/tabletop mounting equally. (Paradigm includes extensive template and bracket accessories to make the former as straightforward as possible, and rubbery feet for the latter.) The design combines seven drivers into a trio of two-way hardware channels (the center is dual-woofer'd), each with a dedicated 25-watt (RMS) amplifier channel, and the system is supported by DSP-based surround magickery. I couldn't wait to hook it up.
Unlike many high-end soundbar competitors, Paradigm has eschewed HDMI connectivity in favor of the simplicity—and limitations—of old-school digital inputs (two optical, one coax), plus an analog pair. This eliminates all the potential confusion of HDMI Return Channel connection for TV audio and the several other red herrings that HDMI connection can strew, but it does mean that you must either route audio and video signals separately or commit to routing all sources through the television. I opted for the former, running digital links to the Soundscape from my Blu-ray player and cable box, and their HDMI outputs to the TV. This makes input-switching a two-step process, which is cumbersome, but I suspect that most people will go for option B, routing everything through the video display, with a single digital-audio link from there to the soundbar. [Ed. Note: As always, care should be taken before using the TV for switching; the optical outputs on most HDTVs today still convert multichannel Dolby Digital and DTS bitstream signals from a cable box or Blu-ray player to PCM stereo, preventing many soundbars from delivering their best sound quality.—RS]
I placed the Paradigm on the low stand usually reserved for my bottom-screen-edge center speaker; this put it within a few inches of on-wall. The Soundscape user interface is confined to a single-line, horizontally scrolling LED display behind its cloth grille; this is clear enough up close, but I found the blue-on-black characters awfully tough to make out from my 9-foot listening distance. The supplied remote is a small, rather generic 15-key affair, with a four-way cursor set that doubles as volume up/down and input select. In concert with a Menu key, these access the fairly simple setup options, which include on-shelf and on-wall EQ settings, display brightness and time-out, and default listening mode, this last confined to two basic choices: Movie and Music. There are also settings to help integrate a wired or wireless subwoofer. (Paradigm includes its own wireless sub transmitter in the Soundscape package, but since this report is on the soundbar alone, I didn't use it.)
Like many soundbars, Paradigm's offers a learning routine to map the Soundscape's functions to another remote, such as one for a TV or cable box.
Day by Day
Paradigm's nicely complete manual recommends giving the Soundscape a few hours of break-in, which I did by simply using it in everyday TV viewing. When I finally began my critical listening, I judged the Paradigm design to be a carefully tuned reproducer with open, natural vocal tonality on both male and female announcers and singers. The Soundscape struck me as leaning just a touch to the warm-and-full side of the spectrum, but otherwise just about spot-on, splitting the difference between casual TV-sound-appliance and audiophile-balanced Serious Listening device. And frankly, the more higher-end soundbars I audition, the more I've come to understand that this is a deliberate goal of many manufacturers. Soundbar buyers usually aren't experienced listeners sensitive to audiophile notions of sonic accuracy, so manufacturers are probably wise to ensure that, out of the box, their not-inexpensive designs will make favorable first impressions.