Panasonic PT-AE1000U 1080p Video Projector
The introduction of a 1080p projector for less than $5,000 would have been big news early last year. While that field is now getting increasingly crowded, with projectors from Sony, Mitsubishi, and JVC muscling in on the action, it's still big news—news that now includes the new PT-AE1000U from Panasonic.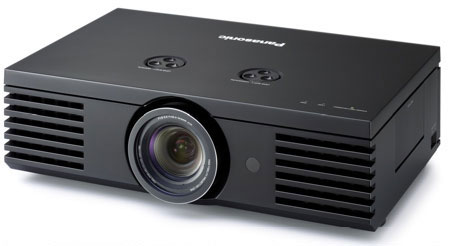 None of the projectors mentioned above are DLPs, which may be a story in itself. Panasonic's entry is a three-chip LCD design, and at an MSRP of $5,999, and "street prices" dipping below $4,000 (sometimes including a rebate on top of that), it's highly competitive in what has become a cutthroat market.
Overview
The PT-AE1000U is the first new Panasonic flagship home theater projector since the PT-AE900U, reviewed here in late 2005. But it has little in common with that earlier design.
The differences are immediately obvious from the cosmetics alone, with the new projector larger, heavier, and more substantial looking than any past home theater projector from Panasonic. And there has been no attempt here to compete in the "who has hippest, most 25th century styling" contest. Instead, the PT-AE1000U offers a functional black block that is still attractive in its own, industrial way.
But the most obvious new feature is that full HD, 1920x1080 resolution. It comes by way of three recent-vintage Epson C2Fine LCD imaging chips. In short, this is an up-to-the-minute, 1920x1080, 3LCD design.
The new Panasonic projector does share a dynamic iris and a number of other features with its predecessors. But everything here feels much more solid and refined. The vertical and horizontal lens shift adjustments are manual, but the Focus and Zoom controls are motorized.
I did find the motorized focus to be too fast and jumpy, and its tendency to overshoot the mark was annoying. I was always able to achieve a crisp image by patiently shuttling back and forth with my focus commands until I nailed what appeared to be the optimum point. But in a display of the time-honored paranoia typical of the video perfectionist I always wondered if just one more smidgen in the right direction would wring out just a bit more detail. But this Focus control does epics, not smidgens.
The inputs include dual HDMI and component inputs, an RGB input on a 15-pin connector, and a RS-232 serial connector for controlling the projector remotely from a PC. The back panel also includes the detachable power cord—one of those small, two pole jobs that is hard to find a replacement for if you lose it, rather than the more common IEC socket. (Panasonic is one of the few manufacturers yet to see the IEC light.)
A full set of controls is located on the side of the projector, but as usual you'll converse with it mainly through the remote. I have no serious complaints about Panasonic's learning remote, apart perhaps from the inclusion of a Default (reset) switch. In my opinion, an easily selectable reset button does not belong on a remote control. The Default button won't necessarily erase everything, but depending on where you are in the on-screen menu when you push it, you'll be thankful that you had written down all your settings. You do always write them down and put them in a safe place, don't you?

But at least you won't push Default by accident in the dark; the remote is brightly backlit and the markings on the buttons, most of which are large enough to make them easy to hit squarely, are clearly marked. And while you can call up the entire on-screen menu to choose your options, there are separate buttons on the remote for of the many of the most commonly used functions.
The inputs cannot be selected directly. Rather, when the projector first comes on the icons representing all the inputs pop up on screen, with the current input highlighted. You may then cycle through the input selections either by pushing the input button repeatedly until you reach the source you want, or by using the navigation buttons to highlight it. The same icons also appear whenever you hit the input button. You can modify the display to show the current input by a simple line of text rather than by icon, or even deactivate them entirely.
The available aspect ratios will depend on the input used and the resolution of the source, but include, at minimum, the usual 4:3, 16:9, and Zoom modes.
There are seven selectable preset Picture Modes: Normal, Dynamic, Cinema1, 2, and 3, and Color1 and 2. According to the manual, Color1 is set for 6500K and the HDTV color standard (REC709), but it was not very accurately calibrated when I measured it out of the box.
As usual, some of these Picture Modes have interesting descriptions in the manual. Cinema3 is described as a "Vivid and crisp color setting," which sounds tricked-out, but isn't. Cinema1 is described as having "Hollywood style colors." Whatever that means.
Each of these Picture Modes may be modified from its factory presets by using the Picture Adjust menu. The picture adjustments include the usual suspects plus Color Temperature and, in an Advanced Menu, Gamma. For Gamma there are separate adjustments for the low end, middle, and top of the brightness range—I left them all on zero for my tests, which worked out fine. There are also separate Contrast (high) and Brightness (low) settings for red, green, and blue, Panasonic's Cinema Color Management system (more on this below), Noise Reduction and MPEG Noise Reduction, Cinema Reality (for film-based interlaced sources) and TV-System (NTSC, PAL, SECAM, etc.).
You can save up to five sets of picture adjustments in memories, but not separately for each input. The settings are global across the Video, S-Video, Component, and HDMI inputs. A separate set of five memories is, however, available for most PC resolutions and VGA60 on an HDMI connection.
The most unique features of the PT-AE1000U are its Waveform Monitor and Cinema Color Management. The Waveform Monitor, together with an external grayscale ramp step test pattern (which the user must supply), lets you see if the steps in the grayscale begin and end at the proper place at the top and bottom of the brightness range (adjustable by using the Contrast and Brightness controls, respectively) and if they are evenly spaced (adjustable through the Gamma controls in the Advanced menu). You can also tweak the separate high and low controls for red, green, and blue in the Advanced menu by using the Waveform Monitor, though with the correct test tools I preferred to use the latter adjustments for grayscale calibration.
The Waveform Monitor is an interesting and unique feature. But I found no particular advantage in using it instead of the test patterns I normally call on to set the black level and peak white level by eye (the PLUGE and reverse gray ramps on Digital Video Essentials–chapters 12-2 and 12-4 respectively).
Panasonic has offered its Cinema Color Management system in earlier projectors. When you select it, the on-screen image freezes and a target cursor appears. Move the cursor to the location you want to adjust, press Enter, and you can then adjust Color, Tint, and Brightness at that specific point. Highlighted on-screen boxes show the before and after results. You can do this for up to eight points on screen, and if desired you can then save those eight settings in one of three available Profile memories (User 1, 2, and 3) that may be called up at any time.
While this sounds like an awesome feature, and it is fun to play with, this type of adjustment assumes that you know as much as the filmmaker about how the image should look. I'd recommend avoiding it for casual use, even if you have calibrated eyeballs. But with the right test tools, it can, be useful in dialing in the correct primary and secondary color points. For more on how I used it that way, see "Tests and Calibration."
There are two lamp settings, Normal and Eco-Mode. The projector's fan is very quiet, though it's clearly audible, unlike the virtually silent lamp in, say, the Sony Pearl. The fan noise did not change when I switched between the two settings.
Lamp life is claimed to be approximately 2,000 hours. A warning light comes on at 1,800 hours, and the projector turns off at 2,000 hours, forcing you to replace the lamp. The current cost of a replacement lamp is $300.
Tech Talk
The optical system of the PT-AE1000U is completely new, and includes a 16-element, aspherical glass lens. For a 100" diagonal (87" wide), 16:9 screen, the throw distance of this 2:1 zoom lens ranges from 9'10" to 19'4".
The projector's video circuitry, dubbed "Cinema Works Pro" by Panasonic, incorporates 14-bit processing, a new LSI chip for scaling and deinterlacing, and Dynamic Sharpness Control. The latter is said to sharpen "only the pixels in the image areas where there is a small change in brightness level." I haven't made much use of this feature, as test patterns indicated that Sharpness settings in a range of -1 to +1 produced the most accurate results.
Panasonic's contrast optimizing Dynamic Iris does more than merely adjust the iris alone; it adjusts the lamp power, iris, and gamma curve 60 times a second. In my time with the projector the Dynamic Iris was never intrusive, either mechanically or optically. It did not "pump" the brightness in any clearly visible way. I did spot a slow ramp-up or ramp-down in the brightness on a few occasions, but this was rare. The iris was also completely silent in its automatic operation, and did not result in obvious brightness compression (though some brightness compression is a necessary evil with any sort of automatic iris).
Even with the Dynamic Iris turned Off, the projector produces a black level that's better than average for an LCD. But I would never use it that way. The blacks are far better—suberb, in fact—with the iris On. That's the setting I used for virtually all of my viewing and measurements.
Panasonic also has carried its Smooth Screen technology forward from its earlier projectors, but it's now optimized for 1080p operation. Smooth Screen is designed to reduce the LCD screen door effect. It does this very effectively, but is not aggressive; you can just make out the pixels in a properly focused image at a foot or so from the screen; from a normal seating distance they are a non-issue. Some videophiles have questioned the need for this feature in a 1080p projector. Short of being able to turn it off for comparison, however, there's no way to tell. And as implemented here Smooth Screen is a mechanical process, not electrical, and is not defeatable. While the Panasonic is a bit less sharply detailed than the best projector's I've seen, it isn't soft.
LATEST VIDEO