Panasonic DMR-E95H DVD/Hard-Disk Recorder Page 2
The DMR-E95H has more going for it than just its hard-disk drive. You can use it to look at JPEG still pictures on CD-Rs, SD memory cards, or virtually any other type of memory card as long as you have an appropriate PC Card adapter, which goes into an opening next to the front-panel SD slot. The deck offers extensive control over slide-show presentations and lets you store stills from cards on the hard disk, but there's no way to transfer your stills to DVD for titles or credits.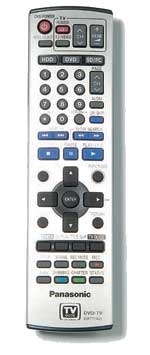 The remote control is well laid out, with no annoying contrivances like buttons hidden behind doors. But it's also very plain-Jane, with no backlighting or glow-in-the-dark buttons, and the only other component it can control is a TV. Panasonic does provide an IR (infrared) emitter so the deck can control your cable box (G-Link on the panel).
I evaluated the DMR-E95H during the opening days of the 2004 Summer Olympics. Timer recording and IR control of an external cable box worked perfectly, which enabled me to juggle recordings of the several different NBC Olympic feeds on WNBC, MSNBC, CNBC , USA , Bravo, and Telemundo.
NBC's 1080i-format high-definition broadcasts from Athens gave the Panasonic's video circuitry a stiff workout. While the DVD recorder is only standard-definition, the visual quality and encoding difficulty of the 1080i programs were high enough to stress even its best recording mode - the high-bit-rate XP, which nominally provides 1 hour per DVD.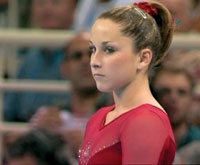 Panasonic's DMR-E95H displayed championship performance in recording NBC's HDTV Olympics coverage (shown, gold-medal gymnast Carly Patterson), though only in standard-definition.
SETUP
To record the HDTV programming, I hooked up an LG LGT-3410A HDTV tuner/hard-disk recorder to the Panasonic's best analog video input, which is S-video. I had to experiment with the LG's output settings until I found one - the Squeeze mode - that would feed the recorder an anamorphic 16:9 signal. I also had to adjust my widescreen TV's display settings to "force" a 16:9 picture from the 4:3 recordings on the recorder. These machinations allowed me to get true
widescreen
Olympic footage onto the Panasonic's hard disk. (The display-setting adjustment is essential since dubs made this way aren't "flagged" as widescreen and are distorted on 4:3 TVs.) The Olympics photo above as well as those in "
Home Theater
" all come from screen grabs of DVDs made on the DMR-E95H.
RECORDING PERFORMANCE NBC HD showed swimming and gymnastics during our evaluation period, and both sports provided nearly ideal material for pushing a DVD recorder's video encoding to its limits. In the longer-playing LP and EP modes, all the usual encoding degradations resulting from low-bit-rate recording were evident, and the loss in video quality was even more apparent compared with the original high-def signal.
LATEST VIDEO