Panasonic DMP-BD55 Blu-ray Disc Player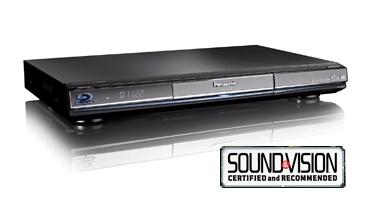 The Short Form
$399 / PANASONIC.COM / 888-843-9788
Snapshot
Panasonic's newest player delivers all of the Blu-ray format's many features, and its excellent performance and reasonable price make it a great buy
Plus
• Speedy operation • Crisp, clean upconversion of regular DVDs • Slim profile
Minus
• Confusing audio-setup options
Key Features
• BD Profile 2.0-compliant • 1080p/24-fps video output • Onboard Dolby TrueHD and DTS-HD Master Audio decoding • SD card slot for JPEG or AVCHD playback • Outputs: HDMI 1.3, component-, composite-, and S-video; optical/ coaxial digital audio, 7.1-channel analog audio, stereo analog audio • 17 x 9 ½ x 2 in, 5 ¾ lb
While I've been quick in the past to recommend the Blu-ray Disc format to friends and strangers alike, when it came to endorsing a specific player, I've been less forthcoming. That's because machines that handle all of Blu-ray's high-rez audio codecs and also meet the Profile 2.0 specification have been limited to Panasonic's DMP-BD50 - at $700, a somewhat pricey option - and Sony's PlayStation 3 game console, a device that, depending on one's world view, is either a multimedia powerhouse or a toy.
In the Blu-ray lexicon, Profile 2.0 means the player provides dual audio and video decoders to facilitate picture-in-picture features like onscreen video commentaries, an Ethernet jack to plug into a broadband home network, and 1-GB local-storage capacity to accommodate the online applications and audio/video extras that BD-Live discs can unlock. A Profile 2.0 player isn't required for watching movies in high-def; Profile 1.1 and 1.0 machines can easily handle that. But if you're going to shell out a few hundred bucks for a new disc player, why not get a future-proof one that can handle the Blu-ray format's full suite of cool tricks?
Panasonic's new DMP-BD55 ($399) is a Profile 2.0, BD-Live-compliant model that performs cool tricks galore; if it didn't look like a disc player, you might mistake it for a trained seal. Along with its networking and PIP capabilities, the BD55 features built-in Dolby TrueHD and DTS-HD Master Audio decoding; a 7.1-channel analog-audio output for connecting to older, HDMI-less receivers and processors; and a front-panel slot that accepts SD memory cards loaded with both digital still pictures and AVCHD video shot by high-def camcorders. Also, its HDMI 1.3 output can pass high-rez Dolby and DTS bitstreams on to a recent-vintage receiver or processor for external decoding.
After unboxing the BD55, you'll immediately notice its slim design. At just under 2 inches high, Panasonic's model makes most other Blu-ray players look like fatties. Aside from the disc tray, the only other front-panel features are the open/close and power buttons and a flip-up door that hides the SD card slot and the play, pause, and stop controls. Along with its HDMI, Ethernet, and 7.1-channel analog-audio ports, its output selection includes component- and composite-video, optical and coaxial digital-audio, and stereo analog-audio jacks.
Panasonic's remote control is a bit bulky for a disc-player wand, and its surface is densely covered with large buttons and text labels. But since the keypad isn't backlit, all those big buttons and labels can help you identify specific controls in a dark room. If you use HDMI to connect the player to certain Panasonic TV models, its Viera-Link feature uses HDMI CEC protocol to let you control the player with the TV's remote.
SETUP
For most folks, BD55 setup will mean running a single HDMI cable to an A/V receiver and then using an Ethernet cable to connect it to a home network. For my purposes, I ran component-video cables directly to the TV, hooked up the BD55 to a powerline Ethernet adapter, and made HDMI and 5.1-channel analog connections between the BD55 and a Denon AVR-4308CI receiver. (I'll admit it: I don't have a 7.1-channel speaker setup, although with so few 7.1 surround titles available, I'm not missing much yet.)
Configuring the BD55's video output was a simple matter of visiting the setup menu's TV/Device Connection section and selecting the HDMI Connection option. Choices here include HDMI Resolution (Auto or, depending on your TV's capabilities, 480p through 1080p) and 24p Output (on/off). Another video option, Component Video Resolution, lets you tailor the player's component-video output for a particular display, with resolution topping out at 1080i for high-def disc playback.
While video setup is a snap on the BD55, configuring its audio can be more daunting. This is definitely one case where you'll need to read the manual. When using an external receiver to decode standard or high-rez soundtracks, you first select the "Bitstream" Digital Audio Output option in the Audio menu for both Dolby and DTS variants. But if you have an older HDMI-equipped receiver that lacks Dolby TrueHD and DTS-HD decoding, you'll need to select "PCM" here instead. To experience the soundtracks in full high-rez form, you also have to remember to switch the BD-Video Secondary Audio option to Off, or you'll just get plain-vanilla Dolby Digital and DTS 5.1.
For folks with receivers that predate HDMI's arrival, the Connection menu's Analog Audio Output option offers two choices: 7.1 Channel and 2 Channel (Downmix) + 5.1 Channel. Since I was working with a 5.1 speaker system, I chose the second option, which downmixes 7.1 soundtracks for 5.1-channel output. One catch here is that you'll need to double-back to the HDMI setup menu and switch the HDMI Audio option off. If you don't, the player will downmix all soundtracks to 2 channels - something that's only mentioned in passing in the manual's extensive footnotes.
Last but not least is network setup. After plugging a cable into the player's Ethernet jack, I called up an intimidating-looking submenu labeled "IP Address/DNS Settings." Fortunately, all I had to do here was click the Connection Test bar at the top, and the player indicated that it had tapped into my home network. After I unsuccessfully tried to access the BD-Live features of a few discs, however, it dawned on me that there was no SD card inserted in the player. (Panasonic doesn't include one with the BD55.) But once I filled that slot with a 1-GB card, BD-Live was up and running.