The Palm Beach Story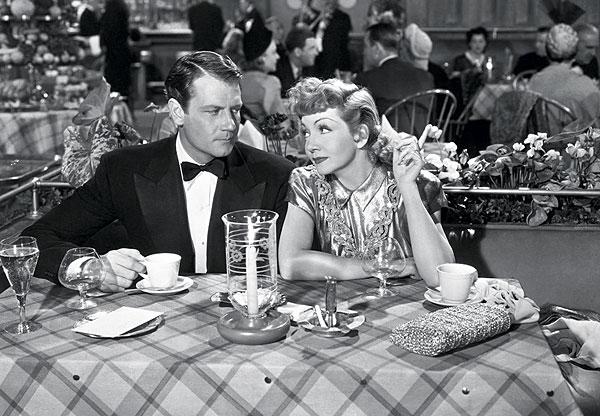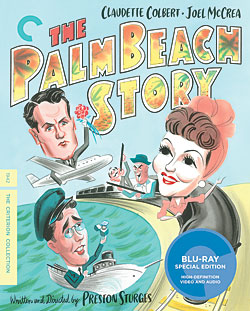 Criterion's 1080p transfer came from a restored 4K scan of a 35mm nitrate fine-grain or, for some scenes, a safety duplicate negative. The audio was remastered in 24 bits from the 35mm magnetic soundtrack. The picture's not exactly eye candy (and was never meant to be), but it's completely natural, with fine shadow detail, dark blacks, and wide contrasts, looking way more modern than its 72-year-old provenance. Ditto for the sound: nothing stunning, but very clear, which is all you want in a film heavy with dialogue.
The special-features highlight is a short talk with comic actor Bill Hader, explaining what makes Sturges so wondrous. A slightly longer talk by historian James Harvey is interesting, though dry. The booklet essay by Village Voice film critic Stephanie Zacharek gets Sturges right, in substance and tone. A fuller view can be found in the special features on Criterion's DVD of Sturges' masterpiece Sullivan's Travels, including an hour-long documentary, an audio commentary track, an archival interview with Sturges, and a more contemporary conversation with his widow.
Blu-Ray
Studio: Criterion Collection, 1942
Aspect Ratio: 1.37:1
Audio Format: 24-bit monaural
Length: 88 mins.
MPAA Rating: Unrated
Director: Preston Sturges
Starring: Claudette Colbert, Joel McCrea, Rudy Vallee
Preston Sturges, whose rise and fall were as sudden and steep as any in cinema (except for that of Orson Welles), had his peak years from 1940–44, writing and directing seven of the greatest American film comedies ever, and The Palm Beach Story sprung forth in precisely the middle of the run. A head-spinning romp through the joys and foibles of love, marriage, money, and class, it practically defines "screwball comedy," with its Alpine plot twists, nonstop mayhem, rapid-fire dialogue, razor-sharp wit, and madcap but extremely good-natured characters. The cast is a wonder: Sturges-favorite Joel McCrea as a befuddled scientist, Claudette Colbert as his frankly avaricious wife, Rudy Vallee as an insouciant millionaire, Mary Astor as his gallivanting sister, Robert Dudley as a deaf, rich romantic coot ("the Wienie King"), and a dozen others. There's not a moment's pause, the prologue is perplexing, the ending pulls an O. Henry deus ex machina from the sky, but it's so wild, woolly, and funny, you don't mind: In fact, it's wilder and funnier on their account.