Oz the Great and Powerful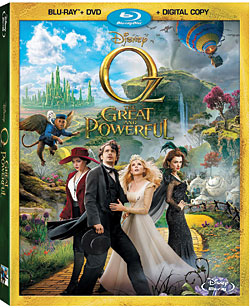 Curiously, the 3D edition is a standalone disc with Digital Copy, and the 2D version is a separate edition altogether with all the extras and bonus DVD. The 3D in both the black-and-white and color sequences is exemplary. Depth of field is excellent with snowflakes and flowers hovering in the foreground while the action holds focus in the background. When the magical chaos ensues, projectiles and pyrotechnics whiz at you with alacrity suitable to the enthralling settings. The 2D version is equally striking and crisp. Colors and detail are vividly sharp with no pixilated grain or soft blur. Like Avatar and Alice in Wonderland, the CGI visual effects make for some truly amazing scenic vistas. If only audiences could have seen this Oz in 1939.
For reasons that perplex me, in both versions the sound defaults to a 2.0 Dolby Digital mix straight from the main menu. Navigation of the setup menu will enable you to access two other audio mixes: a 5.1 Dolby Digital and a superior 7.1 DTS-HD Master Audio Near Field mix. Near Field is a way of describing audio rendered for smaller, more intimate home viewing. Still, while the other two perform adequately, the 7.1 DTS-HD should be your weapon of choice here. Commensurate with the striking visuals, the surround field takes every possible opportunity to excite your ears. Tornados, waterfalls, and feats of sorcery are replete through a truly enveloping audio mix.
Extras are featured on the 2D edition only and include a second screen application that must be downloaded to be accessed, five short featurettes on the making of the film and its origins, and a collection of bloopers.
Blu-Ray 3D
Studio: Disney, 2013
Aspect Ratio: 2.40:1
Audio Format: DTS-HD Master Audio 7.1, Dolby Digital 5.1, Dolby Digital 2.0
Length: 130 mins.
MPAA Rating: PG
Director: Sam Raimi
Starring: James Franco, Mila Kunis, Rachel Weisz
Good witches, bad witches, good witches who become bad witches; it's all in a day's work for the Wizard of Oz. The story of how the Wizard of Oz first arrived in Oz and became the great and powerful Wizard of Oz is chronicled in Oz the Great and Powerful. This prequel to The Wizard of Oz pays reverent homage to the original classic film in many ways but most noticeably by mimicking its famous prologue. Just like when Dorothy leaves Kansas and her monochromatic world magically morphs to glorious, exhilarating Technicolor, so it goes for the Wizard as well. After a 20-minute black-and-white prologue cropped in the 1.33:1 aspect ratio, Oz's balloon arrives somewhere over the rainbow, the image bursts into vibrant color, and the aspect ratio expands to a full 2.40:1.