Onkyo's Hard Disc Hit
Ho-hum. Another pretty executive bookshelf system. But look closer. This one is different. Very different. Onkyo's new X-NX10A is a new bookshelf system with a built-in 80GB HDD. It also has an Ethernet port, so you can get information about your music tracks from the Internet. What else is exciting about it?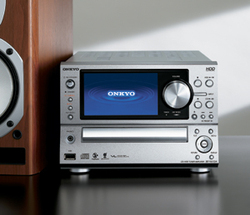 The X-NX10A has a large LCD screen to make it easy to navigate the massive amount of media you can store on the 80GB drive. It's compatible with MP3, PCM and ATRAC audio formats. Hearing about ATRAC, it's apparent that this system is slated for release in Japan before we ever see it in the US.
There's a CD player so you can easily rip to the HDD and there's also a USB port for importing audio.
The X-NX10A comes with two stereo speakers, each with a 5-inch woofer and a 1-inch tweeter. Total power is 52 watts for the system. Retail price is expected to be about $700 US.
Just because it looks ordinary, the X-NX10A is worth a second look.-Leslie Shapiro
LATEST VIDEO
WHERE TECHNOLOGY BECOMES ENTERTAINMENT