Onkyo HT-S9300THX Integrated System Page 2
The three front speakers are identical in size, although the logo badge is positioned differently on the horizontal center. These speakers use a woofer-tweeter-woofer configuration. Onkyo provides four smaller speakers, with a tweeter and single woofer, for surround and back-surround use. You can also repurpose the last pair for front-height enhancement via Dolby Pro Logic IIz. Drivers include a cloth soft-dome tweeter and two woofers with A-OMF cones. The acronym stands for Advanced Onkyo Micro Fiber, a cotton weave strengthened with a synthetic material. The sub has a 12-inch pulp-cone driver. The enclosures are sealed and made of fiberboard, not plastic, with detachable cloth grilles. All satellite speakers have keyhole mounts on the back.
The AVR, a model that isn't sold separately, is rated at 130 watts into 6 ohms (a load that will often produce a higher number than the standard 8 ohms) and one channel driven (easier still). Its volume scale runs from 0 to 94, with the THX reference level at 82.
Having reviewed last year's same-priced model, the HTS9100THX [Home Theater, April 2009], I noted some changes in the connectivity suite. S-video has vanished and will not be widely mourned. Also missing are the 7.1-channel analog inputs, which may be an issue for some people with older universal disc players. Unchanged are the seven pairs of binding posts with two additional pairs of wire clips. You can configure one pair of binding posts for surround-back or front-height; you can use the wire clips for height or zone 2.
This implementation of HDMI 1.4a includes the Audio Return Channel, so TV-originated content can send audio signals back to the AVR for decoding; but not the Ethernet Channel, which at press time wasn't yet supported by any manufacturer. An HDMI Thru mode allows source components to communicate with the HDTV even when the AVR is off. Another manufacturer refers to this as the babysitter mode.
The sub has a single LFE input, a volume dial, and no other connectivity or controls.Onkyo supplies zip cord for speaker cable. It's color-coded to correspond to the speakers' plastic-nut binding posts. Onkyo even goes so far as to color-code the adhesive tape that seals the plastic bags in which the speakers are packed.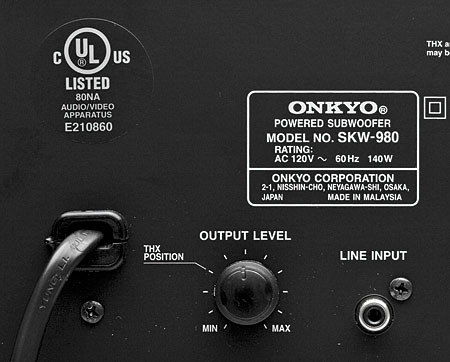 Getting Started
I got started by running the Audyssey 2EQ setup program. It can measure from three listening positions—plenty for a small room served by a compact system. The first step was to set the sub's volume control to its THX position, about one-third of the way up. 2EQ emitted the usual tones, and I inspected the results—I always do a little second-guessing. Speaker detection was a yes/no affair, rather than the usual small/large/no with size distinction indicating bass response. This saved me the trouble of resetting my speakers (usually detected as large) to small for proper sub crossover.
Because THX Loudness Plus and Audyssey Dynamic EQ address the same problem in their different ways, I elected to turn off the former and turn on the latter for this review. Audyssey Dynamic Volume settings include Heavy, Medium, Light, and Off. My initial choice was Medium: I wanted to hear some, but not all, of the considerable dynamic range potential in Blu-ray Disc soundtracks.
Associated equipment included an OPPO BD-83SE universal disc player, a Rega Planar 25 turntable, Shure M97xe cartridge, and an Onix OA-21S integrated amp used solely for its phono stage. (Having forgotten what a solid-state phono preamp sounded like, I was taking a break from the Bellari tube phono preamp to recalibrate my ears.) Because the speakers and AVR both have binding posts, I used my usual Monster M1.2s cables in lieu of the supplied color-coded zip cord. All movie demos were Blu-ray Discs with DTS-HD Master Audio soundtracks.
Espionage, Betrayal, Talking Dogs
The Ghost Writer is a thriller that combines old-fashioned spycraft and more contemporary concerns over terrorism and torture. A young biographer-for-hire grapples with a former British prime minister who has dark secrets in his past. The male leads, Ewan McGregor and Pierce Brosnan, are at their best—but I found their voices a little too prominent in the sub. Was the sub level too high after the Audyssey auto calibration? A scene in a car confirmed this—what should have been a modest engine hum was thunderous. I chose an old-fashioned form of correction and adjusted the sub's volume knob from the THX-approved 33-percent position to 30 percent. Otherwise, the system performed well. All-channel low thunder filled a seamless soundfield, and the musical score's elements were well balanced, especially the bubbling low-pitched reed instruments.