Onkyo DV-SP800 Universal DVD/SACD Player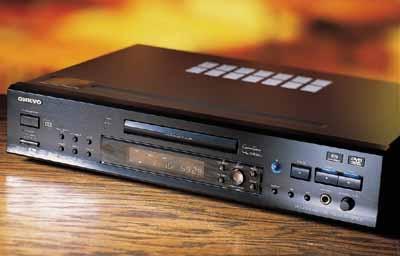 Beginning as barely a trickle, it is now becoming a steady stream as more and more "universal" optical-disc players reach store shelves. The latest models can play DVD-Video discs (and home-burned DVD-R/RWs recorded in the DVD-Video format), DVD-Audio discs, CDs (including CD-R/RW discs and those with MP3 files), and Super Audio CDs. In the same way that home CD players are now a vanishing breed, it seems likely that ordinary DVD players will eventually be displaced by multiformat models. At $1,000, Onkyo's DV-SP800 is a far cry from the $79 DVD players on sale at my local supermarket (conveniently located in the produce section). On the other hand, the DV-SP800 is THX Ultra-certified, whereas the players near the cantaloupes aren't even USDA-certified. This player's front panel projects an authoritative air with its no-nonsense black-on-black décor. Moreover, in an era of nearly buttonless front panels, this one dares to have a high button count. The advantage is that if the remote control gets lost in the parallel universe behind the sofa cushions, you can still operate the player. The pale-green fluorescent display keeps you informed about things like disc format and whether a progressive-scan signal is being sent through the component-video output. In case you're seriously into movie multitasking, the player memorizes various preferences for up to 15 discs, including picture settings and parental-lock level. The remote control is of the universal/ learning variety, meaning that it's preprogrammed with control codes for most popular brands, but it can also "learn" the codes of your existing equipment. The handset is quite nice, large and contoured to fit comfortably in your hand. A thumb-operated joystick provides cursor control, and it's ringed by buttons for the most common functions. The buttons that select which component it will control-DVD, TV, VCR, and RCVR (receiver)-light when you press them. However, none of the other buttons are backlit or glow in the dark.
Fast Facts
KEY FEATURES • THX Ultra-certified • DVD-Audio and SACD playback • Plays DVD-R/RW discs recorded in DVD-Video format • Plays CD-R/RW discs, including those containing MP3 files • Full Dolby Digital/DTS decoding • Headphone jack with volume control OUTPUTS Two composite/S-video, one component video (switchable between interlaced and progressive-scan); coaxial and two optical digital audio, discrete six-channel analog audio with additional pair of surround outputs, and two pair stereo analog audio DIMENSIONS 1 7/8 inches wide, 3 1/2 inches high, and 12 3/8 inches deep WEIGHT 11 pounds PRICE $1,000 MANUFACTURER Onkyo USA, Dept. S&V, 18 Park Way, Upper Saddle River, NJ 07458; www.onkyousa.com; 800-229-1687 HIGH POINTS• "Universal" disc playback. • High-quality audio decoding. • Comprehensive video adjustments. LOW POINTS • No speaker-distance compensation for SACD playback. • No bass management for DVD-Audio or CD playback.
Around back, the player provides all three flavors of video outputs and the expected digital and 5.1-channel analog audio outputs. However, it also provides two pairs of stereo analog outputs, labeled Channel 1 and 2, and an additional pair of surround outputs, labeled Surround 2, for connecting to a 7.1-channel amplifier. Setup was easy. I connected the DV-SP800's component-video output to my widescreen TV and its multichannel analog output to my receiver's corresponding inputs. Beyond the Basic setup menu, an Expert menu expanded the possibilities. For example, I could select Dolby Digital dynamic-range compression for DVD-Video playback and select which area of an SACD (5.1-channel, two-channel, or CD) I wanted to be played by default. The player also provides numerous video controls, including those for sharpness, detail, white and black level, gamma, hue, and chroma. You can save your settings in memory. I could also select speaker size. The front left/right speakers are, unfortunately, fixed at "large," but the center and surrounds can be set to "large," "small," or "off." The subwoofer/LFE (low-frequency-effects) output can be set on or off. There was some weirdness in the player's bass-management system, and not only because the front L/R speakers can't be set to "small." There is no bass management at all for DVD-Audio or CD, and the high-pass filter slopes change among different formats-see
"in the lab"
for details. Speaker distances relative to the listening position could be set to within half a foot-though not for SACD playback.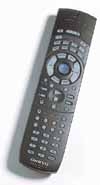 I started my audition with a DVD-Audio disc of Bob Marley and the Wailers,
The Best of the Early Years
. In a world populated by teen boy and girl bands that sound as processed as Velveeta, it's refreshing to listen to truly organic musicians. These are genuinely historic tracks, and this umpteenth reissue actually sounds pretty good, in a 1970s sort of way. Probably because multitrack masters were not available, this recording does not attempt to create a new surround sound mix. "African Herbsman" features an upfront bass line that will test the hand-off between your satellites and subwoofer. Unless the crossover is just right, the bass will lose its taut sound. The background steel drums, which are pulled back in the mix after the intro, will test the ability of your system to convey subtle details. My speakers did their job, and so did the DV-SP800. I continued with
Appalachian Journey
, a bluegrass chamber-music recording featuring cellist Yo-Yo Ma, bassist Edgar Meyer, and violinist Mark O'Connor. This stereo SACD proves that two channels can still sound damn fine. In the traditional "Fisher's Hornpipe," they're joined by Alison Krauss on violin. Her duet with O'Connor is simply wonderful. The fiddles have plenty of country bite but are never harsh or grating. The lower strings provide a firm foundation and occasionally surface with some tasty solo licks. Reproducing strings is difficult because even the slightest distortion or clipping instantly makes them sound strident. In this case, the sound quality was as melodic as it gets. I suspect this recording would be enjoyable on any sound system, but it really came alive thanks to the DV-SP800. The high-res audio decoding and D/A conversion were absolutely transparent. I wrapped up my audition with a DVD of the Robin Williams movie
Death to Smoochy
. If you substitute "Barney" for "Smoochy," you can pretty much grasp the thesis, and you can imagine how Williams tears into kid TV. The movie features a kaleidoscope of color, especially in the costumes and sets of the kids' TV programs. Some low-budget players might choke on these vivid color fields, but the DV-SP800's progressive-scan component video output did just fine. The picture was very filmlike, showing considerable detail, with no color smearing or noticeable video-processing artifacts in normal viewing (but see "in the lab"). Even the player's S-video and composite-video outputs looked quite good and would certainly keep you entertained while you save up for an HDTV set.
Smoochy
's surround mix isn't as energetic as in most action movies, but it continually delights with small touches. As I expected, the DV-SP800's Dolby Digital decoder conveyed all the subtleties this soundtrack had to offer. Onkyo's DV-SP800 occupies a very sweet spot. It provides "universal" playback and does a fine job of it. It's not a grocery-store cheap player, and that allows it to provide much better than basic audio/ video performance and a comprehensive feature set. And it's not a super-expensive player that might provide slightly better performance or, worse, encourage you to run out and buy an entirely new home theater system. Instead, it delivers the goods at a fair (but not inexpensive) price. It's a splendid example of the new universal players that let you play a variety of discs without a worry about format.