One by One, the Old TV Makers Are Slipping Away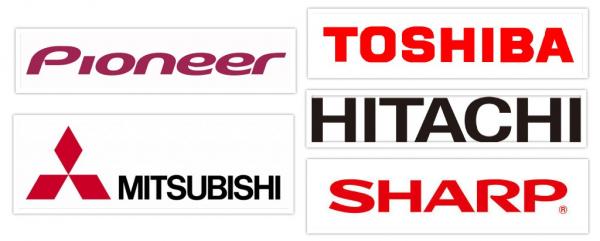 Two close-together and closely aligned recent announcements about the flat-panel TV business really got me reflecting on how much that world has changed…and is changing again.
The first was the July 31st post that as of January 1, 2016, Japanese manufacturer Sharp, one of the early innovators of LCD technology and a much-storied TV brand worldwide, would be leaving the industry. The announcement said that Sharp had sold its Mexican TV assembly plant and licensed its brand to Hisense, currently the Chinese market leader in flat-panel sets. Sharp TV's next year will, in essence, be Hisense products, though perhaps manufactured in the same place and with some or all of Sharp's pre-existing assets and technologies.
The second announcement was actually a product launch, done with much bombast at a New York City ballroom on August 26th, of a new 65-inch Hisense Ultra HDTV called the ULED 65H10. What made the event noteworthy, to me, was the effort made by executives of Hisense's U.S. subsidiary to thoroughly detail the technology in this $3,000 TV. It was what we've come to expect in a good premium HDTV: a 240-zone, full-array, local-dimming backlight with highlight-brightening technology akin to HDR sets; 3M quantum dot technology that throws a massively wide color gamut; and a dbx-branded sound system, for example.
Hisense executives described a significant R&D effort that began in 2012 to create an affordable yet high-performing platform to stand up to the likes of not only today's best LCD sets, but even the OLED technology now being promoted today solely by LG. A demo stand at the event showed a 65H10 running 4K test clips and competing favorably, albeit in press conference conditions, with a flanking "OLED" (manufacturer unidentified but presumably LG) and an "SUHD" (presumably Samsung).
Just as the Japanese and then Korean TV makers came to the U.S. and eventually bought and relegated some great American brands to discount stores, the Chinese are now following in their footsteps.
I won't suggest that competing with the best of Samsung, LG, or Sony is any easy feat; it's one thing to include those technologies and another to use them properly. But what these announcements represent, symbolically, is another changing of the guard. Just as the Japanese and then Korean TV makers came to the U.S. and eventually bought and relegated some great American brands to discount stores, Chinese manufacturers are now following in their footsteps.
Don't be surprised: The profit margins are so thin in the TV business these days and the competition so fierce that sales volume is a critical factor. If you've got it, as do Hisense, TCL (a Chinese competitor that now has its name on what used to be Grauman's Theater in Hollywood), and AmTRAN (a Taiwanese firm that uses the JVC brand to market sets in North America), you've got the resources to sink some money into R&D, pay for good engineering and parts, and still keep prices low enough to compete.
All three of these players have been slowly upping their tech game in the last few years, following a model set by the Korean manufacturers Samsung and LG, which came to the U.S. in the mid-1990s with reputations as budget knock-off brands, but have become world leaders in innovation and truly brilliant marketers here.
In the world of flat-panel TVs, Hitachi, Pioneer, and Toshiba are now gone, while JVC, Sharp, and Netherlands-based Philips have rented out their brands to Asian TV manufacturers. From the old guard, we have the Japanese companies Sony and Panasonic struggling to stay competitive as Korean archrivals Samsung and LG eat their lunch…along with Vizio: an American company that builds its products with Chinese manufacturing and uses its volume and resources to drive the price of technology ever lower, outselling them all in the process.
Sure, the names change, but in the end, it all means better tech at lower prices for consumers.