The Office: Season 5 (Blu-ray)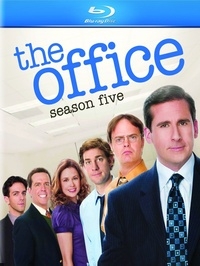 In the fifth season of this workplace comedy, the employees of Dunder Mifflin are enmeshed in surprise office hook-ups, break-ups, romantic triangles, and new business ventures. Insensitive regional manager Michael Scott (Steve Carell) still thinks he's the best boss ever—despite overwhelming evidence to the contrary. As he leaves the security of Dunder Mifflin, Andy (Ed Helms) and Dwight (Rainn Wilson) do battle for the affections of Angela (Angela Kinsey), and Jim (John Krasinski) and Pam (Jenna Fischer) finally plan their long-awaited nuptials.
I've caught a few episodes of The Office over the years, but I haven't really connected with the characters for a number of reasons. First, I've never worked in an office environment, so I'm unfamiliar with the politics involved. Second, I'm not a fan of star Steve Carell—in fact, I don't find the man the least bit funny. Furthermore, I don't think the rest of the cast is funny, either. Granted, it probably doesn't help that I'm not a regular to the show, so some of the inside jokes from seasons past were lost on me.
The VC-1 presentation is void of any major issues and features solid skin tones, impressive detail—consistent throughout the 26 episodes—and solid black levels. Contrast is a bit hot once in a while, especially with bright backgrounds, and the occasional out-of-focus shot creeps into the fray. Colors are bold and bright with some instances of banding—the Achilles' heel of VC-1.
Of major importance to a comedy is intelligible dialog, and this DTS-HD MA 5.1 soundtrack delivers the goods. That being said, the track doesn't break any new ground with its vanilla sound design. Background noise can be problematic at times, especially with the sound of shuffling papers, and the LFE is virtually non-existent, as are discrete effects from the rear speakers.
Reams of bonus materials accompany the set and include episode commentaries, three hours of deleted scenes, a gag reel, four webisodes, and some show promos (all in HD). BD-exclusive supplements comprise a "One-Liner Soundboard," which has short one-liners from each of the show's characters, and BD-Live access to some Universal trailers.
If you work in an office environment, you might connect with the humor more than I did, but given the show's popularity, I'm obviously in the minority. The audio and visual quality is acceptable, and fans will certainly relish the plethora of supplements.
Release Date: September 8, 2009
Studio: Universal
Series: 6/10
Picture: 8/10
Sound: 7/10

Review System
Source
Oppo BDP-83 Blu-ray player

Display
JVC DLA-RS1 projector
Stewart FireHawk screen (76.5" wide, 16:9)
Electronics
Onkyo Pro PR-SC885 pre/pro
Anthem PVA-7 power amplifier
Belkin PF60 power conditioner
Speakers
M&K S-150s (L, C, R)
M&K SS-150s (LS, RS, SBL, SBR)
SVS PC-Ultra subwoofer
Cables
Monoprice HDMI cables (source to pre/pro)
Best Deal analog-audio cables
PureLink HDC Fiber Optic HDMI Cable System (15 meters) from pre/pro to projector

Acoustical treatments from GIK Acoustics
LATEST VIDEO