No Strings Attached (Blu-ray)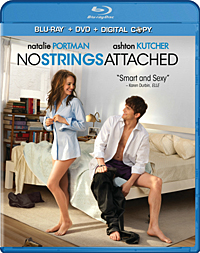 Meeting in camp as teenagers, Adam (Ashton Kutcher) and Emma (Natalie Portman) almost had a hook-up, but Adam's advances were repelled at the time. Fifteen years later, the two meet again but with Emma's busy schedule as a resident doctor, she doesn't have time for a relationship. In lieu of that, she proposes that she and Adam become sex buddies with no strings attached.
Portman is one of my favorite female stars in Hollywood and I had high hopes for this one. Wow, what a disappointment, but I shouldn't be surprised when Kutcher's name is on the cover. How does he keep getting roles? He can't act worth a damn and virtually every project he's involved with stinks. The screenplay had some potential, but it drags way too much and the only reason to watch it is to see Portman romping around half-naked.
Video Highlights

AVC/1080p encode on a BD-50 disc
Sharp and detailed
Inviting color palette
Inky blacks
Audio Highlights

DTS-HD MA 5.1 soundtrack
Dialog-intensive film
Front-heavy presentation
Surround speakers relegated to ambient effects only
The best aspect of the film (besides Portman) is the inviting 1080p video encode with clear detail, well-saturated colors, and inky blacks. Typical of the genre, the soundtrack has a smattering of popular tunes but the sound design is very pedestrian and front-heavy.
Bonus Materials

Audio Commentary
Sex Friends: Getting Together
Inside the Sassy Halls of Secret High
Modern Love: The Dos and Dont's
Deleted Scenes
Alternate Storyline Scenes
Digital Copy and DVD
With Portman's name on the cover I expected much more than this could deliver. The film drags through its 107 minute runtime and its only redeeming quality is the partial nudity of the lead actress. Give it a rent if you're interested, but don't set your expectations too high.
Release Date: May 10, 2011
Studio: Paramount
Movie: 4/10
Picture: 9/10
Sound: 8/10

Review System
Source
Oppo BDP-93 Blu-ray player

Display
JVC DLA-RS40 projector
Stewart FireHawk screen (76.5" wide, 16:9)
Electronics
Integra DTC-80.2 pre/pro
Anthem PVA-7 power amplifier
Belkin PVA-PF60 power conditioner
Speakers
M&K S-150s (L, C, R)
M&K SS-150s (LS, RS, SBL, SBR)
SVS PC-Ultra subwoofer
Cables
Monoprice HDMI cables (source to pre/pro)
Best Deal analog-audio cables
PureLink HDC Fiber Optic HDMI Cable System (15 meters) from pre/pro to projector

Acoustical treatments from GIK Acoustics
LATEST VIDEO