A Night at the Movies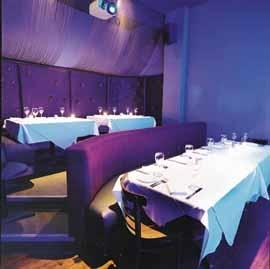 If you consider today's monstrous megaplexes and their too-salty popcorn to be cinematic sacrilege, take heart. A handful of movie theaters across the country cater to the more appreciative filmgoer by serving up delicious fare, interesting programming, and unique environments that enrich the experience from the moment you arrive until the final credits roll.
The Screening Room
in downtown New York City offers two full-size theaters that feel like 1940s movie houses, plus a 130-seat restaurant that serves lunch, dinner, late-night (after-movie) supper-and cocktails like the Lolita (Kremly lemon, orange curaçao, and fresh lemonade). Indie and foreign releases are screened weekly, with midnight shows on the weekends. There's also a private screening/dining area that can hold up to 20 people-but works just as well for two-and features a 108-inch Stewart screen, a JBL Synthesis surround sound system, and a Crestron touchscreen remote control. Check out the
Alamo Drafthouse
in Austin, TX, on a Monday and pay just $1 for admission, $1 for popcorn, and $1 for a soda. A drinks-and-dinner menu is served by waiters who come right to your seat while you watch the show. Need another cup of joe? Write your order down and set the paper in the card stand. Once your waiter sees this "flag," he'll be back with your java in a jiffy.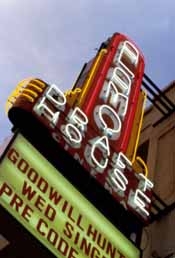 Who needs the Rocky Mountains or the Rio Grande National Forest when Colorado offers an even greater sight to see? Kelloff's Best Western
Movie Manor Motor Inn
, located in Monte Vista, has a giant outdoor screen so you can watch the show in your pajamas right from your bed. Sound is piped into your room, and a snack bar with all the usual goodies is right outside your door. Screenings from May through September are family-friendly - only G, PG, and PG-13 films-so everyone can enjoy.
The Red Vic
in San Francisco's Haight-Ashbury hippie enclave was founded by political activists back in 1980. Its 143 seats are made up of a mixture of traditional theater seating and futon-like sofas. The selection of films is eclectic-at press time,
Dancer in the Dark, Ziggy Stardust
and the
Spiders from Mars
, and
Moulin Rouge
were all playing. No paper products are used here, so your organic popcorn or trail mix is served in a wooden bowl and your coffee in a mug. The majestic
Samuel Goldwyn Theater
in Beverly Hills, CA, is just what you'd expect of the place where the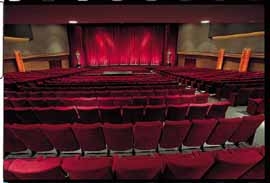 Academy of Motion Picture Arts & Sciences screens films. The 1,012-seat theater is open to the public for special film series and various tribute screenings. Visit the fourth-floor gallery to view exhibits like the recent "And the Oscar Went to . . ." celebrating 75 years of Academy Awards history. But you come here to see a movie, and the way it unfolds is dramatic-first the house lights go down, then the curtain lights, then the wall sconces, and then, finally, the spotlights on those 9-foot-tall Oscar statues on each side of the screen.