New Movies for October 2, 2012: Classic Monsters Arise!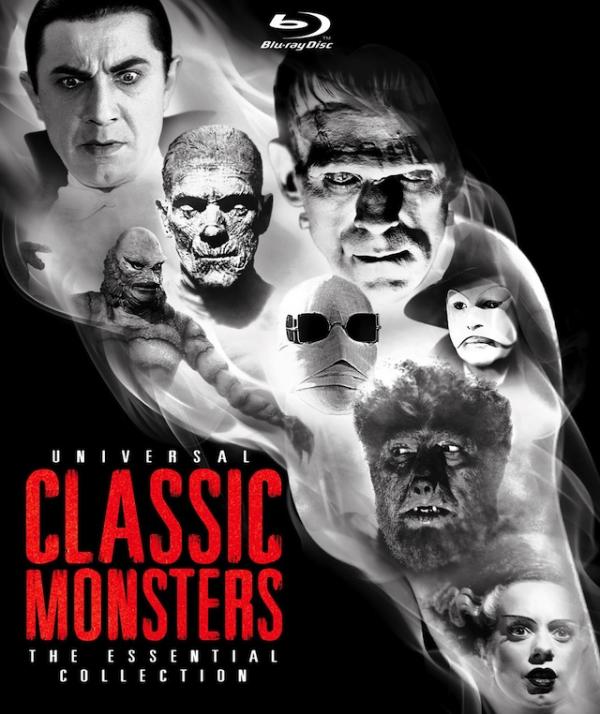 Universal Classic Monsters
The dead have risen. In this eight-disc, eight-film set (including Dracula, Frankenstein, Bride of Frankenstein, The Wolf Man, The Mummy, The Invisible Man, Phantom of the Opera, and Creature from the Black Lagoon), the picture quality is quite sensational, as if they were shot yesterday - if we could only still make movies that look this good. They're completely free from flutter, scratches, fading, excess grain, and other damage wrought by age and generational downgrading. In the 81-year-old Dracula and Frankenstein (both 1931), striking, German Expressionist-style visuals, with disconcerting, creepy sets shot at bizarre angles and atmospherically lit look great in these terrific restorations. Contrast is excellent in both with dazzling white moons and deep blacks - things don't get inkier than Bela Lugosi's cape - and a wide range of grays. Crisp images have real spatial depth filled with rounded figures. There's plenty of detail, the individual locks of Frankenstein's monster's hair visible in addition to some of the facial prosthesis.
The Invisible Man (1933) and Bride of Frankenstein (1935) look just as good, and The Wolf Man (1941) even better, with less grain,a tad more dimensionality, and a wider range of grays. One deep black tie is set off by distinct, bright white polka dots that cover it and in the antiques store there's great clarity and detail to all the bric-a-brac. The Mummy (1932) hasn't got quite the sharpness or contrast of the rest but it's still decent.
With Phantom of the Opera (1943) we move to color - a Technicolor quite startling after all that black-and-white, starting with the supersaturated red curtain of the theater where the Phantom dwells followed by the rich, well-defined range of colored costumes on stage. Creature from the Black Lagoon (1954) comes in 2D and 3D versions. Its 1.85:1 picture (the rest are 1.37:1) is good, but occasional location exteriors get a bit washed out and detail and sharpness is also variable.
The first thing that hits you about the 2.0 Mono soundtracks here is how hissy the early ones are, with plenty of bacon frying and harshness and sibilance in the higher rangers. This diminishes with each successive film. However, atmospheric thunder is bassy with dialogue clear, though voices are a little brittle. Phantom is more open and full in its opera music, the baritone being pleasantly deep, though, like all the films, it's still grating in the higher notes. Dracula comes with an alternate music track of Philip Glass's score performed by the Kronos Quartet which is a brilliant, very different way to experience the film, but don't miss out on the original soundtrack, the eerie silences working much better for mood, crackle and hissing even adding to the creepiness.
Sitting in the dark watching these films is a perfectly involving home theater experience.
All, Video: 1.37:1, except Creature, 1.85:1. Audio: DTS-HD Master Audio Mono. Extras, Dracula: Drácula - Spanish language version filmed in the same sets at night as with a different cast and crew, overview commentary by film historian David J. Skal, commentary by Dracula: Dead and Loving It screenwriter Steve Haberman, alternate score track by Philip Glass and the Kronos Quartet in Dolby Digital Stereo, "The Restoration," "The Road to Dracula," and "Lugosi: The Dark Prince"featurettes, Lupita Tovar Kohner introduction to the Spanish version of the film, Dracula archives, trailer gallery of Dracula, Dracula's Daughter, Son of Dracula, and House of Dracula, trivia track. Extras, Frankenstein: commentary by film historian Rudy Behlmer, commentary by historian Sir Christopher Frayling, UniversalHorror feature documentary, "100 Years of Universal: Restoring the Classics," "The Frankenstein Files: How Hollywood Made a Monster," and "Karloff: The Gentle Monster" featurettes, "Boo!: short film parody, Frankenstein archives, trailer galler of Frankenstein, The Bride of Frankenstein, The Ghost of Frankenstein, Frankenstein Meets the Wolf Man, and House of Frankenstein, trivia track. Extras, Mummy: commentary discussion by makeup artist Rick Baker, filmmaker Scott Essman, screenwriter and film historian Steve Haberman, collector Bob Burns, and sculpture studio owner Brent Armstrong, commentary by film historian Paul M. Jensen, "Mummy Dearest: A Horror Tradition Unearthed," "He Who Made Monsters: The Life and Art of Jack Pierce," "100 Years of Universal: The Carl Laemmle Era," "Unraveling the Legacy ofThe Mummy" featurettes,The Mummy archives, trailer gallery of The Mummy, The Mummy's Hand, The Mummy's Tomb, The Mummy's Ghost, and The Mummy's Curse. Extras, Invisible: commentary by film historian Rudy Behlmer, "Now You See Him: The Invisible Man Revealed," and "100 Years of Universal: Unforgettable Characters" featurettes, image gallery, trailer gallery of The Invisible Man Returns and Invisible Agent. Extras, Bride: commentary by film historian Scott MacQueen, "She's Alive! Creating the Bride of Frankenstein" and "100 Years of Universal: Restoring the Classics" featurettes, The Bride of Frankenstein archive, trailer gallery of Frankenstein, The Bride of Frankenstein, The Ghost of Frankenstein, and House of Frankenstein. Extras, Wolf: commentary by film historian Tom Weaver,"Monster by Moonlight," "Pure in Heart: The Life and Legacy of Lon Chaney, Jr.," "He Who Made Monsters: The Art and Life of Jack Pierce," "From Ancient Curse to Modern Myth," and "100 Years of Universal: The Lot" featurettes, The Wolf Man archives, trailer gallery of Werewolf of London, The Wolf Man, Frankenstein Meets The Wolf Man, House of Frankenstein, House of Dracula, and She-Wolf of London. Extras, Phantom: commentary by film historian Scott MacQueen, "The Opera Ghost: A Phantom Unmasked" and "100 Years of Universal: The Lot" featurettes, image gallery, theatrical trailer. Extras, Lagoon: commentary by film historian Tom Weaver, "Back to the Black Lagoon" and "100 Years of Universal: The Lot" featurettes, images gallery, trailer gallery of Creature from the Black Lagoon, Revenge of the Creature, and The Creature Walks Among Us. Collectible Extras: House of Horror 48-page book featuring behind-the-scenes photographs, original posters, and rare correspondences. Studio: Universal.
Dark Shadows
Back in the good old 18th Century - according to director Tim Burton's wacky screen interpretation of the cult 1,200-episode 1970s horror-soap opera, Dark Shadows - young, handsome, English trust-fund kid, Barnabas Collins (Johnny Depp) moves to Collinsport, Maine with his family, where he eventually becomes master of Collinwood Manor. Unfortunately, during his playboying, he breaks the heart of a jealous witch (haven't we all?), Angelique Bouchard (Eva Green, I wish), who, plentifully piqued, robs him of the love of his life, curses him to becoming a homicidal creature, and buries him alive. (Anyone who's been through a bad divorce. . . ) Two hundred years later (like a bad marriage feels), Barnabas is finally freed from his grave, an aristocratic, moody-broody, merciless vampire. Reclaiming his family's once magnificent estate - now a dilapidated ruin inhabited by eccentric descendants and their secrets, plus a psychiatrist (Helena Bonham Carter) and a governess (Bella Heathcote) who bears a striking resemblance to Barnabas' long-lost love - Barnabas is forced to confront the heiress who rules the town, who's also the immortal witch who cursed him in the first place and still intends to have or destroy him and everyone he holds dear.
This is the 8th of Burton's 21 films to feature Depp and his co-stars include Gulliver McGrath, Jonny Lee Miller, Michelle Pfeiffer, and Chloë Grace Moretz.
Video: 1.78:1. Audio: DTS-HD Master Audio 5.1. Extras: Maximum Movie Mode PIP viewable during the feature or as nine individual focus points, deleted scenes; DVD and UltraViolet digital copy for streaming/downloading. Studio: Warner.
Annie
Cynical, tough-guy director John Huston (The Maltese Falcon, The Treasure of the Sierra Madre, The Asphalt Jungle) made a surprising departure in 1982 with this film adaptation of the Tony Award-winning hit Broadway musical - music by Charles Strouse, lyrics by Martin Charnin, and the book by Thomas Meehan - based on the popular 1924 Harold Gray comic strip. Annie (Aileen Quinn) a little orphan in Great Depression New York City, is hoping to find her long-lost parents, but meantime she's trying to find a family that will take her out of the orphanage run by the cruel Miss Hannigan (Carol Burnett). Enter moody, unhappy billionaire Oliver "Daddy" Warbucks (Albert Finney) who, in a gesture of kindness, instructs his secretary to take one orphan to his mansion for the Christmas holidays. But Annie soon charms the billionaire, melting his hard exterior, so that soon he is helping Annie to search for her parents and even takes her to Washington, DC to meet the president, Franklin D. Roosevelt (Edward Herrmann). Meanwhile, frustrated Miss Hannigan plots to get a piece of Daddy Warbucks' dough. . .
The film also has performances by Bernadette Peters, Tim Curry, and Ann Reinking and the classic songs "Tomorrow" and "It's the Hard-Knock Life."
Video: 2.39:1. Audio: DTS-HD Master Audio 5.1. Extras: "My Hollywood Adventure with Aileen Quinn, " featurette, musical performance of "It's the Hard-Knock Life" by Play, "Sing-Along with Annie!" feature; UltraViolet digital copy for streaming/downloading. Studio: Sony.
People Like Us
Charming young corporate hustler Sam (Chris Pine) is having a bit of a losing streak. The Federal Trade Commission is threatening to investigate him and his day just keeps getting worse when he is informed that his father has died and he has to go home to put his father's estate in order, which, of course, means dealing with his estranged mother, Lillian (Michelle Pfeiffer).
On top of that, his father's last wish is that Sam delivers $150,000 cash to a "Josh Davis." In the course of fulfilling this mission, Sam is surprised to learn that Josh (Michael Hall D'Addario) is a troubled 11-year-old and that Josh's single-mother, Frankie (Elizabeth Banks), a recovering-alcoholic bartender, is Sam's 30-year-old half-sister whom he never knew existed. This dramedy was directed by Alex Kurtzman (co-writer, co-executive producer of Alias, Transformers, and Star Trek, in his directorial debut) and its music is by award-winning - two Oscars, two Grammies, and a Golden Globe - composer, "the Mozart of Madras," A. R. Rahman (Slumdog Millionaire, Lord of War, 127 Hours).
Video: 2.35:1. Audio: DTS-HD Master Audio 5.1. Extras: "Number One With A Bullet: The Story Behind People Like Us" and "Taco Talk" featurettes, deleted scenes, bloopers, commentary by Kurtzman and writer Jody Lambert, commentary by Kurtzman, Pine, and Banks, select scene commentary by Kurtzman and Pfeiffer; DVD. Studio: Disney.
In the Mood for Love
In the Mood for Love (Fa yeung nin wa), the new millennium film from director Wong Kar-wai (Chungking Express, Fallen Angels, Happy Together, Days of Being Wild) set in 1962 Hong Kong, deals with 'the age of blossoms' (as the title actually translates) - the brief period of youth, beauty, and love. Chow Mo-wan (Tony Leung Chiu-wai), a journalist, rents a room next door to Su Li-zhen (Maggie Cheung), a secretary, on the same day that she moves in. Each is married but left alone for long periods during which time their lives intersect in chance encounters. Both gradually become suspicious that their spouses have been seeing each other, creating a growing intimacy between them and soon a relationship develops. In making Love Wong was influenced by Vertigo and it has the same heady, swoony quality while maintaining it s formal delicacy in depicting fleeting moments and its visual richness to evoke feelings of romantic longing.
Love is the second part of the informal trilogy of Days of Being Wild (1991) and 2046 (2004). At the 2000 Cannes Film Festival Leung won Best Actor while the film won Technical Grand Prize and was nominated for the Palme d'Or. At 2001 New York Film Critics Circle Awards it won Best Foreign Language Film and Best Cinematography. Love has been a major influence on cinema since its release. The digitally restored Criterion transfer was approved by cinematographer Mark Lee Ping-bin.
Video: 1.66:1. Audio: Cantonese DTS-HD Master Audio 5.1. Extras: "In the Mood for Love," Wong's documentary on the making of the film, deleted scenes with commentary by Wong, Hua Yang de Nian Hua (2000), a short film by Wong, archival interview with Wong and a "cinema lesson" given by the director at the 2001 Cannes Film Festival, Toronto International Film Festival press conference from 2000 with stars Cheung, Man-yuk, and Leung, two new interviews with critic Tony Rayns, a booklet featuring an essay by novelist and film critic Steve Erickson and the Liu Yi-chang story that provided thematic inspiration for the film. Studio: The Criterion Collection.
Cinderella
Disney's 1950 animated feature is based on the fairy tale Cendrillon by Charles Perrault. After Cinderella's father dies, step-mom and her two daughters, plain Drizella and plain ugly Anastasia, envious of lovely, chirpy Cinderella, force her to be an indentured servant in her own home. Meanwhile, the King of the kingdom, determined to see the marriage of Prince Charming - who's a real Prince Charming -organizes a ball and, in a throw-every-fair-maiden-at-the-wall-and- see-who-sticks approach, invites every eligible woman in the land to attend. While mistreated Miss Cinderella is busy befriending birds and animals in the barn, her Fairy Godmother appears and whips up a ball gown and glass slippers, turns a pumpkin and some creatures into a carriage, horses, and coachmen, all so that Cinders may go to the ball first class. First, though, Fairy Godmother warns . . . clock . . . midnight . . . kaput. And the rest is history. Or at least fairytale.
Cinderella was directed by Clyde Geronimi, Wilfred Jackson, and Hamilton Luske and involved the voice talents of Ilene Woods as Cinderella plus Eleanor Audley, James MacDonald, Verna Felton, and Rhoda Williams. Its songs - including "Bibbidi-Bobbidi-Boo," "A Dream Is a Wish Your Heart Makes," "Cinderella," "So This Is Love," and "Sing Sweet Nightingale" - were written by Mack David, Jerry Livingston, and Al Hoffman. This Diamond Edition has a 7.1-channel soundtrack and is packed with extras.
Video: 1.37:1. Audio: DTS-HD Master Audio 7.1, DTS-HD Master Audio 1.0 original theatrical mix. Extras: Tangled Ever After animated short, "Behind the Magic: A New Disney Princess Fantasyland, " and "The Magic of the Glass Slipper: A Cinderella Story" featurettes, Diane Disney Miller intro, Personalized Digital Storybook: Bibbidi-Bobbidi-You (Disney Second Screen Experience), Disney View; DVD. Studio: Disney.
LATEST VIDEO