New Movies for November 13th 2012: Warriors and Savages of Yesterday and Today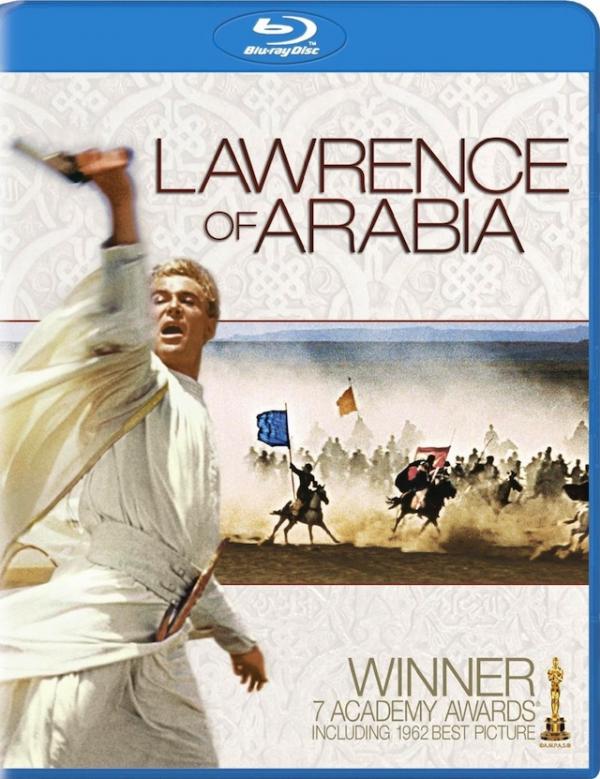 This insightful, inspiring 1962 epic portrait of a British officer who turned into a great and legendary leader of Arabs in World War 1 - uniting warring factions into a guerrilla army capable of defeating the Turkish occupiers - is one of the greatest, most critically acclaimed, and most beloved films of all time and it has certainly gotten the Blu-ray treatment it deserves.
In its restoration and mastering, the original camera negative was scanned at 8K to take every aspect of the film into the digital realm and then all problems inherent to the 50-year-old film elements were digitally repaired, cleaned, stabilized, and color corrected in 4K. All of which makes it one of the best-looking and sounding films ever released in the format.
Director David Lean and cinematographer Freddie Young's Super Panavision 70 2.20:1 widescreen compositions in the desert are utterly gorgeous - a tiny lone camel crossing a vast terrain, the unnecessarily handsome Peter O'Toole as T.E. Lawrence in close-ups with his icy blue eyes and mop of yellow hair, or just the empty sea of sand dunes going off into the distance on all sides - it's all breathtakingly beautiful. Images are intensely sharp and very crisp, the excellent contrast and insane quantities of delightful detail revealing texture to the dirt and every rock and stone - even grains of sand - as well as lines and pores in sun-tanned faces. There's a wide range of brown/grey/red tones in locations against which camels still stand out clearly. Bright, saturated stripes in the Bedouin guide's costume are well defined as is the rich red blood in his head wound. Blacks are deep - the cloak of Auda Abu Tayi (Anthony Quinn), the leader of the Howeitat, are inky - and Lawrence's robes dazzlingly bright, the white lacework even visible against white under-robes, as is each bullet in Tayi's ammunition belt, while figures, faces, and in-depth compositions have huge dimensionality.
The DTS-HD Master Audio 5.1 soundtrack is very clean, full, and open, the utter silence of the desert or the wind blowing across the sands very natural, as is the barely perceptible padding of the camel getting infinitesimally closer in the background as it approaches infinitely slowly before the figure fires, the shot cracking out deliberately and reverberating into the surrounds. Maurice Jarre's gloriously soaring music is distinctly separated into each of the channels, often starting in one and spreading to the rest - all very clear and bassy - as does the motorbike of death ominously throbbing across all the front channels smoothly at the start and the planes and booming bomb explosions and snapping gunfire later in the film when the Turks attack. There's lots of atmospherics pushed into the surrounds - such as the Ululation of Arab women all around you - as is Lawrence's very clear voice as he sings and listens to the echoes.
Lawrence of Arabia was nominated for ten Oscars in 1962, winning seven including Best Picture, Best Director, Best Cinematography (Young), and Best Original Score (Jarre). (O'Toole, surprisingly, lost, but then again he was beaten by Gregory Peck in To Kill a Mockingbird.) It co-stars Alec Guinness as Prince Faisal, Anthony Quayle as Colonel Brighton, Omar Sharif as Sherif Ali, Claude Rains as Mr. Dryden of the Arab Bureau, Jack Hawkins as General Allenby, and Arthur Kennedy as Jackson Bentley the American war correspondent.
A two-disc set with UV digital copy is available, or you can go for the four-disc 50th Anniversary Collector's Set which includes a third Blu-ray disc of extras, an authentic 70mm film frame, an 88-page coffee table book, and an exclusive soundtrack CD. Either way, everyone with a home theater needs to get Lawrence of Arabia on Blu-ray.
Video: 2.20:1. Audio: DTS-HD Master Audio 5.1. Extras: "Secrets of Arabia" picture-in-graphic track, "Peter O'Toole Revisits Lawrence of Arabia" featurette, Making of Lawrence of Arabia hour-long documentary, conversation with Steven Spielberg, "Maan, Jordan: The Camels Are Cast," "In Search of Lawrence," "Romance of Arabia," and "Wind, Sand and Star: The Making of a Classic" vintage featurettes, and New York premiere, advertising campaigns. Additional Collector's Set Extras: never-before-released deleted scene with introduction by Anne Coates, "The Lure of the Desert: Martin Scorsese on Lawrence of Arabia" new interview with Scorsese, "In Love with the Desert," "King Hussein Visits Lawrence of Arabia Scene," "Wind, Sand and Star" featurettes, archival interviews with William Friedkin, Sydney Pollack, Scorsese and Spielberg, authentic 70mm film frame, an 88-page coffee table book, and an exclusive Lawrence soundtrack CD; DVD, and UltraViolet digital copy for streaming/downloading. Studio: Sony.
Savages
In director Oliver Stone's crime thriller based on the novel by Don Winslow (script by Shane Salerno, Winslow, and Stone), two friends - Buddhist Ben (Aaron Taylor-Johnson) and former Navy SEAL Chon (Taylor Kitsch) run a successful business together in Laguna Beach growing killer-quality, super-potent marijuana from seeds Chon has smuggled out of Afghanistan. They share their wealthy-but-simple, idyllic Southern Californian life with a gorgeous woman, O (Blake Lively), who loves them both. All is beautiful and harmonious until they're contacted by Lado (Benicio del Toro), the brutal enforcer of the Baja Mexican drug cartel who makes the threesome an offer they can't refuse: to take the cartel on as partners. After preparing to flee to Indonesia, the boys learn of O's kidnapping by the cartel's merciless head, Elena (Salma Hayek), leaving them with only one option: With the help of a sleazy, corrupt DEA agent named Dennis (John Travolta) and some of Chon's Navy SEAL friends, they go to the mattresses against the bad guys.
Video: 2.39:1. Audio: DTS-HD Master Audio 5.1. Extras: director's commentary, commentary by producers Moritz Borman, Eric Kopeloff, co-screenwriter/novelist Don Winslow, executive producer/co-screenwriter Shane Salerno, and production designer Tomás Voth, "Stone Cold Savages" five-part documentary, deleted scenes; DVD and UltraViolet digital copy for streaming/downloading. Studio: Universal.
Twilight's Last Gleaming
In Twilight's Last Gleaming (1977), a loose film adaptation of Walter Wager's 1971 novel Viper Three by director Robert Aldrich (Kiss Me Deadly, The Big Knife, The Dirty Dozen), Air Force General Lawrence Dell (Burt Lancaster) is railroaded into a military prison on a faked murder charge because of his left-leaning opinions on Vietnam. But Dell will not be shut up, and escapes with accomplices Willis Powell (Paul Winfield) and Augie Garvasand (Burt Young), in order to take over an ICBM silo and its launch control capabilities. Threatening to let loose all nine nuclear missiles and start a world-wide atomic conflict, he demands $10 million dollars ransom and that the President (Charles Durning) go on national television and make public a top-secret file. This, a transcript of a secret National Security Council meeting, would reveal that the government had known from the get-go that America couldn't win the war in Vietnam and have been sending thousands of boys to their deaths just to convince the Commies that we had the strength of purpose to stand against their expansionist ambitions.
The stakes and action quotients are upped by Secretary of Defense Guthrie (Melvyn Douglas) and General MacKenzie (Richard Widmark), who deploy an elite strike force to try to penetrate the complex and use a low-yield nuclear device to take out the renegade Dell. And tension is built further through the use of multiple split-screen segments. By creating a tight and gripping drama Aldrich is able to engagingly express post-Watergate disillusionment with and distrust of the government and deliver his political message.
The film co-stars Joseph Cotton as Secretary of State Renfrew.
Video: 1.85:1. Audio: DTS-HD Master Audio Mono. Extras: Aldrich Over Munich 69-minute making-of documentary that includes background on Aldrich's filmmaking. Studio: Olive Films.
Weekend
At the beginning of the film, a bourgeois woman, Corinne (Mireille Darc), and her equally bourgeois husband, Roland (Jean Yanne), take a weekend trip into the countryside in their flashy, flaunt-it car to collect an inheritance from a dying relative. But instead of the lovely escape from the city they had planned, they find themselves first stuck in an endless traffic jam, then on a road of multiple accidents with dead bodies strewn all about. They pick up a couple of crazy passengers who pull a gun on them, have a car crash themselves, and end up in the woods, where they have a series of bizarre meetings with oddball characters like Emily Bronte (Blandine Jeanson), political leader Saint-Just (Jean-Pierre Leaud), and a gang of radicals.
Weekend (1967) is a brilliantly absurdist and intellectually challenging satire from master filmmaker Jean-Luc Godard (Bande à Part, Pierrot le Fou, Contempt) in which everything and everyone is mocked - from consumerist society to would-be left-wing revolutionaries - and all pretension and pretenses of civilization are torn away, revealing the ugly, self-serving sides of French society in the 1960s. Its series of illogical situations and characters creates a dreamlike state that expresses the secret fears of the bourgeoisie -including attack by cannibalistic class enemies - in an everyday surrealist way reminiscent of the films of Luis Bunuel. The nonstop quoting from literary works, paintings, films historical events and characters - both high cultured and pop - can leave one's head spinning trying to keep up or to confusion over what's going on or why, but it's all done with wry, silly humor so you end up not worrying too much about individual elements for too long and just get lost in the mood and the striking visual and cinematic originality and brilliance created by cinematographer Raoul Coutard (Alphaville, À Bout de Souffle, Jules et Jim).
Video: 1.66:1. Audio: French LPCM Mono. Extras: "Revolutions per Second" new video essay by writer and filmmaker Kent Jones, three archival interviews with Coutard, actors Darc and Yanne, and assistant director Claude Miller with optional English subtitles, excerpt from the French television program Seize Millions de Jeune filmed by Philippe Garrel during the production of Weekend in 1967 with optional English subtitles, illustrated booklet featuring an essay by critic and novelist Gary Indiana. Studio: The Criterion Collection.
Brave 3D
This action adventure coming-of-age comedy animated feature from Pixar, under the control of Walt Disney Animation (which is in turn overseen by its chief creative officer John Lasseter . . . of Pixar), was directed by Mark Andrews, Steve Purcell, and Brenda Chapman.
Coarse and crude Scottish King Fergus (Billy Connolly) and prim-and-proper Queen Elinor (Emma Thompson) host a series of highland games to see which of three warriors from each of the three allied local clans contesting will win the hand of their daughter in marriage. Proud and spirited Princess Merida (Kelly Macdonald), though, in a fit of pique at her parents' presumption, beats all three suitors in archery and claims the right to rule her own future. Unfortunately, the lords of each clan (Robbie Coltrane, Kevin McKidd, and Craig Ferguson), insulted by their champions getting humiliated, begin to prepare for war. Meanwhile, Merida purchases a spell from old witch (Julie Walters) to try to change her mother but that only screws things up further since her mother turns into a large bear. With just two days left to undo the spell before it becomes permanent, the young princess has to prevent impending war, make up with her mother -who is still furious at her - and, of course, help her father destroy a giant demon bear that had taken King Fergus' leg and terrorized his kingdom for years.
Brave was the first feature-length film to use the Dolby Atmos sound format in theaters; the score was composed by Patrick Doyle (Henry V, Sense and Sensibility, Gosford Park).
A three-disc 2D set is also available with a DVD copy.
Video: 2.39:1. Audio: Dolby TrueHD 7.1, Dolby TrueHD 5.1. Extras: commentary by Andrews, Purcell, story supervisor Brian Larsen and editor Nick Smith, 74 minutes of short films - La Luna, (in Dolby TrueHD 7.1 track) and The Legend of Mor'Du (in Dolby Digital 5.1), "Behind the Scenes" 110-minute documentary, "Brave Old World," "Merida & Elinor," "Bears," "Brawl in the Hall," "Wonder Moss," "Magic," "Clan Pixar," "Once Upon a Scene," "Dirty Hairy People," "Angus," and "The Tapestry" featurettes, extended scenes, alternate opening, "It is English... Sort Of" on Pixar Scottish slang, "Fallen Warriors" montage of shots that didn't make the last edit, art galleries, and promotional pieces; Blu-ray, DVD, and digital copy. Studio: Pixar/Disney.
Trilogy of Life
Notoriously controversial writer-director and poet Pier Paolo Pasolini (Salo, or the 120 Days of Sodom) made these three films - The Decameron, The Canterbury Tales, and Arabian Nights - between 1970 and 1974 as the Trilogy of Life series, satirizing religion and class in modern Italian society.
The Decameron (1970) is loosely based on 14th-century Italian writer Giovanni Boccaccio's collection of ten tales, Il Decameron. Pasolini blends them together to create a portrait of a medieval Italy. It's chock-a-block with artists, priests, and other magicians, along with robbers, a fake deaf-mute, naked lovers, naked servants, and nuns all tied together first by the presence of a murderer, Ciappelletto (Franco Citti), who eventually becomes a saint, and then in the second half by the Italian pre-Renaissance painter and architect, Giotto (played by Pasolini himself), who's painting a fresco in a Naples cathedral. The Decameron was originally rated X by the MPAA for all its scandal and general naughtiness.
The Canterbury Tales (1972) contains eight of Geoffrey Chaucer's 14th-century tales, and includes all Chaucer's bawdy humor, lustiness, and sexual behavior - with an added-on scene in Hell where sinful friars are being punished by the Devil (Citti) - all presented in an explicit manner with plentiful nudity. The Canterbury Tales was banned in Italy. As with The Decameron, composer Ennio Morricone (A Fistful of Dollars, The Good, the Bad and the Ugly, The Battle of Algiers) collaborated with Pasolini on selecting music for the soundtrack.
Arabian Nights (1974), set in a land filled with amorous adventures, tells of a man, unlucky in love, who goes on a long trip searching for his beloved. Meeting other travelers along the way, he is told a series of wondrous tales of demons, beautiful slaves, wealthy rulers, and hot, licentious women all aromp together. Shot in exotic locations throughout the Middle East and, as with The Decameron and The Canterbury Tales, starring many local non-professional actors with strikingly authentic-looking faces along with Citti and other actors who had appeared in the other two films including Ninetto Davoli, Franca Sciutto, and Elisabetta Genovese. It has a marvelous, original Morricone score.
All, Video: 1.85:1. The Decameron and Arabian Nights, Audio: Italian LPCM Mono. Audio, The Canterbury Tales Italian LPCM Mono, English Dolby Digital Mono. The Decameron, Extras: "On the Decameron" new visual essay by film scholar Patrick Rumble, author of "Pier Paolo Pasolini's Trilogy of Life," The Lost Body of Alibech 45 minute documentary about a lost sequence which was shot in Yemen, "Via Pasolini" collection of excerpts from archival interviews with the director. The Canterbury Tales, Extras: new video interview with Sam Rohdie, author of "The Passion of Pier Paolo Pasolini," Pasolini and the Secret Humiliation of Chaucer 48 minute documentary, English-language opening and closing credits and various short inserts, new video interview with Morricone, new video interview with production designer Dante Ferretti who worked on each of the films. Arabian Nights, Extras: short archive director's introduction, new visual essay by British writer and film critic Tony Rayns, Pasolini and the Form of the City short documentary by Pasolini and Paolo Brunatto about the Italian cities of Orte and Dabaudia, 22 minutes of scenes deleted from the 155-minute version of Arabian Nights, illustrated booklet featuring essays by critic Colin MacCabe, Pasolini's 1975 article "Trilogy of Life Rejected," excerpts from the director's Berlin Film Festival press conference for The Canterbury Tales, and a report from the set of Arabian Nights by critic Gideon Bachmann. Studio: The Criterion Collection.
LATEST VIDEO