New Movies for December 4, 2012: Coppola Gets a Definitive Collection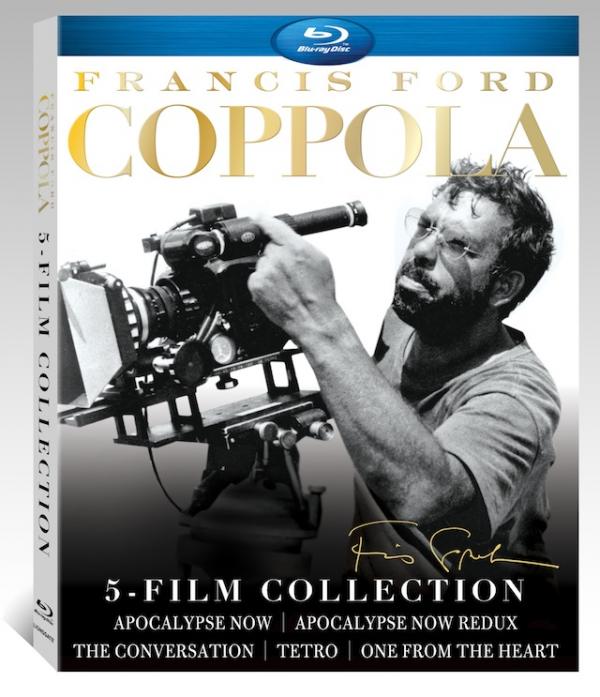 Francis Ford Coppola: 5-Film Collection
Winner of five Academy Award Francis Ford Coppola's films are beloved and oft quoted by film aestheticians, critics, couch warriors, and gangsters alike. The four-disc set includes a fine collection of old and new including Apocalypse Now, Apocalypse Now Redux, The Conversation, One From the Heart, and Tetro.
Apocalypse Now (1979) has amazing sound, the opening helicopter circling you in front and behind. Music, as Captain Benjamin Willard sets off up river, is very much in the very active surrounds, too, immersive and well separated. And there's the scariest effects pan when a when a rocket is suddenly shot across the room right at your head. It's all very full and open, the awe-inspiring Air Cav chopper attack following the bugler sounding the attack and the turning on of the Wagner being loud and incredibly bassy with great whump-whump-whump pans all around. It still brings a tear to the eye and makes your hair stand on end. The wide dynamic range is also very clear in the high registers and voices are crisp and clear, especially noticeable in Sheen's narration. There's plenty of atmospherics so that when it goes quiet before the tiger attack, you really feel the danger. "Never get outta the boat."
Images are insanely detailed, with close-ups revealing every sweat drop and pore in Willard's face and early white hairs in his sideburns. And you can read all Sheen's documents and maps and see individual veins in his bloodshot eyes. Blacks, such as Willard's sleeping mask, are rich and skin tones natural.
Both the original 1979 theatrical cut of the film (running 2:27:17) and the Apocalypse Now Redux version (running 3:16:09) are included on the same disc.
In The Conversation (1974), a loner surveillance expert (Gene Hackman) - paranoid and secretive because he knows what intrusiveness is possible - gets slowly pulled into an into an assignment and realizes the ramification of the assignment. The Conversation co-stars Cindy Williams, Frederic Forrest, Harrison Ford, Teri Garr, and Godfather alumni John "Fredo" Cazale.
The pictures' Technicolors are very restrained, with naturalistic, ugly colors trying for that gritty, grimy 1970s look. Images are fairly sharp and detailed with plenty of texture to walls and some volume to figures and dimensionality to spaces.
Surpringly, given the sound surveillance subject matter, there's very little action in the surrounds, only slight echoing. All the effects and music - often just piano - are spread across the front channels with all conversation in the center. The score by David Shire (All the President's Men, Norma Rae, Farewell My Lovely) is clear and open, even the quietest notes audible. A DTS testing feature is included to balance the all-important sound.
One From the Heart (1982) is the boy-girl love story of Hank (Frederic Forrest) and Frannie (Teri Garr), two lovers who have lost the passion and communication in there dull and dowdy relationship. Their dreams of happiness and romance with other mate's are reflected in Coppola's newly created Zoetrope Studio fantasy of unnatural colors and lighting in this new-school old-school musical romance. The film also stars Raul Julia, Nastassja Kinski, and Harry Dean Stanton.
Picture quality is very variable. In some scenes there's fair contrast with some rich tones - Teri Garr's dress and nails a bright scarlet - but blacks could be deeper, whites brighter and generally visuals are pretty blandly lit and dully colored in a natural, not-very-interesting way. The brighter Las Vegas strip sequences are sharper and more detailed but, being over-bright neon-lit, they're a bit milky and washed out.
In the 5.1 mix there's very little of Tom Waits' music to be heard in the surrounds in his duets with Crystal Gayle and there's generally not much in the way of atmospherics, but in the more dramatic music scenes like the Strip dance number there's more music to be found all 'round.
In Coppola's 2009 indie film, Tetro, 17-year-old commercial mariner Bennie (Alden Ehrenreich) visits his theatrical lighting man older brother Tetro (Vincent Gallo) in Buenos Aires and they both try to deal with the familial demons that the rare interaction brings up.
The very clean black-and-white images have good clarity, are very sharp with loads of detail so you can read street signs and see lines in faces. Contrast is good, blacks deep, whites bright, with a wide range of grays. Memories are shown in rich color and clips from Michael Powell and Emeric Pressburger are highly saturated. Faces have convincing volume.
Tetro puts more into the surrounds with subtle opera and tango accordion music, singing, and atmospherics - like kids in the street - setting off the scenes. All is clear and open.
Apocalypse Now and Redux, Video: 2.35:1. Audio: DTS-HD Master Audio 5.1. Apocalypse Now, Extras: director's commentary. Redux, Extras: director's commentary.
The Conversation, Video: 1.78:1. Audio: DTS-HD Master Audio 5.1, DTS-HD Master Audio Mono. Extras: commentary writer-director Coppola, commentary by editor Walter Murch, "Close-Up on The Conversation" vintage featurette, Cindy Williams' screen test for the part ultimately played by Teri Garr, Harrison Ford screen test for the part ultimately played by Frederic Forrest, No Cigar 2-minute 1956 student film by Coppola with the director's introduction and narration, "Harry Caul's San Francisco-Then And Now" on the locations as they were in 1973 and are now, David Shire interviewed by Coppola, archival Gene Hackman interview, 50minutes of script dictations from Coppola.
One From the Heart, Video: 1.37. Audio: DTS-HD Master Audio 5.1. Extras: director's commentary.
Tetro, Video: 2.35:1. Audio: DTS-HD Master Audio 5.1. Extras: commentary by Coppola and actor Alden Ehrenreich, "The Ballet," "La Colifata: Siempre Fui Loco (I've Always Been Crazy)," and "The Rehearsal Process" featurettes, interview with cinematographer Mihai Malaimare, Jr., interview with composer Osvaldo Golijov, longer version of the Fausta play from the film, longer end credits.Studio: Lionsgate.
The Dark Knight Rises
In this epic conclusion to filmmaker Christopher Nolan's three-film, decade-long Dark Knight saga based on the DC Comics character, masked terrorist mastermind Bane (Tom Hardy) arrives in the city and begins to carry out his plans to destroy the metropolis. He's doing so on the behest of the leader of the League of Shadows, Ra's al Ghul (Josh Pence as a younger Ra's al Ghul, Liam Neeson as the elder), who has made it his mission to completely level Gotham. This forces Batman (Christian Bale) to return from self-imposed exile having disappeared eight years before after taking on the blame for the death of D.A. Harvey Dent AKA Two Face to preserve the D.A.'s legacy of crime prevention.
Batman first elicits the help of cat burglar Selina Kyle (Anne Hathaway), detective John Blake (Joseph Gordon-Levitt), and Wayne Enterprises board member Miranda Tate (Marion Cotillard). But Kyle turns out to be Catwoman and leads him into a trap, and Tate turns out to be Talia al Ghul, daughter of Ra's al Ghul. She captures and imprisons Batman, traps most of Gotham's police force underground, and cuts Gotham off from the rest of the world using the a weaponized nuclear reactor core to hold the city hostage. Bane releases the prisoners of Blackgate Penitentiary pretending to be starting a revolution, having the rich and powerful dragged from their homes to face show trials presided over by Dr. Jonathan Crane (Cillian Murphy). In other words, things couldn't get any worse, except for nippleized hero costumes and only Bruce Wayne recuperating and retraining a la Clint Eastwood in A Fistful of Dollars could possibly hold any hope for Gotham.
Michael Caine reprises his role as Bruce Wayne's trusted butler and friend Alfred, Morgan Freeman as his weapon-handy ally Lucius Fox, and Gary Oldman as good-ol' Commissioner Gordon. Nolan once again co-wrote the screenplay with his brother Jonathan Nolan and the story with David S. Goyer. Other creative collaborators - producing partner Emma Thomas, cinematographer Wally Pfister, production designer Nathan Crowley, editor Lee Smith, special effects supervisors Paul Franklin and Chris Corbould, costume designer Lindy Hemming, and composer Hans Zimmer - also come back to lend a helping hand.
In the wake of the mass shooting during a midnight screening of the film, Warner Bros. out of respect for the victims and their families, decided to not report further box office figures for the movie, leading to speculation that the attack must have hurt the ticket sales. In actuality Rises earned $448 million in the US and $1 billion and 80 million in change worldwide, making it the seventh-highest-grossing film of all time.
This three-disc set consists of two Blu-ray discs and one DVD with UV digital copy. A two-disc limited Bat Cowl Packaging set is also available as are an edition with one Blu-ray and DVD and UV Digital copies, and another single disc one. The Dark Knight Trilogy Limited Edition Giftset featuring Batman Begins, The Dark Knight and The Dark Knight Rises all in one collection includes a book exclusive to the collection.
The video transfer includes regular sequences presented in 2.40:1 aspect ratio and others which were filmed in 70mm IMAX and are presented in 1.78:1. Extras include an hour-long history of the Batmobile!
Video: 2.40:1 and 1.78:1. Audio: DTS-HD Master Audio 5.1, DTS-HD Master Audio 2.0. Extras: 68-minute "Production,"28-minute "Characters," 15 minute "Reflections," 58-minute "The Batmobile," and "Shadows & Light in Large Format" featurettes; DVD and UltraViolet digital copy for streaming/downloading. Studio: Warner.
Brazil
In the dark, dull, dystopian future that bears a striking resemblance at times to 1940s England, a humble, unassuming clerk (Jonathan Pryce) with romantic dreams of beauty, liberation, and love, works in a soul-crushing job at the all-powerful bureaucracy called the Ministry of Information, a branch of the totalitarian government that monitors all citizens and attempts to crush any questioning, criticism, or resistance with propaganda, intimidation, and worse. The brilliantly-conceived, old-fashioned-futuristic look of Brazil (1985) came from the influence of George Orwell's 1948 novel Nineteen Eighty-Four on director Terry Gilliam - or at least one of the 1984 or Nineteen Eighty-Four films since Gilliam admits that he never read the book. Brazil's blend of dark humor, surreality, and horror at the madness and cruelty of system and those that acquiesce and accede to it is quintessential Gilliam. Ary Barroso's 1939 song "Aquarela do Brasil" ("Watercolor of Brazil," often simply called . . . "Brazil") sets the absurdity, nostalgia, and longing of the film off perfectly. "Tomorrow is another . . . dayyyyyyyy."
This cautionary adaptation was written by Gilliam, Charles McKeown, and Tom Stoppard; its co-stars include Michael Palin, Robert De Niro, Kim Greist, Bob Hoskins, Ian Holm, and Katherine Helmond.
On seeing the finished film, Universal chairman Sid Sheinberg insisted on dramatic re-editing to give it an audience-friendly happy ending. After a long delay without the film being released, Gilliam took out a full-page ad in Variety urging Sheinberg to release Brazil in the version he'd intended. After Gilliam held private, non-studio-endorsed screenings, Brazil received the Los Angeles Film Critics Association Best Picture award. In response, in 1985, Universal finally released a modified version -132-minutes long - in America and the 142-minute original cut in Europe.
The previous Universal Blu-ray release was the132 minute US version of the movie. The Criterion Collection edition version is a modification of the European edition which Gilliam, who supervised the transfer, calls the final cut.
Amongst the extras in this two-disc set is the 94-minute "Love Conquers All" cut with commentary by Brazil expert David Morgan.
Video: 1.85:1. Audio: DTS-HD Master Audio 2.0 Surround. Extras: director's commentary, the 94-minute "Love Conquers All" cut with commentary by Brazil expert David Morgan, "What Is Brazil?" 30-minute on-set documentary by Rob Hedden, "The Battle of Brazil: A Video History" 60-minute documentary by author and film writer Jack Mathews about the controversy surrounding the film's release, a short documentary on the screenplay, Gilliam's storyboards for unfilmed dream sequences animated and narrated by Morgan, visual essays on the film's production design and special effects, visual essay on Brazil's costumes narrated by costume designer James Acheson, interviews with Gilliam and composer Michael Kamen on the score, and a booklet featuring an essay by film critic David Sterritt.Studio: The Criterion Collection.
Catch Me If You Can
Steven Spielberg's 2002 whimsical dramedy Catch Me If You Can tells the story of a brilliant, young con artist and the FBI agent on his trail who's determined to bring him down. From his teenage years on, Frank Abagnale (Leonardo DiCaprio) loved to deceive. His joy in life was in practicing his amazing mastery of the confidence game. Sure, it was all about making money, too - millions - and the thrill of it, but above all it was about the joy of playing people - charming them, making them confident with his own confidence, and taking their cash through check fraud. Even before he was 21 he was passing himself off as a Pan Am Airways pilot, a Louisiana lawyer, and a doctor from Georgia, gaining the trust that, in the more security-naive mid-1960s, could be evoked by a uniform and the respectability supposedly behind it.
Putting audiences on the side of a dishonest criminal while he dupes gullible strangers is Spielberg's own manipulation, seducing the viewer with the glamour, danger, and intricacies of the swindle. In addition the illusionist skills of the character, his boyish playfulness, and likeable innocence in living such a fantasist's life of adventure make you root for Abagnale - epecially as played by DiCaprio. This is balanced by the cold, professionalism of FBI agent, Carl Hanratty (Tom Hanks), as he systematically, over a number of years in the USA and Europe, closes in on the protagonist while finding himself gradually admiring and liking the kid.
In addition to DiCaprio's winning performance and Hanks'usual solid acting, the film has a great cast of co-stars including Christopher Walken, Amy Adams, James Brolin, Martin Sheen, Jennifer Garner, and Nathalie Baye. Catch Me was scripted by Jeff Nathanson based upon Abagnale 's autobiography.
Originally, David Fincher was supposed to direct but dropped out in favor of Panic Room so Gore Verbinski was brought in with Steven Spielberg as producer. James Gandolfini, Ed Harris, and Chloë Sevigny were lined up as actors. Verbinski dropped out because of DiCaprio's commitment on Gangs of New York and Lasse Hallström was next offered the job, but then he dropped out. At this stage Harris and Sevigny left the film. Spielberg offered directorship to Milos Forman and considered hiring Cameron Crowe. Finally, Spielberg said "Oh frag it!" and officially committed to directing Catch Me himself. The score was composed by John Williams and the cinematography was by Janusz Kaminski.
Video: 1.85:1. Audio: DTS-HD Master Audio 5.1. Extras: "Catch Me If You Can: Behind the Camera," "Catch Me If You Can: The Casting of the Film," "Scoring: Catch Me If You Can," "Frank Abagnale: Between Reality and Fiction," "The FBI Perspective," "Catch Me If You Can: In Closing," photo galleries.Studio: Paramount.
Purple Noon (Plein soleil)
Director René Clément's crime drama Plein Soleil (Purple Noon, 1960) is based on the brilliant, morally complex book The Talented Mr. Ripley by Patricia Highsmith. Tom Ripley (Alain Delon in his first major film) is sent to Italy by Mr. Greenleaf to persuade his playboy son, Philippe Greenleaf (Maurice Ronet), a wealthy friend of Ripley, to go back home with him to the States to take over the family business. And poor Tom, in return, shall receive $5,000!Philippe has no intention of doing so - he enjoys rich romping with his bride-to-be, Marge (Marie Laforêt), too much, but he plays along to get entertainment from Ripley's gauche enjoyment of the luxurious life they're living. Ripley nonetheless is nervous, especially once his presence begins to pall on entitled, superior Philippe who begins to cruelly taunt and insult him and Mr. Greenleaf, in the wake of the delay in completion of the job, aborts the plan and stops Ripley's expenses allowance. Finally, at a loss as to how to continue his new-found good life, Ripley, on a yachting trip, murders Philippe and takes over his identity and bank accounts, imitating his appearance, voice, and manner, transforming himself into the persona of his dead friend. Now all that lies between Ripley and Philippe's luxury is the police, Marge, and the murdered man's suspicious friends.
Purple Noon made Delon an instant star so that immediately afterwards he worked for Luchino Visconti in Rocco and His Brothers (1960) and The Leopard (1963), Michelangelo Antonioni in L'Eclisse (1962), before iconic roles with Jean-Pierre Melville in Le Samourai (1967) and Le Cercle Rouge (1970).
The gorgeous Mediterranean cinematography was by the legendary Henri Decae (Les Enfants Terribles, Bob le Flambeur, Elevator to the Galleries, Le Beau Serge, The Lovers, Les Cousins, The 400 Blows, Les Bonnes Femmes, Sundays and Cybele, Le Samourai, The Comedians, Castle Keep, Le Cercle Rouge) and the memorable soundtrack is by genius composer Nino Rota (The White Sheik, I Vitelloni, La Strada, Il bidone, War and Peace, Le Notti Bianche, Nights of Cabiria, La Dolce Vita, Rocco and His Brothers, The Leopard, 81?2, Juliet of the Spirits, Romeo and Juliet, Fellini's Roma, The Godfather, Love and Anarchy, Amarcord, The Godfather: Part II).
In 1999, director Anthony Minghella made The Talented Mr. Ripley, another excellent adaptation of the book, starring Matt Damon, Jude Law, and Gwyneth Paltrow.
Video: 1.67:1. Audio: French and Italian LPCM Mono with English subtitles. Extras: new video interview with Clément scholar Denitza Bantcheva, archival interviews with Delon and Highsmith, booklet featuring an essay by film critic Geoffrey O'Brien and a reprinted interview with Clément. Studio: The Criterion Collection.
The Blue Angel (Der Blaue Engel)
In director Josef von Sternberg's 1930 drama loosely based on Heinrich Mann's 1905 novel, Dr. Professor Immanuel Rath (Emil Jannings), an aging, authoritarian, and highly moral teacher of English literature at an all-boys college in Weimar Germany learns that some of his pupils frequent Der Blaue Engel cabaret to see the dancer, Lola-Lola (Marlene Dietrich). When he goes to confront them in the club he sees Lola doing her now iconic "Falling in Love Again (Can't Help It)" song-and-dance routine and, of course, immediately falls for her. Herr Professor wants to make a respectable woman of her and legitimatize his lust, but after a night of passion with Lola, there follows a spiraling out of control for Roth leading to his humiliation and loss of work, reputation, and mind-state, ending up as a clown in the cabaret driven mad by jealousy over Lola.
The Blue Angel is generally thought to be the first major German sound film and made Dietrich an instant international star. Emil Jennings went on to star in several Nazi propaganda films. Angel was banned in Nazi Germany in 1933, as were all the works of Heinrich Mann and screenwriter Carl Zuckmayer. German and English versions of the film were shot simultaneously with the same cast. The English-language version and extras that were included in Kino's two-disc DVD set are not included here.
Video: 1.2:1. Audio: German LPCM 2.0 with English subtitles. Extras: none.Studio: Kino.
LATEST VIDEO