New Gear for Late Summer Page 2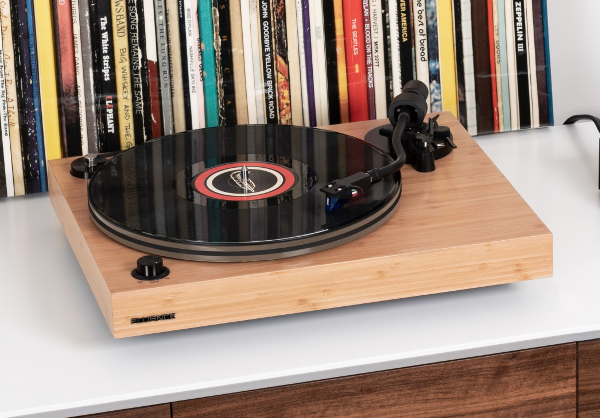 Fluance Reference Series Turntables with Bamboo Finish
Fluance is now offering a modern bamboo finish option for its Reference Series RT82 ($300), RT83 ($350), RT8 ($450), and RT85 (shown, $500) turntables. All feature a servo-controlled belt-drive mechanism, a balanced S-shaped tonearm fitted with an Ortofon phono cartridge, and a dust cover (not shown). The drive is decoupled from a multi-layered wood base that rests on three adjustable isolation feet, all of which combine to reduce resonance and vibration.
The RT82 comes with an Ortofon OM 10 cartridge, the RT83 an Ortfon 2M Red, and the RT84 and RT85 an Ortofon 2M Blue. All models have a metal platter, except for the top-of-the-line RT85, which has a frosted acrylic platter (available as an upgrade for the other models). Rated wow and flutter, which measures speed variation, is 0.07%. Visit fluance.com for more information.
Bowers & Wilkins 600 Series Anniversary Edition Speakers
The iconic British speaker brand Bowers & Wilkins (a.k.a. B&W) has launched the seventh generation of its popular 600 Series of speakers, the company's second-longest continuously available line after the legendary 800 Diamond Series. The new line, signified by a celebratory "600 Series Anniversary Edition" inscription around the tweeter, comprises the 603 S2 tower speaker ($1,999/pair), 606 S2 ($900/pair) and 607 S2 ($700/pair) bookshelf models, and the HTM6 center channel speaker ($800); the ASW608, ASW610, and ASW610XP subwoofers continue unchanged.
B&W cites a number of "significant" upgrades including a refined version of B&W's 1-inch "decoupled double dome" aluminum tweeter, upgraded crossovers with "new and greatly improved" bypass capacitors borrowed from the new 700 Signature Series and upgraded high- and mid-frequency capacitors — all of which translate into "improved resolution and transparency."
Standing 39 inches tall, the 603 S2 is a three-way vented design rated down to 28 Hz that mates two 6.5-inch woofers and a 6-inch midrange driver with the tweeter. The 13.5-inch tall 606 S2 and 12-inch-tall 607 S2 speakers are two-way designs that mate the double-dome tweeter with a 6.5- or 5-inch woofer, respectively; a 24-inch floor stand for either model is available for $200/pair. In the HTM6 center speaker, two 5-inch woofers flank the tweeter in an enclosure that measures 19 inches across. To make it easy for home theater aficionados, B&W is also offering the B&W 600 Series Anniversary Edition Theatre package featuring two 603 S2s, two 607 S2s, a HTM6 S2 center speaker, and the ASW610 powered subwoofer. The 5.1 ensemble sells for $4,300.
Finish options include matte white, matte black, and a new oak finish (shown here) with cherry available as a special order. Visit bowerswilkins.com for more information.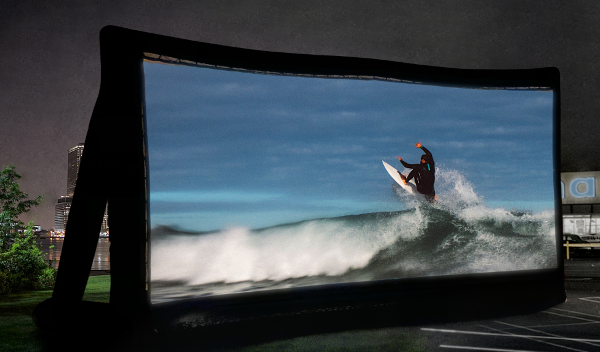 CES+/Severtson InstaCinema Outdoor Video Screen
The video-screen specialists at Severtson Screens have partnered with CES+ to bring you an amazing inflatable outdoor video screen. The InstaCinema is outfitted with a high-quality, 2.2-gain screen for a "much brighter and clearer" picture, according to CEO Toby Severtson, who claims it's the only outdoor screen of its kind.
The screen is offered in 20- and 40-foot versions, at a cost of $6,000 and $15,495, respectively, and ships with everything you need to set it up (and maintain it). In addition to the screen and frame, the package includes a blower, rope, anchors and a mallet, a tarp, and a patch kit. A one-year warranty is provided and Severtson says to allow six weeks for shipping. Visit severtsonscreens.com for more information.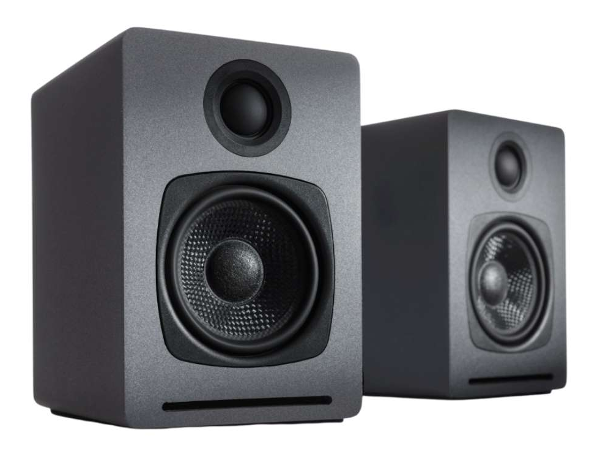 Audioengine A1 Bluetooth Speaker System
Audioengine has introduced a lower-priced follow-up to last year's already affordable A2+ Bluetooth speaker system, one of Sound & Vision's Top Picks in 2019. The two-way speaker is nearly identical to its pricier sibling except it lacks a mini USB input/DAC and variable RCA output and uses cheaper clip-type speaker connectors instead single-pin banana jacks. Other than that, the system uses the same 2 x 15-watt RMS (30-watt peak) amplifier to drive its 2.75-inch aramid fiber woofers and 0.75-inch silk dome tweeters and streams up to 100 feet via aptX-enabled Bluetooth. Visit audioengineusa.com for more information.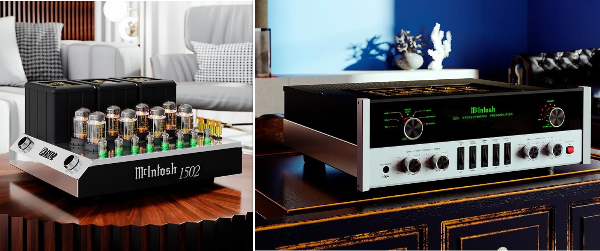 McIntosh MC1502 Tube Amp, C22 Tube Preamp
If you love tube-based audio, you're going to love the latest specimens from the sound wizards at McIntosh Labs, both direct replacements for Mac's 70th anniversary limited-edition MC2152 tube amplifier and C70 tube preamplifier. The new MC1502 (left, $11,000) is twice as powerful as its predecessor with a rated output of 150 watts/channel and boasts eight KT88 output tubes (four per channel) and eight signal tubes (four 12AX7As and four 12AT7s — two each per channel. Full power can be delivered into almost any pair of speakers, thanks to patented Unity Coupled Circuit output transformer technology — the same technology McIntosh was founded on in 1949.
The gleaming tubes are indeed exposed but can be covered by a stainless-steel wire cage (not shown in the photo above). "Air-pipe" cooling at the base of the output section is designed to help extend tube life and the company's Sentry technology monitors output current and shuts the amplifier off when it exceeds safe limits.
The new C22 Mk V preamplifer ($6,000) was designed to match the performance of its predecessor and boasts six tubes — one 12AT7 and five 12AX7As, all visible through a glass window on the top of the preamp — and provides two balanced and three unbalanced inputs plus moving coil and moving magnet phono inputs.
Knobs and rocker switches operate all functions with LED lights indicating input selection and volume level. Bypassable bass and treble tone controls can be adjusted in 2-dB increments, while separate rotary knobs are used to adjust impedance and capacitance for the phono inputs. The quarter-inch headphone jack is powered by McIntosh's High Drive headphone amplifier and incorporates Headphone Crossfeed Director (HXD) technology, which is said to improve sound localization by restoring the directionality normally heard only from speakers.
Visit mcintoshlabs.com for more information.