McIntosh Commemorates 70th Anniversary with Limited-Edition System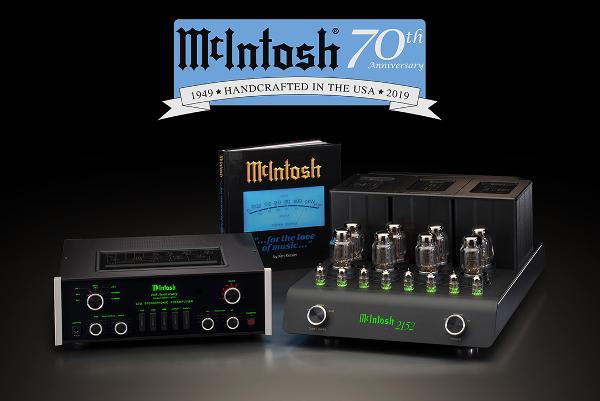 McIntosh has unveiled a limited-edition tube amp/preamp combo to mark its upcoming 70th anniversary.
The company plans to build only 70 Limited Edition Commemorative Systems, comprising the new MC2152 70th Anniversary Vacuum Tube Amplifier and C70 70th Anniversary Vacuum Tube Preamplifier, both with matching serial numbers. Priced at $22,000 and slated to ship in December, the system comes with a certificate of authenticity and the official McIntosh history book, "for the love of music…".
For each system sold, McIntosh will donate $1,000 to global humanitarian organization Save the Children. Once all of the limited-edition systems are sold, the amp and preamp will be available separately for $15,000 and $7,000, respectively.
Rated to deliver 2 x 150 watts and stable down to 2 ohms, the MC2152 features a striking new design to honor the company's seven decades of making audio components and incorporates "the lessons we've learned and the techniques we've invented in our 70 years of audio engineering." Among those technologies are the patented Unity Coupled Circuit output transformer McIntosh was founded on in 1949 and Sentry Monitor technology that monitors output current and shuts the amplifier off if it exceeds safe limits.
The design is highlighted by a bead-blasted black anodized aluminum chassis accentuated with carbon-fiber side panels and a front panel with a backlit laser-cut McIntosh logo.
The MC2152 amplifier uses eight KT88 output tubes plus eight small signal tubes comprising four 12AX7A and four 12AT7 vacuum tubes; half of the tube complement is assigned to each audio channel. The 12AX7A vacuum tubes are for the Balanced and Input amps, while the 12AT7 tubes are for the Voltage and Driver amps. LEDs under the eight signal tubes can be set to one of three illumination settings: Off (which allows the tubes natural amber glow to be visible), green, or blue.
The tubes are sheltered by a 12-gauge stainless-steel wire cage with a black powder-coated finish. Behind the tubes is a power transformer flanked by two output transformers, all housed in glass-topped extruded enclosures that display the wiring diagram for each transformer. A 70th Anniversary laser-engraved badge rounds out the presentation.
Connections include balanced and unbalanced inputs, along with patented Solid Cinch speaker binding posts and connections for McIntosh's Power Control technology.
Sitting atop a polished stainless steel chassis, the C70 preamplifier features McIntosh's signature glass front panel with an illuminated "McIntosh 70th Anniversary" inscription and incorporates one 12AT7 and five 12AX7A tubes, all visible through a glass panel on the top cover. Control is via classic knobs and rocker switches, while LED indicators denote input selection and volume level.
Front-panel bass and treble knobs provide adjustment in 2-dB increments, while a second set of knobs adjust impedance and capacitance for the phono inputs. In addition to controlling overall level, the volume knob also adjusts the relative balance between the left and right channels. The headphone jack is powered by McIntosh's High Drive headphone amplifier with switchable Headphone Crossfeed Director (HXD) processing that can be engaged to add dimension to headphone listening. Five rocker switches control tone on/off, mono/stereo, HXD on/off, and on/off for output 1 and output 2.
Seven inputs are provided around back: two balanced, three unbalanced, and two phono inputs — one moving coil, the other moving magnet. For outputs, there are two pairs each of balanced and unbalanced connections. A remote control is included.
For more information, visit mcintoshlabs.com.