New Gear for Late Summer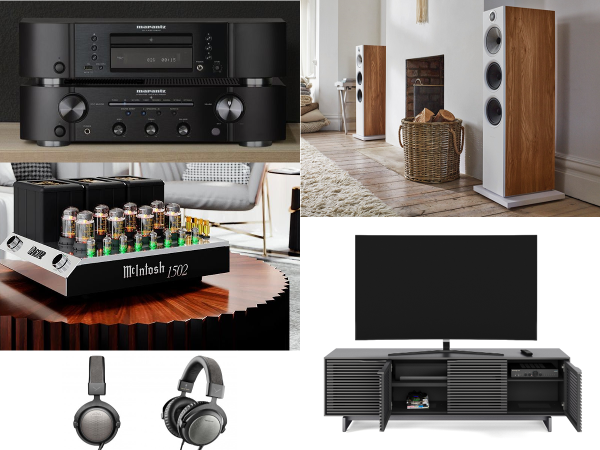 New products keep the world of home entertainment moving forward. Though the pace of introductions slowed to a trickle this spring as America was forced into pandemic lockdown, A/V makers are regaining their footing as supply chains slowly return to normal. The last full month of summer saw introductions from the likes of
Rotel
,
Marantz
, and many other familiar brands. Here's the skinny on a dozen recently announced products — from headphones and AV furniture to more cool gear from McIntosh, NAD, and Bowers & Wilkins.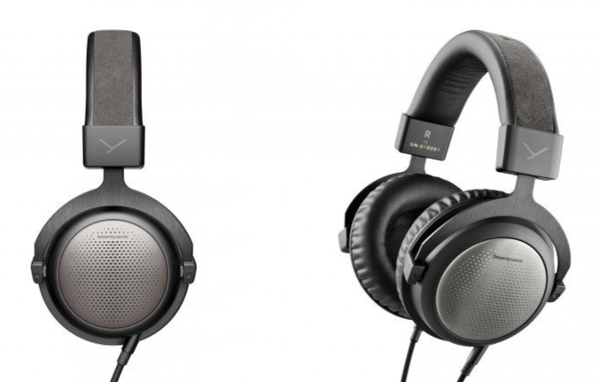 beyerdynamic T1 and T5 Headphones
The German company credited with inventing dynamic headphones more than 80 years ago remains committed to category and continues to evolve its offerings with the third generation of its flagship Tesla TI and T5 headphones, each priced at $999. The goal of the open-back T1 (left in photo) is "the most natural spatial sound reproduction possible," while the closed-back T5 is designed for noisy environments. A "gentle bass boost for a warmer sound experience" distinguishes these new versions from previous generations, according to beyerdynamic.
Proprietary drivers based on the company's longstanding Tesla technology are angled in both models for more precise sound and encased in swiveling, stainless-steel earcups supported by brushed aluminum yokes that attach to a headband covered in a soft, suede-like material. To ensure a comfortable fit, earpads are filled with memory foam and covered in soft velour on the T1 and synthetic leather on the T5, the latter to help keep out noise.
Specs are identical for the both models and include a rated frequency response that dips down to 5 Hz, nominal sound-pressure level (SPL) of 100 dB, and a phone-friendly nominal impedance of 32 ohms. Cables made with high-purity OCC7N copper conductors are detachable and covered in textile to ensure flexibility. Accessories include a hard carrying case and gold-plated 3.5mm minijack and quarter-inch phone-plug adapters. Visit beyerdynamic.com for more information.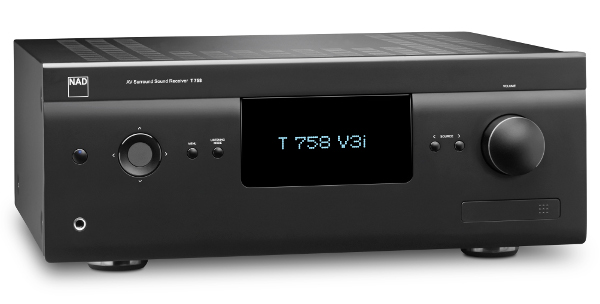 NAD T 758 V3i AV Surround Sound Receiver
Canadian audio stalwart NAD Electronics has updated its popular T 758 A/V receiver and added the V3i appellation to signify what turns out to be a significant overhaul. The 7.1-channel AVR now supports 4K/high dynamic range (HDR) video and is equipped with Dolby Atmos and DTS Master Audio processing, Dirac Live room correction, and multiroom wireless streaming via Apple's AirPlay 2 platform and the high-resolution BluOS platform NAD developed with sister brand Bluesound several years ago.
Priced at $1,499, the T 758 V3i is rated to deliver 7 x 60 watts, all channels driven with 0.05% THD, and designed to combat obsolescence with a modular design featuring separate audio and video modules that can be easily replaced when new formats and technologies come along. Visit nadelectronics.com for more information.
Next Level Acoustics UM1-A Bracket for Sonos Arc Sounbar
Next Level Acoustics, a relatively new company specializing in soundbars, speakers, and mounting solutions for custom installation applications, is now shipping a custom adapter/bracket for mounting the Sonos Arc soundbar to the bottom of your TV for a super clean look. Made of sturdy 11-gauge steel, the UM1-A adapter ($60) is designed to attach to the company's $150 UM-1 bracket and bolts directly to the back of the Arc.
Beyond merely suspending the soundbar beneath the screen, the adapter provides adjustments for tilting the Arc and moving it up/down and forward/back to ensure positioning that doesn't obstruct its upward-firing drivers, which provide a sense of height with Dolby Atmos soundtracks. Even if the TV is tilted downward, you can keep the soundbar level using the UM1-A's adjustments to keep those "height" drivers firing up at the 20° angle recommended by Dolby. Visit nextlevelacoustics.com for more information.
Marantz PM6007 Integrated Amp and CD6007 CD Player
As a follow-up to the recently updated SR-Series of A/V receivers, Marantz has added two affordable products to its lineup: the PM6007 integrated amplifier ($599) and the CD6007 CD player ($449), the latter representing a category we don't hear much about these days.
The two-channel PM6007 is rated to deliver 45 watts a side into 8 ohms with A/B switching for two sets of speakers and replaces standard integrated circuits (ICs) with discrete signal paths courtesy of Marantz's Hyper Dynamic Amplifier Module (HDAM-SA3), which is said to outperform the op-amps found in many low-priced amplifiers. It also boasts a high-current power supply with the large energy reserves needed to "easily drive even the most demanding speakers" and uses thermal compensation to avoid memory distortion. The amp is ready for digital action with inputs (one coax and two optical) that support 192-kHz/24-bit playback and packs five analog inputs, including one fed by a moving-magnet (MM) phono preamp for turntable hookups, and a subwoofer output with a fixed 150-Hz low-pass cutoff.
Marantz describes the CD6007 as a "meticulously designed, finely-tuned" CD player featuring premium-grade components, an enhanced circuit layout with a low-noise power supply said to outperform previous players, and the same hi-res DAC used in the PM6007 but with two filter settings. In addition to spinning CDs (including CD-R/RW discs), the player provides a USB input for accessing hi-res files stored on a thumb drive and supports WAV, MP3, AAC, WMA, FLAC HD, ALAC, AIFF, and DSD files. A double-layered bottom panel supported by rigid feet is said to prevent vibration from interfering with disc playback. The player comes with a remote control and has a built-in headphone amplifier with a gain control to accommodate a variety of headphones. Available in black or silver-gold.
Click here for more information on the PM6007and here for more on the CD6007.
BDI Align Series Home Entertainment Cabinets
A/V furniture specialist BDI has unveiled a new collection of media cabinets under the Align banner. Designed by Matthew Weatherly, the series offers four cabinet sizes, each featuring a soundbar shelf, louvered soft-close doors, flow-through ventilation, a removable rear-access panel, an internal cable management system, and a TV safety strap to prevent tip-overs.
The cabinets are crafted from solid wood and come with a choice of two base styles (the lower profile base with hidden wheels and adjustable levelers is shown above) and white or gray finish options. Adjustable shelves are included with the 81-inch-wide Align 7473 ($2,299) and Align 7479 (shown, $2,799), while the 66-inch-wide Align 7477 ($2,499) and 50-inch-wide Align 7478 ($1,899) have fixed shelves. In addition to providing an elegant cover for your AV gear, the louvered doors won't impede sound or signals from your remote control. Visit bdiusa.com for more information.