New Blu-rays for August 21, 2012: The Hunger Games in HD, The Dictator Unrated, and More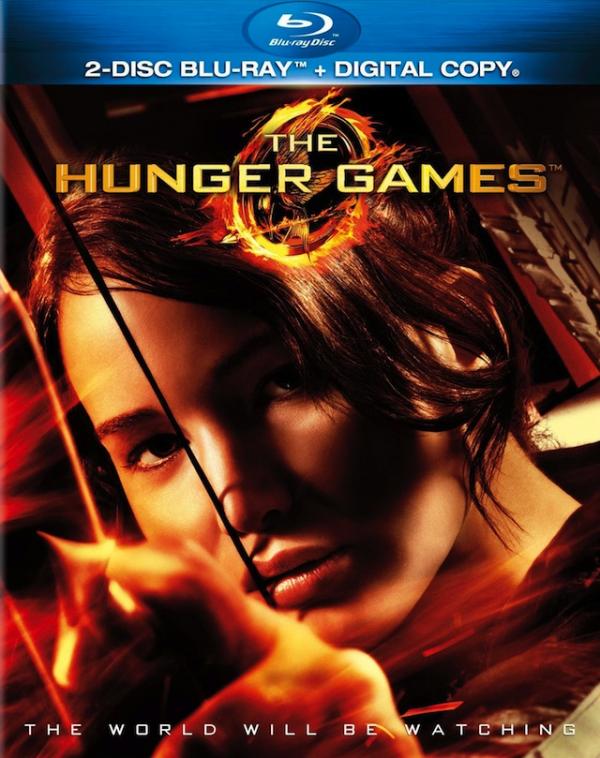 The Hunger Games
The Hunger Games is a futuristic tale of ancient Roman gladiatorial combat set firmly in the present day political and social world. Based on the first of a trilogy of highly successful young adult books by Suzanne Collins,the film tells of a post-apocalyptic country where each year one girl and one boy aged 12 to 18 from each of the districts surrounding Capital are selected by lottery to compete in a giant televised event where they will fight each other to the death in the woods until only one is left standing. Sixteen-year-old Katniss (Jennifer Lawrence), however, volunteers to take her little sister's place and decides to use her wits not brawn and savagery to try to survive and maintain her humanity.
In the 2.35:1 transfer everything is hyper-sharp and hyperrealist with masses of detail so that pores and facial imperfections are visible even in shadow. Contrast is excellent, richly colored robes in Capital starkly different to the pale colors of the dusty outer district and the wide range of greens in the woods. Black outfits are inky and the Praetorian Guard's uniforms are bright white. Faces are solid, rounded, and dimensional.
The soundtrack immerses you in James Newton Howard's music with all 7.1 channels in near-constant use creating mood. Instruments are exceedingly well separated yet combine to envelop you in distinct harmony. Atmospherics of the woods are convincing, as are those of the echoing, crowd-filled forum. Once the games begin the sound becomes more aggressive, building tension with sudden surges of electronica and drums. There are plenty of low-frequency effects, as when the roaring forest fire engulfs Katniss, but the quietest noise like dripping water in the background is also audible.
Video: 2.40:1. Audio: DTS-HD Master Audio 7.1. Extras: "The World is Watching: Making The Hunger Games" feature-length documentary, "Game Maker: Suzanne Collins and The Hunger Games Phenomenon," "Letters from the Rose Garden," "Controlling the Games," "Preparing for the Games: A Director's Process," and "Propaganda Film" featurettes, director Gary Ross interviewed by Elvis Mitchell, poster and photo gallery; UltraViolet digital copy for streaming/downloading. Studio: Lionsgate.
Pursued
Pursued (1947), written by Niven Busch (who also penned the marvelous, neurotically passionate Duel in the Sun), and directed by Raoul Walsh (auteur of psychological action movies likeHigh Sierra and White Heat) is a terrific Freudian Noir Western set in a barren frontier landscape. After his family is murdered, young Jeb is rescued and raised on a horse ranch by widow Judith Anderson and grows up to become Robert Mitchum. Emotionally damaged by his traumatic past and suffering recurring nightmare s of his family's killing, Jeb also has to deal with the fact that he's in love with his adopted sister, Thorley (Teresa Wright). Adding to his troubles are a one-armed stranger (Dean Jagger) who haunts and taunts him with the threat of settling an old score, an adopted brother (John Rodney) who hates him, and a young man (Harry Carey, Jr.) who's also in love with Thorley. All of which leads to a terrific climactically revealing conclusion. Pursued has gorgeous black-and-white cinematography by James Wong Howe (Sweet Smell of Success, Hud) and a thrilling score by Max Steiner (Casablanca,The Searchers).
Video: 1.37:1. Audio: DTS-HD Master Audio Mono. Extras: none. Studio: Olive Films.
The Dictator
In his fourth leading role in a feature film, Borat co-creator Sasha Baron Cohen plays Admiral General Aladeen, happy-go-lucky brutal dictator of fictional North African Republic of Wadiya. To prevent a military intervention ordered by the United Nations Security Council, this childish, misogynist who has several eyes for the ladies journeys to New York City to bully the UN with his developing nuclear weapons program. But instead he falls foul of a plot by his uncle (Ben Kingsley) leading to his kidnapping by a hitman (John C. Reilly). Eventually escaping, Aladeen becomes a hunted man but, having lost his beard and become unrecognizable, he temporarily takes on an ordinary New Yorke immigrant's life, leading to a cultural education, love, and the discovery of a kinder, gentler, more enlightened despot self. This satirical comedy was directed Larry Charlesco (Borat and Brüno) and co-stars Larry Charles, Anna Faris, Jason Mantzoukas, Chris Parnell, and Jessica St. Clair. The film is dedicated to the memory of Kim Jong-il.
Video: 2.40:1. Audio: DTS-HD Master Audio 5.1. Extras: two versions of the film - the 83-minute theatrical cut and a new 103-minute banned and unrated version, 15 deleted and extended scenes, Larry King interview, music video: "Best Love Song - 'Your Money's on the Dresser;'" DVD and UltraViolet digital copy for streaming/downloading. Studio: Paramount.
Private Hell 36
In this taut, claustrophobic, nihilistic 1954 B-noir thriller from director Don Siegel (Dirty Harry, Charley Varrick), two L.A. police detectives investigating a robbery find the stolen loot and agree to keep part of it for themselves but are then assigned to look for the cash that's gone missing. One of them (Steve Cochran) falls for a tough, emotionally bruised, lounge singer (Ida Lupino) with tastes far more expensive than a cop's salary can cover, so he's happy to have the cash and go wholesale crooked. His partner (Howard Duff), in a crisis of conscience, wants to hand the missing dough over to his superiors and go straight. Angst ensues, battle begins, partners part, and a private hell is had by all. The film was co-written by Lupino (with her ex- husband Collier Young who also produced) and she co-starred with her next husband, Howard Duff.
Video: 1.78:1. Audio: DTS-HD Master Audio Mono. Extras: none. Studio: Olive Films.
WarGames
In John Badham's highly-enjoyable cyber classic from 1983, a Seattle high-schooler (Matthew Broderick) hacks his way past what he believes is a computer game company's advanced security to impress his girlfriend (Ally Sheedy). Unfortunately he's actually in the Defense Department's system and so when he plays an America vs. Russia war game, he's unwittingly taking on NORAD's supercomputer, Joshua, which controls the U.S. nuclear threat response. This leads NORAD to believe that there's a real all-out attack underway setting off a countdown that could lead to a real Armageddon unless the two teens can discover a way to convince them and Joshua that the Soviet attack isn't genuine. WarGames was nominated for Academy Awards for Best Original Screenplay, Best Cinematography, and Best Sound.
Video: 1.85:1. Audio: DTS-HD Master Audio 5.1. Extras: commentary from Badham and writers Lawrence Lasker and Walter Parkes, four featurettes. Studio: MGM.
Freelancers
In this gritty police drama, rookie cop Malo (Curtis "50 Cent" Jackson), the son of a slain NYPD officer, joins the force and immediately falls in with his father's druggy former partner (Forest Whitaker) and under the influence of Captain Vic Sarcone (Robert De Niro), who tests him to see if he has what it takes to take his father's place. Soon, though, Malo learns he's joining a team of rogue, corrupt cops and gradually begins to discover the truth behind his father's death leading him, with the help of his two best friends (Malcolm Goodwin and Ryan O'Nan) to seek justice and revenge. Music video maker Jessy Terrero's directed from L. Philippe Casseus' first screenplay.
Video: 2.40:1. Audio: DTS-HD Master Audio 5.1. Extras: commentary by Terrero and Jackson, behind-the-scenes interviews with Terrero, producer Randall Emmett, writer L. Philippe Casseus, and actors Jackson, Whitaker, Beau Garrett, Goodwin, O'Nan, and Anabelle Acosta, extended interviews with Terrero, Emmett, Casseus, Jackson, Whitaker, Garrett, Goodwin, O'Nan, and Acosta. Studio: Lionsgate.
LATEST VIDEO