Netgear NeoTV NTV200 Streaming Player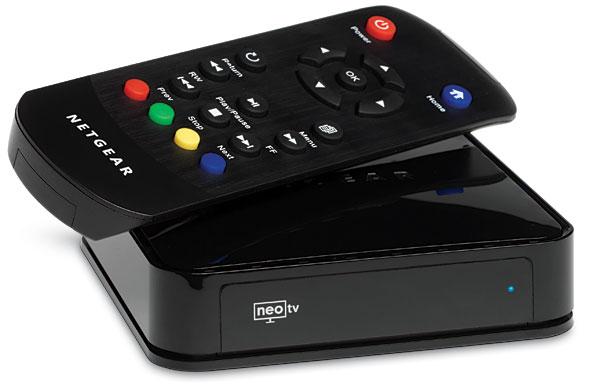 Price
: $50
At a Glance
: Streams a wide variety of content from various paid and free services • Easy setup • Built-in Wi-Fi • Small, compact form factor • Control device with free iPhone or Android app
With so many TVs and BD players offering streaming services these days, I didn't think there would be a lot of demand for standalone units; yet, they keep coming, presumably for those still watching older equipment without this feature. When evaluating these units, the most important aspects are the services and channels provided, along with the user interface. The actual streaming quality is dependent on your Internet connection (which Netgear suggests should be no less than 3-4 Mbps for 720p, though I'd say 6 Mbps is safe for 1080p).
Partnering with Flingo, a company that specializes in app creation and user interfaces and other content services, Netgear put together a comprehensive and impressive list of content partners that includes the ubiquitous Netflix and the only 1080p streaming service, Vudu (owned by Walmart), among dozens of others.
Indeed, there seemed to be far more channels available through the NeoTV than I've seen on many other streaming players. There are music services such as Pandora, social networks Twitter and Facebook, photo sharing with Picasa, and video sharing on YouTube, Blip.tv and Vimeo. You get news from CNN, CNBC and CBS. There's the White House channel, the TED channel, your daily dose of celebrity gossip with TMZ, plus podcasts for your favorite Showtime series. If you are someone who likes trolling through cable stations late at night, this should thoroughly satisfy your wanderings.
The linchpin app on this device is Vudu. As noted, this is the only paid service currently streaming full 1080p HDTV, although it offers three resolutions, including standard def and 720p, and charges accordingly. I used the $5.99 credit provided by Vudu when you first use the NeoTV (whether you have an existing account or not) to watch Captain America. Quality at 1080p was extremely good, but it's not yet rivaling Blu-ray; perhaps it's just a matter of time before it does. At first glance, picture quality looks fantastic; however, details can get lost in low-light scenes. Darks can get a little blocky and muddy, but they were far better than with broadcast services, which all send 1080i, or in some cases, depending on the channel, 720p. Instead of access to an uncompressed digital soundtrack like that found on Blu-ray Discs, the audio is encoded with Dolby Digital Plus. Still, it beats the heck out of 720p services.
Setup
Besides making the wired or Wi-Fi network connections, setup of the NeoTV was straightforward, requiring only power and an HDMI connection. That's the only way to connect the device; there are no other video outputs, but the NeoTV does offer an optical audio output for your audio system. Cosmetically, the NeoTV is sort of a slightly larger copy of the Apple TV, assuming the same shape but lacking that bit of "extra" industrial design. Moreover, it uses an external power supply while the Apple TV doesn't.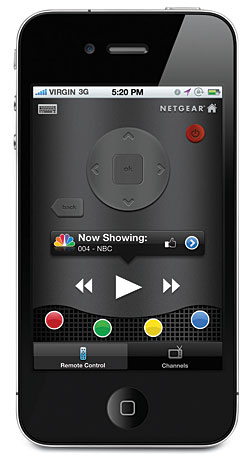 Performance
The ever-important user interface is easy and intuitive to navigate, with a menu that comes up on the left of the screen where your channels are grouped into categories such as movies, news, Web TV, Music and Photos, and Games. The My Channels category allows you to add and prioritize your favorite channels, making your most-used channels a breeze to access. My main criticism is that the virtual, keyboard-input screen is not well designed, resulting in lots of mistakes and a rather laborious process to log in to your services. Instead of providing a full virtual keyboard, Netgear provides two rows of 10 characters that scroll horizontally. Above these rows are buttons to change from uppercase to lowercase, or to select characters.
That said, some of the channels, such as Vudu and YouTube, have their own full-screen keyboard interfaces, which are a bit easier to navigate and type with; however, response is slow and feels a bit clunky. Even when you hold down an arrow key, it jerks from one stop to the next; there is no smooth scrolling.
The remote has more buttons than needed, considering the Apple and Roku devices function just fine with far fewer. Fortunately, you can just keep it in the box because there is also a free remote app for iPhone and Android smartphones and tablets that duplicates the functionality and layout of the physical remote. If you prefer to use finger gestures for scrolling and selecting, rather than clicking virtual buttons, there is a separate screen for this, though I found it wasn't very smooth. A third screen in the app shows all the available content as icons. Where the app makes life easy is the integration of the phone's keyboard for all the data entry (service authentication, account setup, passwords, and search), though I still found response time to be a bit slow. I needed to type slower than I usually do to avoid losing letters.
Certain channels took forever to load, if they ever did, though it's hard to know if that is a problem for this device or with the services. Still, the NeoTV doesn't show a progress bar during loads—just a spinning icon so you don't know if it's frozen or just taking a long time. The problem appeared to be isolated to specific channels, rather than a random occurrence.
Conclusion
The greatest asset to this player is Vudu; it would be all the excuse I'd need to overlook some of its flaws. The icing on the cake is there is an extensive array of other fun, informative, and social content to work your way through on the player. —KW