National Treasure 2: Book of Secrets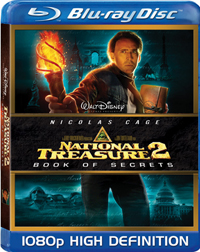 With his great grandfather implicated in the assassination of Abraham Lincoln, treasure hunter Benjamin Franklin Gates (Nicolas Cage) enlists the help of his acrimoniously divorced parents (Jon Voight and Helen Mirren) to search out clues to clear the family name. From Buckingham Palace to Mount Rushmore, Gates pursues the
Book of Secrets
, but he must find a way to speak to the one man who has access to it, the President of the United States.
As a follow-up to the wildly successful National Treasure (available on Blu-ray as well), Book of Secrets has many of the same elements that made the first film so much fun—action, adventure, and a touch of history thrown in for good measure. Justin Bartha (Riley) and Diane Kruger (Abigail) are back as Gates' sidekicks, and the three still have great chemistry.
The day-and-date Blu-ray release is another first-class disc from Disney. The high-bitrate AVC encode is nearly perfect. Color saturation is rich and bold, though flesh tones look a bit unnatural and orange due to some post-processing color correction. Another minor gripe is that it looks like some digital noise reduction was applied to the print, causing facial pores to look a bit fuzzy on occasion, but I have seen far worse cases on Blu-ray and HD DVD. On the plus side, the black levels are inky, providing excellent contrast and shadow detail, and compression is never an issue. As you would expect, the print is in pristine condition, and the superior resolution shows details in the backgrounds that were missing when I saw the film theatrically.
Abandoning the studio's usual preference for PCM soundtracks, Disney went with Dolby TrueHD on this release. As with the video, the audio is outstanding. Dialog intelligibility is never an issue, and the engaging score by Trevor Rabin draws you into the film. The surround channels are enveloping and active, and the LFE channel is put to good use, especially during the climax.
The lavish bonus features are must-watch material for fans of the franchise, and the Blu-ray version has some exclusive material not available on DVD. The highlight is a pop-quiz game called "Book of History: The Fact or Fiction of NT2," which tests your knowledge of the history, characters, places, and events depicted in the movie. In addition, two deleted scenes are included with introduction by director Jon Turteltaub.
The features shared with the DVD include an audio commentary by the director and Jon Voight, deleted scenes, bloopers, behind-the-scenes featurettes, and some hidden Easter Eggs, all presented in high definition. Sadly, the short cartoon, "How to Hook Up Your Home Theater" starring Goofy, is not included, even though it was shown with Book of Secrets in the theaters.
This franchise is a family favorite of ours, and Disney has provided a first-class disc. The video and audio are stellar, and the bonus features take you deep behind the scenes. My only complaint is the exclusion of Goofy's cartoon, which hits close to home for this enthusiast! Highly recommended.
Release Date: May 20, 2008
Film: 8 out of 10
Picture: 9 out of 10
Sound: 10 out of 10

Review System
Source
Panasonic DMP-BD30
Display
JVC DLA-RS1 projector
Stewart FireHawk screen (76.5" wide, 16:9)
Electronics
Onkyo PR-SC885 pre/pro
Anthem PVA-7 Amplifier
Belkin PF60 power conditioner
Speakers
M&K S-150s (L, C, R)
M&K SS-150s (LS, RS, SBL, SBR)
SVS PC-Ultra subwoofer
Cables
Monoprice HDMI cables (source to pre/pro)
Best Deal analog-audio cables
PureLink HDC Fiber Optic HDMI Cable System (15 meters) from pre/pro to projector
LATEST VIDEO