Mud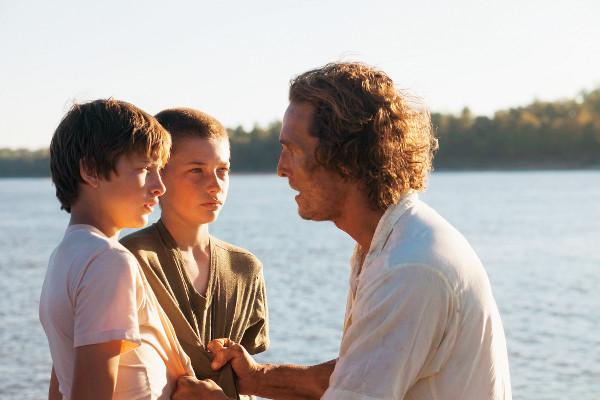 Beware of men who don't traffic in the truth.
Two young boys, Ellis and his best friend Neckbone, meet a mysterious drifter named Mud who's hiding out in an abandoned boat that's beached on a deserted island in the middle of the Mississippi. Like a good Southern boy, Mud has a way with words and fascinates the boys with a series of stories about his life and why he's hiding out on the island. He says he's there to meet the love of his life, Juniper, who's waiting in town for him, but he can't go and get her because a group of bounty hunters are after him for killing a man in Texas. Neckbone is very suspicious of the stranger, but Ellis is a sucker when it comes to love and makes an executive decision to help Mud extricate himself from his predicament.
It's been years since I've read The Adventures of Huckleberry Finn, and if you're a fan of the classic book, I'm sure you'll like this movie as much as I did. There's something about youthful innocence, but in this case Ellis and Neckbone bite off a lot more than they can chew when the bad guys stroll into town looking for Mud. Matthew McConaughey is great as the title character, but it's the young actor, Tye Sheridan, who steals the show as Ellis.
Lionsgate has delivered some fantastic video encodes this year, and ranks up there with one of the studio's best. The stunning scenery of the Mississippi looks great in 1080p and it boasts fabulous detail—especially in close-ups. Shadow detail is slightly short of reference quality, and it's the only issue that keeps this from receiving a perfect score. The audio track is just as impressive, especially with the atmospheric effects while the boys explore the island. You can hear the wind rustling through the trees, insects chirping all around you, and the thrilling climax will undeniably have you on the edge of your seat as the soundstage comes alive with action.
The sparse supplements include a director's commentary, an interview with writer-director Jeff Nichols explaining his inspiration for the story, a behind-the-scenes look at the cast along with a featurette about Southern authenticity. Wrapping things up is a short look at one of the film's scariest sequences.
With a great cast and captivating story, I can't recommend this film enough. My entire family was glued to the screen from start to finish.
Blu-ray
Studio: Lionsgate, 2013
Aspect Ratio: 2.35:1
Audio Format: DTS-HD Master Audio 5.1
Length: 130 mins.
MPAA Rating: PG-13
Director: Jeff Nichols
Starring: Matthew McConaughey, Tye Sheridan, Sam Shepard