The Monuments Men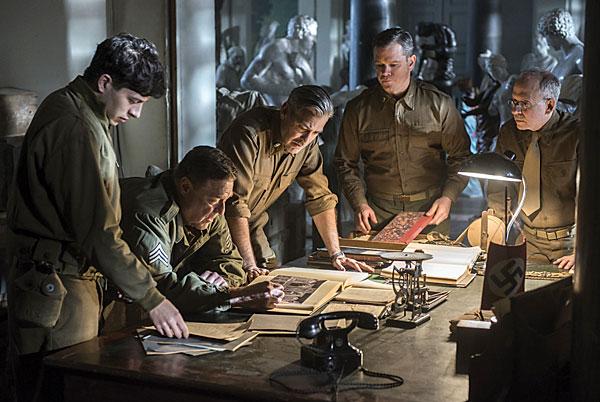 The film is based on the book The Monuments Men: Allied Heroes, Nazi Thieves and the Greatest Treasure Hunt in History by Robert M. Edsel. It covers the experiences of just one such group, and how they recovered some of the most treasured works. It's a fascinating subject and deserves a great film to tell its story. Unfortunately, this is not that film. Apart from a few isolated scenes thrown in to remind us that there's a war going on, you get no feeling for the epic scale of the events surrounding and complicating the group's nearly impossible mission. The film is well crafted and well acted but has poor dramatic flow. For its first hour, it appears to be going nowhere, confusing the viewer by plodding through too many loosely connected scenes. Only in its final act do things perk up enough to make it a little more interesting.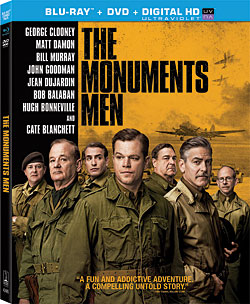 Fortunately, there are rewards here in both the picture and sound. The video on this Mastered in 4K Blu-ray is reference quality. The disc itself is not 4K, of course—no such format yet exists. "Mastered in 4K" simply means that the studio master was 4K and then downconverted to 1080p for release. The expanded color listed on the jacket will be visible only to those with xvYCC-enabled sets and players. But even without such gear, the color, often dominated by browns and greens (perhaps to make the scenes with the art stand out), is impressive.
The audio is nearly as good. Alexandre Desplat's warm, rich, unclichéd score is a pleasure, and the dialogue is crystal clear. But while the few sounds of war to be heard are impactful enough, the explosive trailers at the start of the disc for both Pompeii and the Russian film Stalingrad spoil you for anything heard in the main feature.
The limited extras include two deleted scenes (with additional action), three featurettes—one of them with endless jabber about how much fun it was to do the film, and two of them excellent (but too short), about still surviving Monuments Men and Rose Valland, the real-life woman on whom Cate Blanchett's character was based.
Blu-Ray
Studio: Sony, 2014
Aspect Ratio: 2.40:1
Audio Format: DTS-HD Master Audio 5.1
Length: 118 mins.
MPAA Rating: PG-13
Director: George Clooney
Starring: George Clooney, Matt Damon, Bill Murray
In the final months of World War II, as Allied armies smashed across Europe and into Germany, an organization called the Monuments, Fine Arts, and Archives program (the MFAA) was assigned the task of recovering and preserving countless art treasures plundered by the Nazis. It included hundreds of art experts from 13 countries, working in small cadres.
LATEST VIDEO