Monitor Audio ASB-2 Soundbar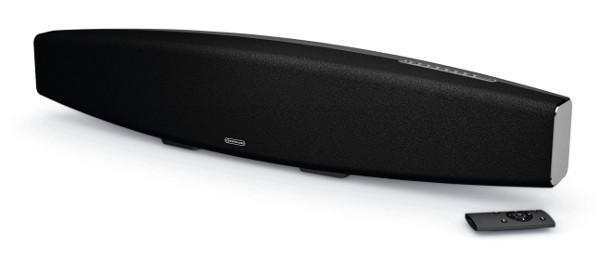 PRICE
$1,599
AT A GLANCE
Plus
Neutral tonal balance
Honest vocal and dialogue presentation
Handsome, understated looks
Minus
Limited volume output
Ergonomic shortcomings
THE VERDICT
Fine vocal and musical balance from an elegant, though not inexpensive, soundbar.
Pity the poor soundbar, the dancing bear of the audio world. (The audience applauds not how well the bear dances, but the fact that he dances at all.) And pity more the poor soundbar reviewer, tasked with saying something cogent about a not-inexpensive product that, while worlds better than any TV's built-in speakers, is almost always demonstrably inferior to any number of affordable freestanding speaker suites, including the same manufacturer's. Monitor Audio is a long-established, widely respected maker of just such speaker suites, a firm that presumably can read the handwriting on the wall just as well as the next guy: s-o-u-n-d-b-a-r-s-&-h-e-a-d-p-h-o-n-e-s.
All the same, I'm going to leave the whole "Soundbar: Audio Angel or Sonic Satan?" question to one side and assume that if you're shopping for soundbars instead of "real" speakers, you have solid reasons. So let's address Monitor's sleek ASB-2, the British firm's first soundbar, on its own merits. (Although it was designed in Britain, the ASB-2, like every other such model I'm aware of, is manufactured in China.)
Monitor's debut soundbar is a handsome, tapered affair, heavy in the hands and beautifully finished in black and silver. It's a three-way system, with pairs of 5-inch, 4-inch, and 1-inch drivers for each of its two physical channels—there are no hardware-realized center or surround channels—and a total of 160 watts of Class D power. Onboard wireless capability brings in streams from Apple AirPlay or direct from Macs or PCs running compatible iTunes software.
Monitor supplies the ASB-2 with a nifty rubberized pad to position it on a shelf or a stand; the soundbar's rear surface is equipped with threaded inserts that the manual says mate with an optional wall bracket, or with certain Sanus furniture and mounting systems. (I couldn't find the referenced wall bracket anywhere on Monitor's own Website. What's more, the ASB-2 package I received included only a fold-out, mostly graphics quick-start guide, which itself didn't so much as mention that the full, 30-page manual is available on the site as a PDF.)
Because the ASB-2 is a powered soundbar, setup options are rather more complicated than simply stringing a few speaker wires from a receiver. Monitor's design includes three HDMI inputs and a passthrough Audio Return Channel HDMI output, as well as optical and coax S/PDIF digital inputs and one analog-stereo in. There's also a single analog-RCA subwoofer output. HDMI soundbars are the manual-writer's worst nightmare (ask me how I know) because you have a complex, interactive (and frequently infuriatingly wonky) digital interface, burdened with the necessary complications of ARC (Audio Return Channel) and CEC (Consumer Electronics Control, remote via HDMI), and the interface is central to a product that by its very nature is targeted to less experienced, less technically confident buyers. Fortunately, the ASB-2 incorporates a simple, text-based onscreen menu that eases the process somewhat. Nevertheless, when I imagine an intelligent but techno-timid individual confronting this challenge—my double-Ph.D.-totin' sister, let's say—it makes me want to change my phone number.
In light of this, I opted simply to plug my cable box's HDMI output into the Monitor's HDMI1, my streaming Blu-ray player's output into HDMI2, and the ASB-2's HDMI output into my TV. Everything worked as advertised: Picture appeared on the screen, sound poured forth from the soundbar, and video passed through the soundbar when I turned the former on with the latter off. That said, it could have been much more complicated to get things working: My setup doesn't use the TV's onboard tuner, so no HDMI ARC loop-back was required, and initially at least I skipped CEC remote integration.
Either way, we're now free to move on to the real point: How does the Monitor soundbar sound?
Performance
I began with simple TV watching, sourced from my cable box: news, sports, PBS dramas, and the like. The ASB-2 quickly displayed a satisfyingly neutral balance through the all-important vocal octaves. Male and female voices sounded natural, un-canned, and easily intelligible, though deeper males suffered a touch of lower-mids emphasis, a bit like the proximity boost of a too-close microphone. This proved highly dependent upon how close the soundbar was to the wall. Spaced a couple of feet out, as in front of a flat-panel TV upon a typical stand, the emphasis was obvious and even a touch excessive. But with the ASB-2 flush against the wall—and it's clearly engineered for wall-mounting—it was much better, reduced to a more-or-less pleasant touch of warmth.
Bass extension was modest but satisfactory, even for casual music listening (we're still with the soundbar alone, mind you). Concluding that the ASB-2 was made to give its best in this arrangement, I did the rest of my listening with it effectively positioned as though it was mounted on the wall.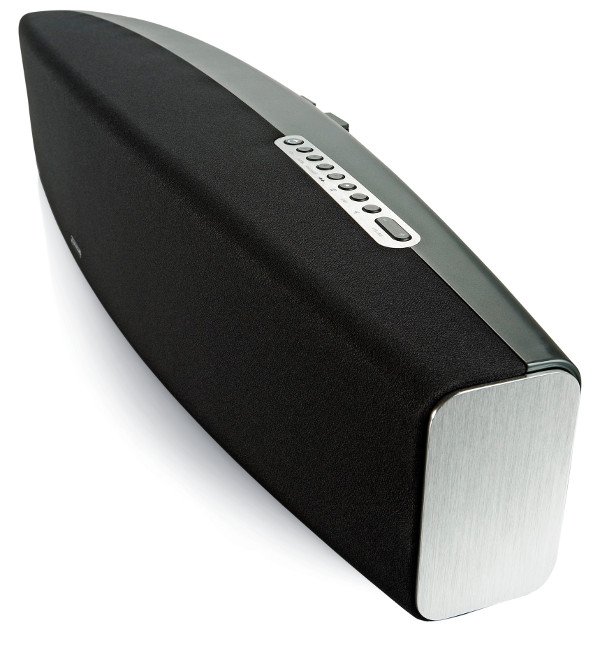 Music, via AirPlay from my iPhone 5, worked fine once some slightly challenging pairing requirements were met. (If you don't have WPS enabled, you have to jump through a few hoops.) The balance I heard answered my expectations from my TV viewing: honest musical integrity with a touch of midbass oomph, and clean, fairly smooth treble. Streaming Dwight Yoakam's classic version of "Streets of Bakersfield," I found that moving off of dead-center caused an audible shift in vocal timbre—expected in any closely spaced stereo setup—though the voice image remained adequately centered.
Vertical aiming also had a decided impact on balance: Tilting the soundbar up considerably, to aim directly at seated ear height, opened up treble "air" on content like high-hat cymbal and guitar twang, but more important, it optimized vocal naturalness, keeping Yoakam's country honk within its actual limits. (Listening much off the vertical axis audibly accentuated his already cupped, nasal tonality.) This pop-music bass was amply represented, but the touch of enhancement sounded excessive, even with the ASB-2 placed at the wall. Fortunately, the Monitor includes bass, middle, and "tweeter" tone controls; setting the first two to –2 and –1, respectively, mitigated this substantially. Treble was reliably extended and open. In fact, on a few brighter recordings, I sometimes set it to –1.