Microsoft Xbox 360 Elite
Think of it as the Xbox 360.1
In the video-game business, the stakes are high. So, the Big Three have detailed road maps and five-year plans. A new console usually remains unchanged for at least a few Christmases, save for possible software updates and minor technical variations. However, this isn't the case with the Xbox 360. After only a record 17 months in its original incarnation, it has transformed into the Xbox 360 Elite, with two noteworthy hardware upgrades plus a fresh style.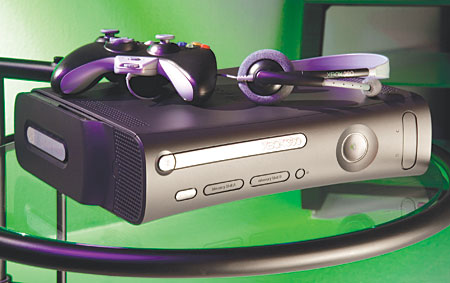 The 2.1 Differences
When the Xbox 360 debuted in November of 2005, HDMI output was a consumer-ready technology, but it hadn't yet achieved the must-have status it enjoys in today's HDTV-centric home entertainment world. Soon, however, the Xbox 360 drew much criticism for its lack of HDMI, maxing out instead at either component video or VGA, and digital optical audio. Complicating matters further was the 2006 firmware upgrade, which allowed 1080p resolution via component video and VGA, neither of which mated well with most HDTVs' inputs. The Elite's addition of an HDMI output (version 1.2) has effectively quelled the tempest. Note that, as on the Sony PlayStation 3, this is a true HDMI port; it doesn't require any sort of an adapter for Microsoft's proprietary AV Multi Out. For the HD DVD add-on drive, the audio/video path is optimized in both quality and compatibility, making this an even more attractive solution for the high-def-disc-curious. And, if your receiver lacks HDMI input, Microsoft includes a brand-new doodad to dispatch your choice of analog stereo or digital optical audio from the Multi Out port.
Almost as great a boon to HT Gamers is the new 120-gigabyte hard-disk drive. My original 20-GB drive filled up way too quickly with all of the downloadable goodies posted on the Xbox LIVE Marketplace, so I had to start deleting content I would have preferred to keep. Microsoft is not necessarily expecting gamers to chuck their old 360s in favor of the Elite, and so they're selling the new hard drive à la carte for $180—quite a value next to the previous $100 20-GB drive. It includes a Migration Kit to siphon off all content, leaving you with a blank 20-GB hard drive as good as new, save for any wear and tear from normal use. Although it doesn't come inside the carton, Microsoft offers Elite owners a migration kit free via the Website, www.xbox.com.
I powered up, and the Elite signed on with my ironic user name, "chiarella." It immediately accessed my Xbox LIVE account from both consoles, old and new, until I performed the migration. Microsoft has made porting over extremely easy. It's far quicker than the initial estimate of an hour and a half, a mere 43 minutes for close to 20 GB. All of the content on the Elite's hard drive was lost, since it is reformatted in the process. That's a shame since there was some good stuff on it, like the Alan Moore episode of Justice League Unlimited, mixed in with all of the targeted commercials posing as entertainment.
The Elite arrives in a new goes-with-everything black finish, which is apparently the color of choice for hard-core next-generation gamers. Other than the above changes, the console is identical to the previous version, with the same enviable processing power. Unfortunately, though, it puts out the same BTUs of heat, dispelled by the same noisy fans.
The Evolution Continues
Timed with the release of the Elite was a major firmware upgrade for all 360s. If your console is connected to the Internet, you can access it as a free download. Or you can burn it to a CD via www.xbox.com, which provides new features, as well as enhancements to the old. I welcomed the improved speed and reliability of broadband downloads, particularly the large files. This took the better part of a day, during which time I lost my connection more than once. For the first time, you can adjust the black level, called "Reference Level," to one of three settings, to expand the white/black range as best suits your display. The difference can be striking. The Elite manages and streams video via the free Windows Media Player 11 application on the PC, including DRM-protected material. The clearer, easier-to-use Xbox 360 Dashboard—the distinct user interface—now incorporates a dedicated "blade" (tab) just for the Marketplace online shop. There are some new little touches; the screen displays the title of the game in the tray, for example. And, as I mentioned in my Windows Vista review (June 2007), certain games are now capable of cross-platform play between a Vista PC and an Xbox 360.
In addition, Microsoft offers a recent HD DVD player software upgrade as a separate download. This adds the ability to output all HD DVD audio (Dolby Digital Plus, Dolby TrueHD, and DTS-HD) as either DTS at 1.5 megabits per second, Dolby Digital at 640 kilobits per second, or WMAPro at 768 kbps, for those receivers that support WMA decoding, like the Pioneer VSX-917V-K. The upgrade further addresses a number of reported disc incompatibilities (including DVD International's Digital Video Essentials) and apparent lip-sync problems. It also fixes a bug that left the Night Mode dynamic range compression on perpetually. Of course, I couldn't just unplug the HD DVD drive from the USB 2.0 port of my old Xbox 360 and plug it into the Elite. I needed to install the software on the new console, which meant digging the HD DVD box and its CD out of the garage. At this point, Microsoft has no plans to release a matching black HD DVD drive. The Elite will output HD DVD at 1080p via HDMI.
HD VOD
About 160 movies were up for rental on the Xbox LIVE Marketplace at press time. About a quarter of them were available in HD at a slight premium, although the selection of titles changes continually. I picked the two-and-a-half-hour Oscar winner The Departed, a 1.7 GB Windows Media Video file at standard 480p and 6.7 GB at 720p high definition. Microsoft isn't offering any content in native 1080p resolution yet, and there's no set bit-per-second rate for video, as the encoding for each movie can vary. The entire high-def download took about six hours over my DSL, which is quicker than Netflix but slower and more convenient than a trip to Blockbuster, especially on a rainy night. I then had two weeks to begin playback, at which point I'm allowed unlimited viewing for 24 hours before the file is locked out. It will remain on the hard drive but require a new license for an additional fee. I simply deleted it.
Not all of the HD videos include 5.1-channel audio, but The Departed did, in WMA Pro format. Compared with the HD DVD of the same movie, the Xbox LIVE download looked every bit as fabulous on my Samsung 50-inch DLP at 720p, with remarkable colors and impressive detail throughout and virtually no digital distractions. The 120-GB hard drive also lets you build a library of classic TV shows, which are less expensive to purchase than to rent a movie. The home-video potential here is as promising as the gaming.
Highlights
• High-definition gaming now even better with HDMI output
• It has quietly become a 1080p-upscaling DVD player
• Also supports the optional HD DVD drive for true high-def movies